Retail stores statistically lose 1-2% of their sales annually to thefts. For major retailers, these small percentages translate into thousands of euros of daily losses. And these losses may, at times, initially go unnoticed. About half of the retail thefts occur internally with store employees skillfully camouflaging inventory or cash shortages.
However, store security is not only about preventing theft. Fire or flooding can cause even more damage than theft. These threats have little to do with a country, city, or quarter. They tend to happen always at the wrong time, proving that each one of them is expensive and unforgivable to ignore.
There is no "one-size-fits-all" solution to security; retailers may differ in size, location, or product. A further layer of complexity is added by store employees. It's impossible to calculate how much a store may be losing due to its absentminded or negligent staff. Security system must be both complicated for robbers and reliable for owners, while remaining simple and understandable for employees. Ajax approaches the security problem comprehensively. In this article, we are going to look at how a smart security system helps to dispel your worries and ensures you sleep soundly.
Adapts to any location
To remain successful, a business must constantly adapt. It's not at all uncommon for a store to have to relocate, redesign its salesroom, or move its window display within a month. However, providing for an alarm system during the repairs cannot always be anticipated. Ajax's main advantage is its independence from the circumstances dictated by competition for clients.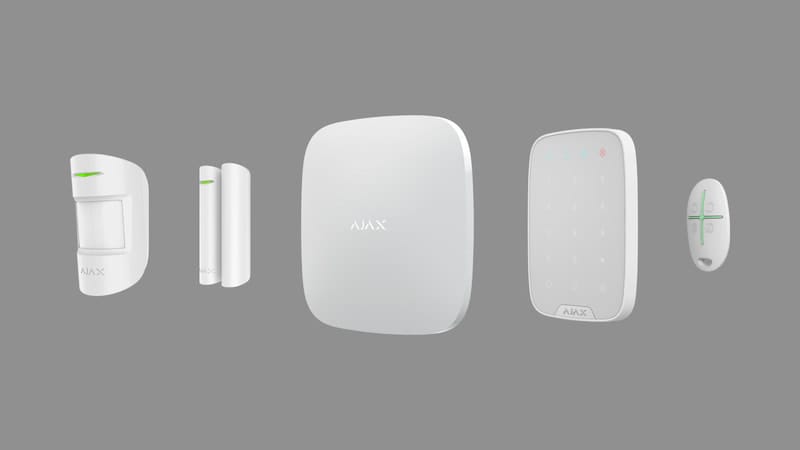 Ajax security system is flexible and easy to scale. Wireless detectors rule out any installation-related problems: no need to hammer the walls in the leased facilities to stretch the wires, and if, upon remodeling, the detector becomes hindered by obstacles, it is easy to move it to another place.
Up to 150 security devices can be connected to the security system hub. The hub has a huge communication range — up to 2,000 meters without obstacles. If this is not enough, the ReX range extender increases the coverage area of the Ajax radio network to 16 km². This way, one system can cover everything: from the entrance to the trading floor to the farthest corners of the warehouse. And with MotionProtect Outdoor, even outdoor areas and street warehouses will be protected.
CCTV Integration and Intuitive Controls
Regardless of the number of connected devices, the Ajax system is easy to manage. All information from the detectors is available in a mobile app with a flexible system of admission. You can easily connect Ajax to the central monitoring station of the security company, and if you have your own security service, it can configure and control the system remotely, using the Ajax PRO Desktop application.
For employees, the Ajax system provides keypads, key fobs, and panic buttons. Using different codes, you can control access to individual rooms and know which of the employees has armed or disarmed the entire system, office, or warehouse.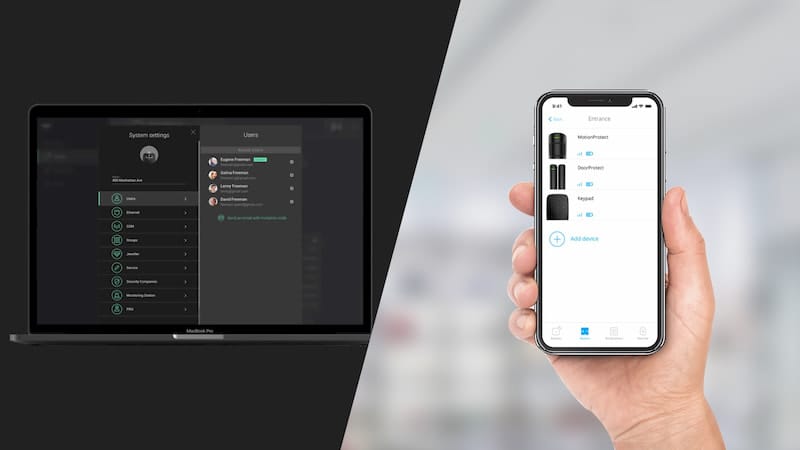 It is easy to integrate a video surveillance into Ajax security system. Whether the facility already had a video surveillance system, or you are just now planning to install it, connecting cameras to Ajax does not require special skills. Top brand IP cameras can be connected in a few clicks, and video streaming is always available in the Ajax app. Therefore, the management of all security devices can be combined in one app.
Comprehensive Protection and Versatile Automation
Ajax capabilities do not end with burglar alarms. By adding FireProtect detectors and LeaksProtect detectors to the system, you protect yourself from fire, flooding, and carbon monoxide. By connecting HomeSiren, StreetSiren or StreetSiren DoubleDeck, you will be able to notify both staff and visitors of any threats. Using a wireless relay, you will be able to remotely control electric locks, roller shutters, and barriers, or reboot frozen network equipment.
With Ajax devices, a security system turns into a smart system managed through a convenient app. Such an approach minimizes the human factor. Your employee may forget to close the roller shutters, but, by setting the roller shutters to close when arming the system, you will rule out any such possibility.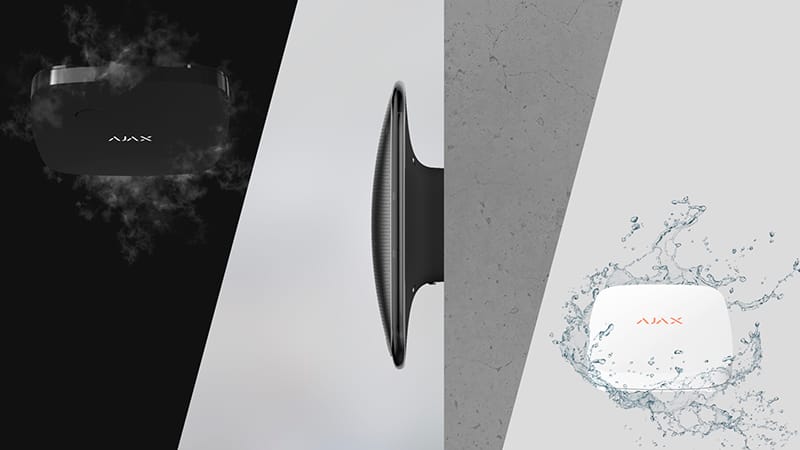 Please also note that Ajax maintains a detailed log of all events in the system. You will always know at what time the store has opened or who has disarmed a certain room. Event notifications are simply configured in the Ajax app and may be used as an additional source of data for debugging the business processes.
From Theory to Practice
The Ukrainian electronics retail chain MOYO has been using our security system in its retail stores for 10 months. The main considerations in choosing Ajax included the recognition of the system by industry professionals, straightforward installation, and ease of management through a mobile app. The indoors of salesrooms and warehouse are monitored by the MotionProtect and MotionProtect Plus detectors, as well as StreetSiren sirens. Store entrances are protected by the opening detectors DoorProtect, while the glass break detectors GlassProtect and CombiProtect monitor the integrity of the windows and display cases. And if someone starts to rage inside the store, the staff always has the key fobs SpaceControl at hand to call the security.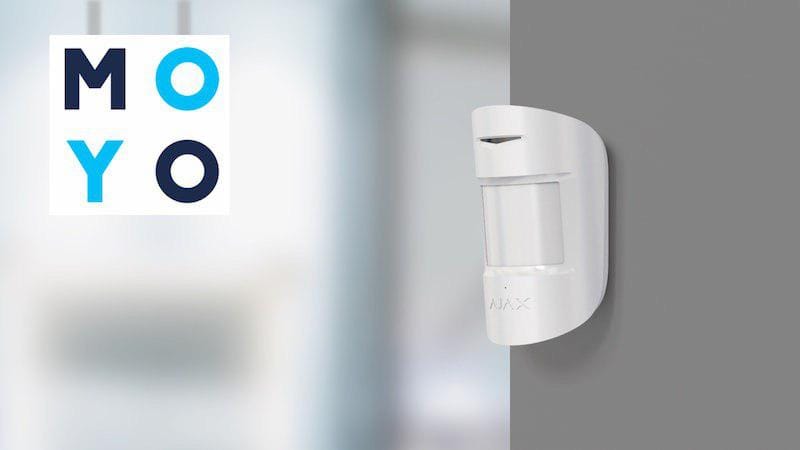 To arm the store, employees use the wall-mounted KeyPad and, through the app, the security service monitors the work schedule compliance. Moreover, MOYO is not afraid of power outages or loss of connectivity, as Ajax remains connected at any time of day or night thanks to the extended operation from the batteries.
Ajax's Five Retail Advantages
The Ajax security system is effective for both external and internal threats. At night, it will call a patrol in case of an attempted break-in, and during the day, it will keep an outsider from entering the warehouse.
Ajax contributes to a lesser dependency of the business on its premises. Detectors are easy to install and dismantle when relocating. You can easily scale the system by the number and size of the guarded facilities. You can also easily reconfigure the system when remodeling.
It is easy to integrate video surveillance into Ajax. This provides for the configuration of a comprehensive security system, managed through a single app.
Ajax will help minimize the human factor. Thanks to the automation, you will be able to eliminate any potential errors on the part of your staff and improve your business processes.
Control over the Ajax security system will always be at your fingertips. Keep track of the opening hours of your stores, arm individual rooms, and receive alarm notifications through your free Ajax PRO apps.