The PRO Desktop 3.0 app for computers integrates tools for connecting, maintaining, and monitoring Ajax security systems. The new software offers a flexible system of roles and detailed event logs to control employees and optimize business processes. PRO Desktop 3.0 supports the entire product line, including the new 2021 devices that will be announced at the Ajax Special Event. This is the next step in the development of Ajax professional software — a unified interface, cloud technology, and versatility to effectively solve business security problems.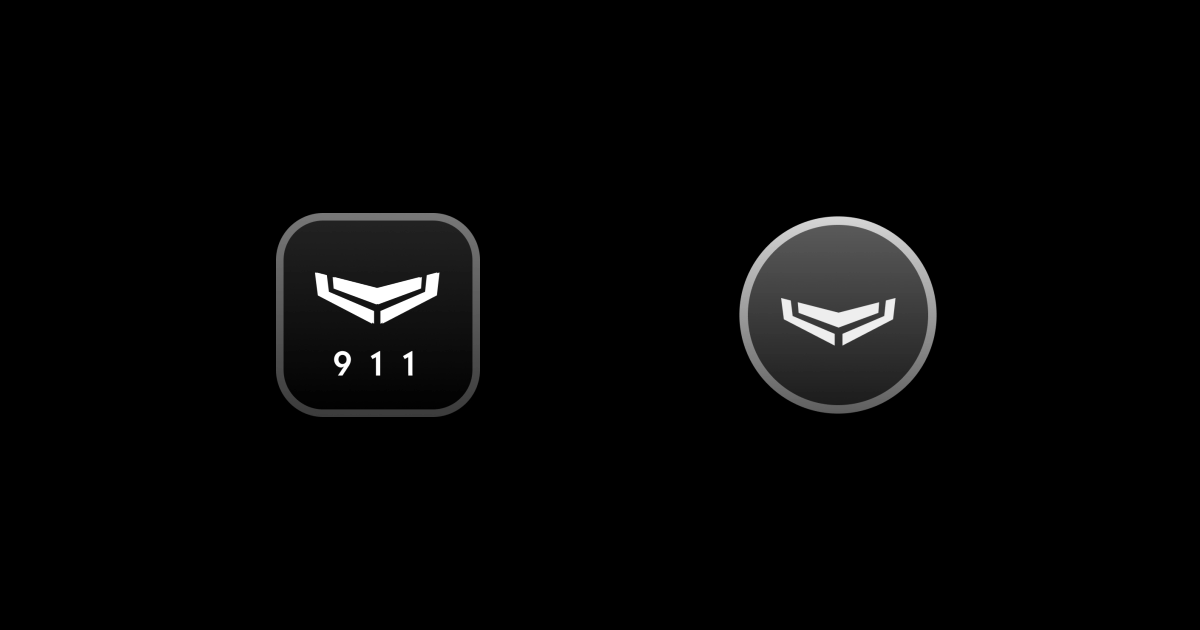 PRO Desktop 3.0 combines the best practices of two Ajax desktop apps: the 911 CMS and the PRO Desktop 2.7 software for configuring and administering security systems.
The new PRO Desktop app brings out the strengths of Ajax security systems to their fullest potential:
Installation and maintenance
Alarm monitoring

Fast connection and setup of devices
Remote adjustment of system parameters
Instant notifications
Detailed log of systems events and in-app activities

Maintenance reports

Automatic synchronization of device settings when central units (hubs) are connected
Effective incident management
Alarm photo verification straight out of the box
Mobile panic button service support
Detailed log of systems events and in-app activities
When developing PRO Desktop 3.0, we considered the needs of all security industry professionals — from independent installation engineers to security companies with hundreds of employees.
Systems management for self-employed installers
PRO Desktop 3.0 offers security professionals a convenient interface to connect and configure security devices and then monitor their status — a detailed log shows all events in Ajax security systems available to the PRO-account. The app allows an engineer to respond to a malfunction on time and, if necessary, schedule a site visit in advance. This improves the service quality.
Update to PRO Desktop 3.4 to get maintenance reports in a few clicks. Archive, print and integrate via API.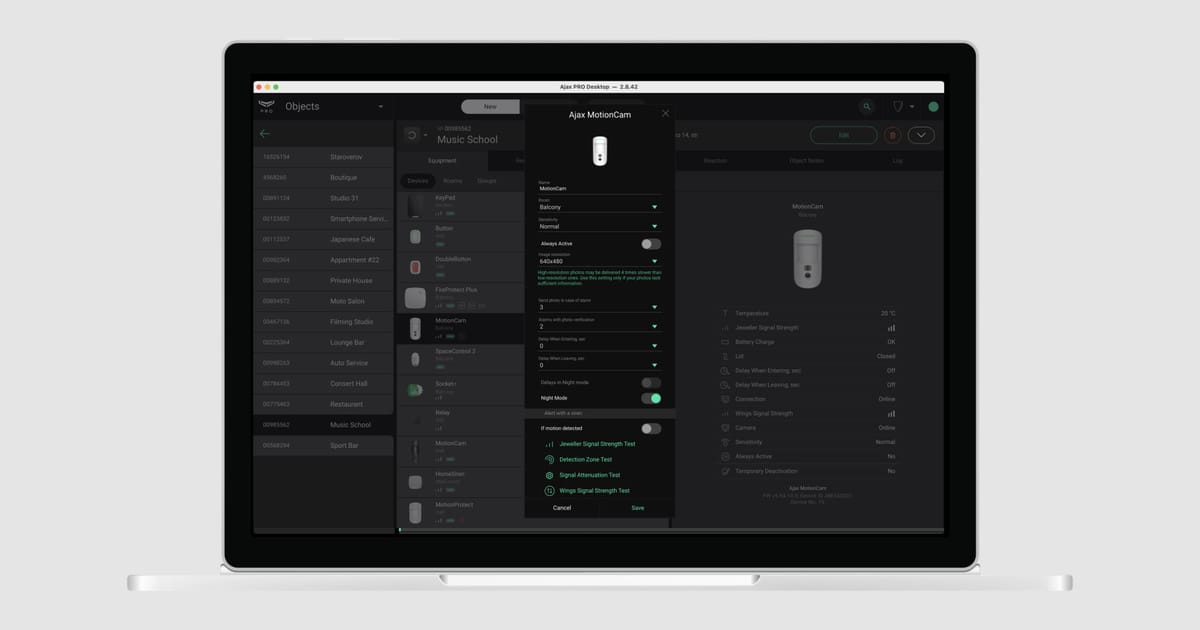 Staff management for security and service companies
With PRO Desktop 3.0, business receives an extensive management and supervision toolkit. User roles specifies the access to the app modules: company profile, facility cards and settings, alarm monitoring, logs, and archive. Employees have access only to those company and customer data that they need for their work. At any time, even far from the office, the manager can change permissions or revoke an employee's access to PRO Desktop 3.0 in less than 15 seconds.
| Manager | Engineers | Operators |
| --- | --- | --- |
| Administers permissions and analyzes business performance | Connect facilities and maintain security systems | Handle incidents and coordinate the rapid response units |
Every significant in-app action is recorded in a detailed log and stored for 2 years. With the appropriate permissions and flexible filters, you can quickly restore even old events in detail.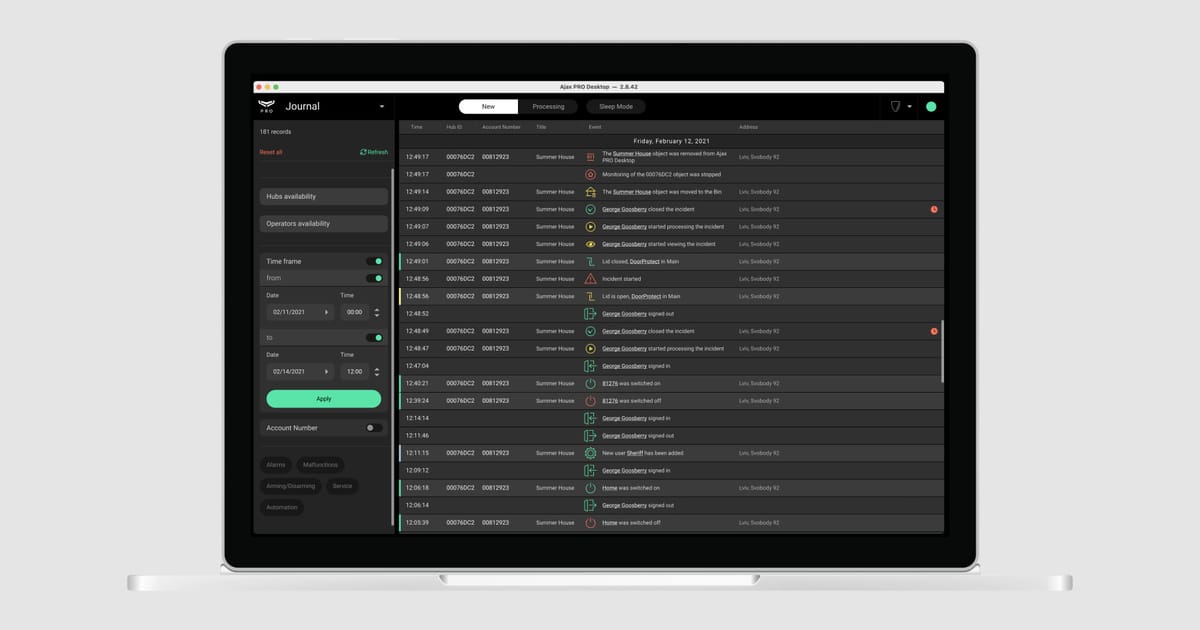 Control of business facilities for the company security department
The «Multi-subscription» feature allows the company security department to accumulate information about the security of business facilities connected to third-party security and service companies. Even if a business has hundreds of stores, offices, and warehouses. In PRO Desktop 3.0, the security team can monitor the incident response speed and the service quality of contractors, the serviceability of security equipment, and even the working schedule of the remote facilities.
New level of monitoring
In PRO Desktop 3.0, every aspect of monitoring is tuned for efficiency. The various events of security systems devices are combined into incidents to keep the operator's attention focused, giving the whole picture of what is going on at the site.
Photo verification as evidence of professionalism
If the facility has Ajax detectors that support photo verification of alarms, an operator can see a series of photos even before handling the incident. They can lower the priority of an alarm, if it is obviously false, and react immediately when people are in danger.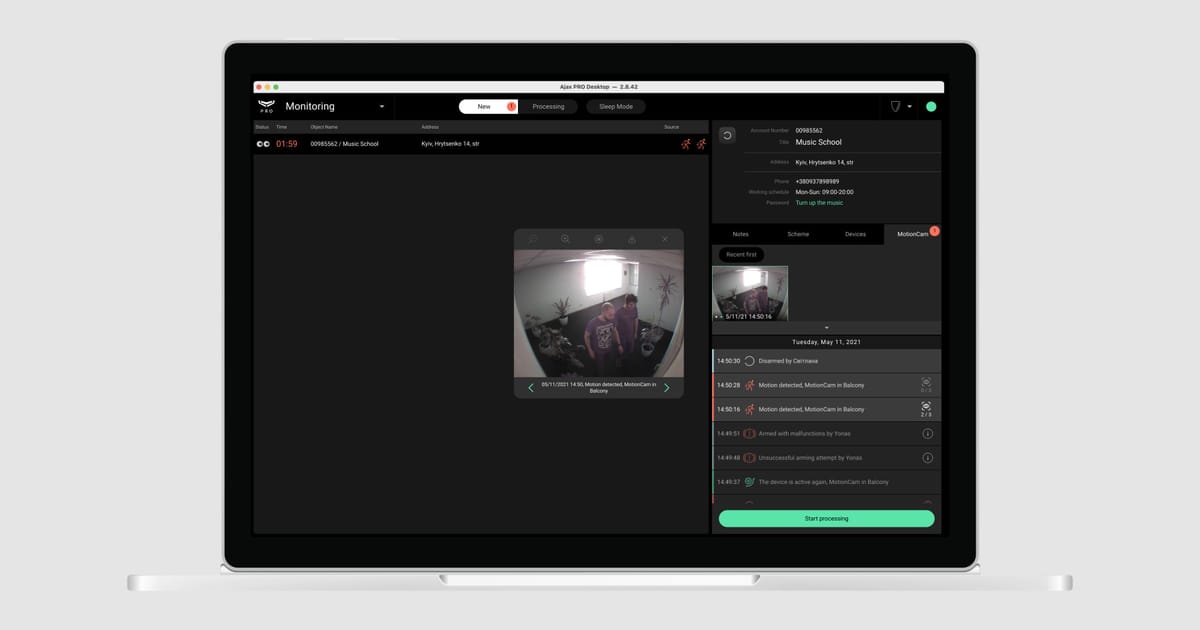 Photo verification in PRO Desktop 3.0 works without installing any auxiliary modules or additional settings.
Basis for mobile panic button service
PRO Desktop 3.0 supports the «mobile panic button». If the customer activates an alarm in the Ajax app, the incident in the monitoring module will contain the coordinates of the smartphone's location. For the company, this is a ready-made software solution for a new security service.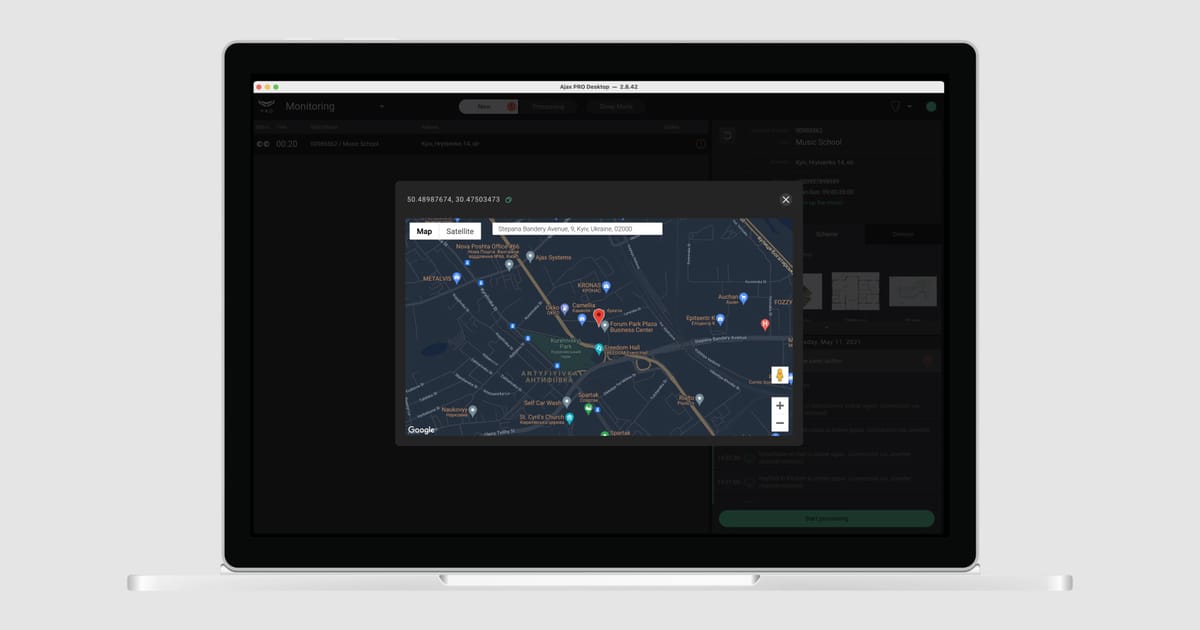 The alarm processing interface protects against errors. Only the necessary buttons are in sight, the number of required actions is reduced to a minimum: initiate → call a client → send a rapid response unit → log the result.
Reliable service at no extra costs
PRO Desktop 3.0 requires no powerful servers, dedicated IP, or a system administrator on staff. The app is quick to install and easy to set up. Its hardware requirements are low, even when connecting tens of thousands of facilities.
Protection against emergencies
A laptop is enough to run PRO Desktop 3.0. This opportunity can be used to provide the monitoring station with backup computers. An accident or a fire won't stop your work for long — employees only need to log in to PRO accounts on their laptops.
Cloud infrastructure with advanced security
Ajax Cloud server provides all the app's computations. The server is placed in several geographically dispersed data centers, has an intelligent load balancer, and uses advanced server technology. The availability of Ajax Cloud in 2020 was 99.99%. Data is securely encrypted. The only concern of the company is to provide access to the internet.
Bank-level communication reliability
With PRO Desktop 3, the company's clients receive the bank-level protection of communication with their secured facilities — thanks to frequent pings the loss of the hub can be known in a minute. That's Grade 4 reliability at no extra cost.
Multilingual Ajax support team solves technical problems 24/7/365.

Download the PRO Desktop 3.0 app
If you use 911
With the release of PRO Desktop 3.0 we stop the development of 911. The CMS app can be used to monitor Ajax systems alarms, but it will not be updated and will not support new devices.
Transition from 911 to PRO Desktop 3.0 is made as simple as possible. All the company has to do is to install the new app for employees. When you log into your account with a login and password from 911, PRO Desktop 3.0 automatically adds company data and Ajax security systems connected to the monitoring station.
If you use PRO Desktop 2.7
The app will suggest you to update to the new version — PRO Desktop 3.0. With this upgrade you will have all the usual features and be able to connect and administer all the Ajax devices, including the new products presented at the Ajax Special Event.