Introducing PRO Desktop 3.4, an update bringing maintenance reports functionality to company accounts. Now, the maintenance reports can be created just in a few clicks.
According to our partners worldwide, maintenance reports are an easy way to better services. Need to double-check the security devices after installation? Download a maintenance report. Need a document to dispatch an engineer? Print a maintenance report. Need to speak with a client about a system upgrade? Send a maintenance report.
With Desktop 3.4, security companies get the best business practices of maintenance without any restrictions.
Backstory
We are gaining worldwide expertise in security software: 150 000 individual professionals and over 8000 security companies use PRO Desktop. We work with various ways of doing business in different countries. And this update was inspired by our partners in Spain and the UK.
According to local Spain laws, security companies must check each security system once a quarter. And their colleagues from the UK must do the same twice a year. Part of such inspections can be done remotely, resulting in a document called a maintenance report.
We asked our partners in other countries about implementing maintenance reports to our software, and it turned out that many of them use a similar tool to demonstrate professionalism, improve services, and even boost sales.
Let's look at the example of installers from Germany. After completing the installation, they provide the client with a report that includes information about the system's current state. Or suppose a client pays for maintenance services, and the company can provide him with a monthly system report. Such practice shows the work and value of a service. A maintenance report is a point of potential growth for a security company in any country. An opportunity to improve the service, offer new devices and services, and, most importantly, show care for the client.
So, we tailored the maintenance reporting feature in PRO Desktop according to the most common use cases.
How it works
By default, maintenance reports are disabled in PRO Desktop 3.4. A company owner can enable this feature in the settings at any time. A separate menu can help him to distribute access rights among employees (their roles).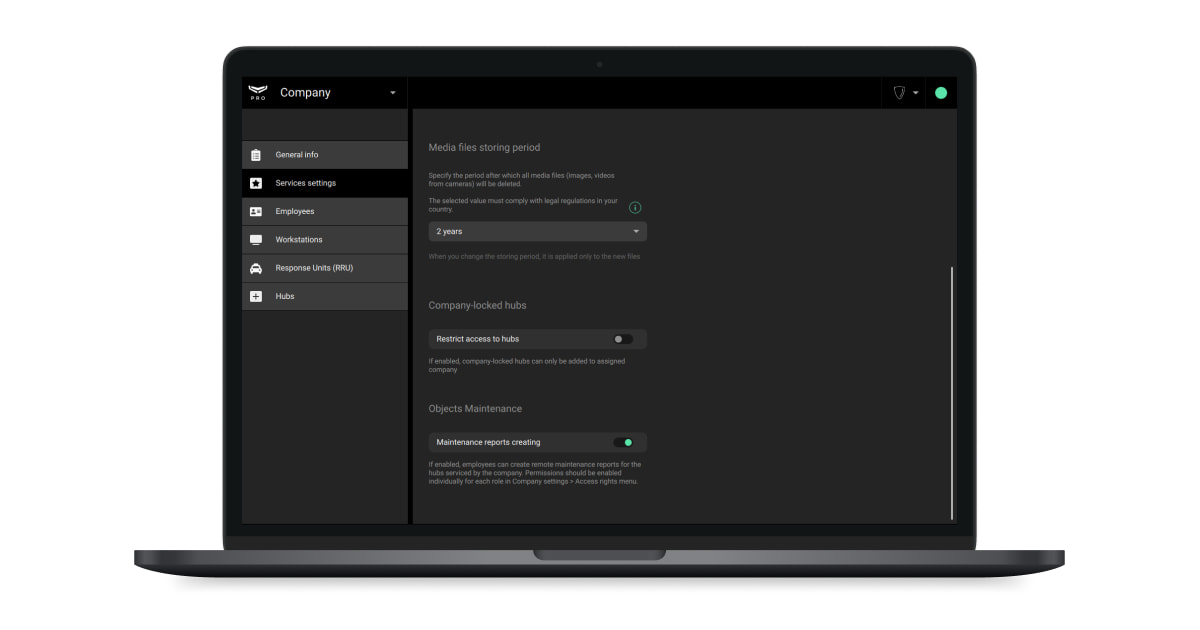 To generate a report, an employee goes to the Object menu and clicks the Maintenance report button. And then clicks Create report.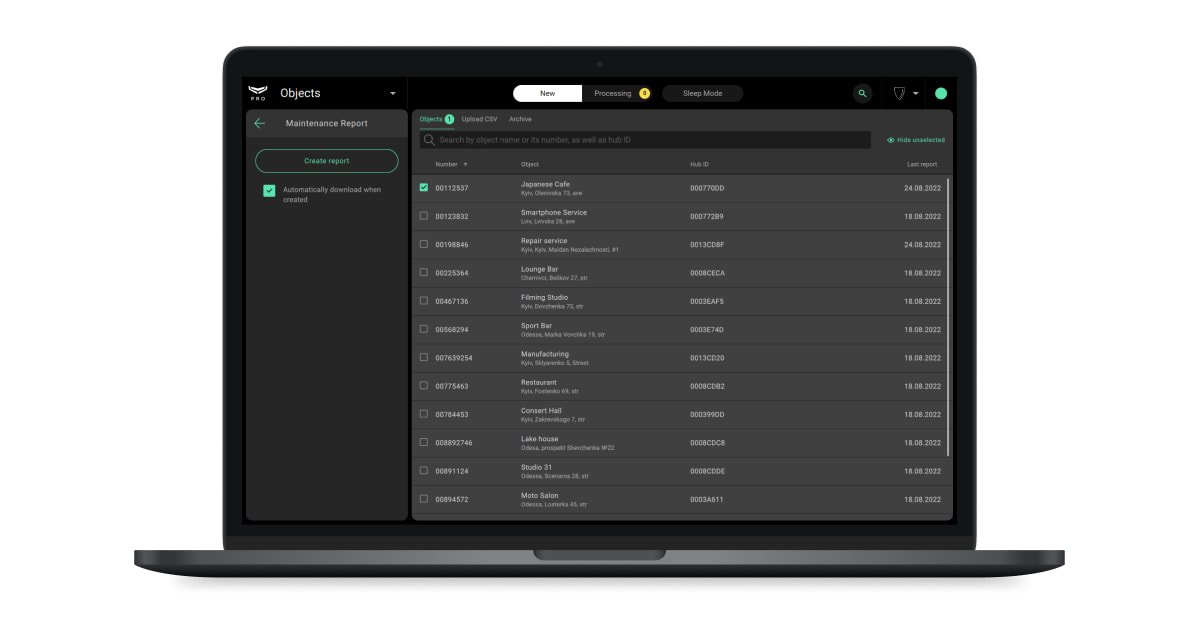 A search and a tab where you can drag and drop the CSV file with the list of objects are available in the app. Search results can be sorted by:
Object name set earlier.
Address.
Hub ID.
The object number.
The date of creating the latest report.
Uploading a CSV allows creating reports with necessary hubs from a simple datasheet.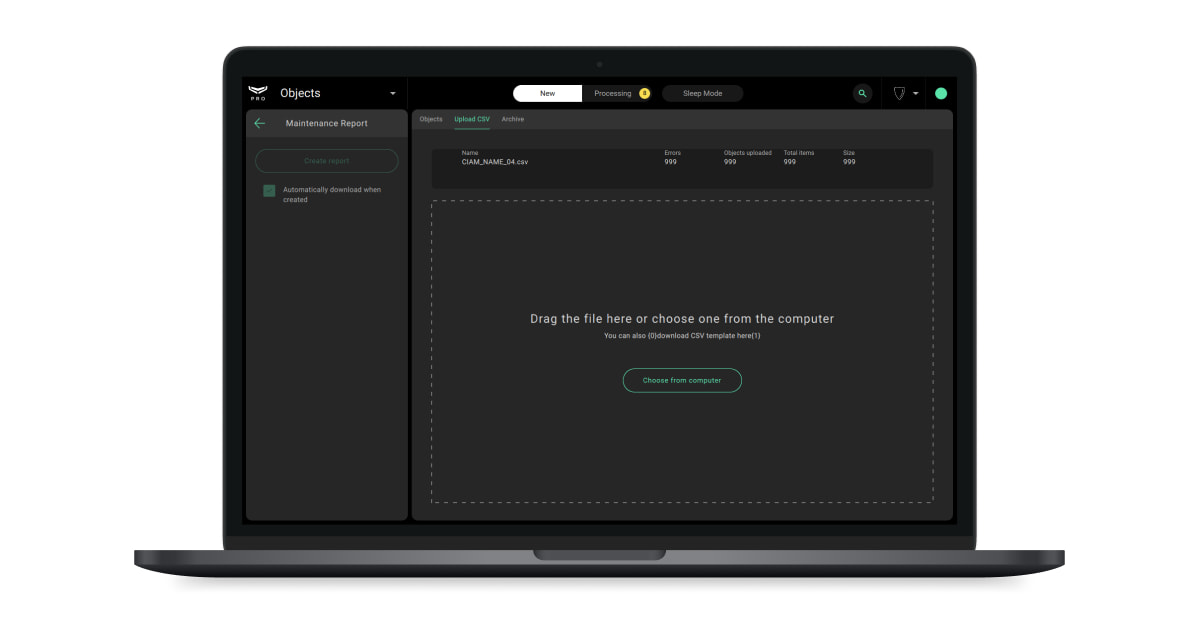 After specifying the objects, an engineer clicks Create report, and reports are added to the archive. Ajax Cloud stores up to 5 last reports. But if your work requires keeping more reports, we've added this possibility — you can download the reports to your computer.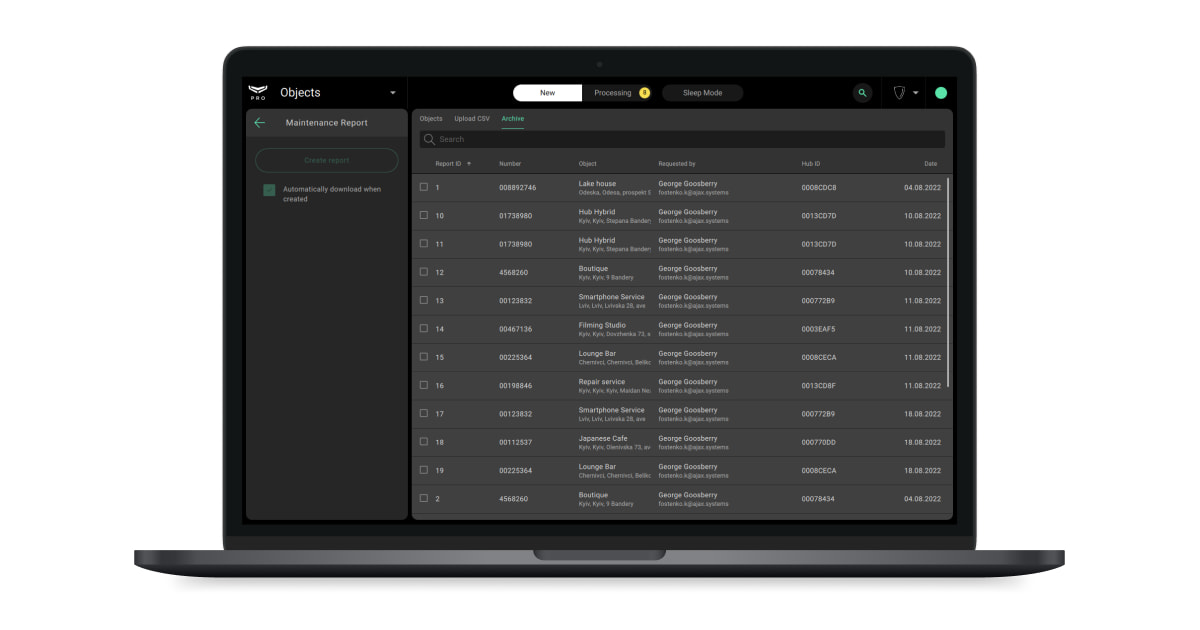 In the report, we can see all the information on the system security devices and fire detectors. And what is very convenient is a quick summary of whether the system needs maintenance. You can see the hub's status, battery levels, communication status, and other critical parameters.
How to get the update
PRO Desktop 3.4 is available for download.
If you have a previous version of PRO Desktop, the app will offer an automatic update.
Multilingual Ajax support is ready to answer any technical questions at any time:
* E-mail: support@ajax.systems
* Telegram: @AjaxSystemsSupport_Bot
👉 Learn more about PRO Desktop