MotionCam Outdoor, the new wireless outdoor motion detector with a built-in camera, saves users' nerves and prevents security companies from unnecessary patrol dispatches. Instant and accurate intrusion detection, ultra-low power consumption, clear photos in all weathers, day and night — everything to deliver pro-grade outdoor security.
Technology against false alarms
MotionCam Outdoor is equipped with a system of two PIR-sensors, which, thanks to the LISA software algorithm, detect human motion with high accuracy at a distance of up to 15 meters. LISA performs correlation and spectral signal analysis, which allows the detector to instantly distinguish the real threat from interferences.
When an intruder steps into your territory, the system raises an alarm immediately. Depending on the settings, the alarm is followed by a series of 2 to 5 photos. Photo verifications are displayed in Ajax apps to the users who have permission for this.
Ajax needs only 9 seconds after the motion is detected to display the first photo on your smartphone.
We have developed a specialized camera to make the images informative even in difficult lighting conditions. A wide-angle lens in a metal enclosure with glass optics gives a clear picture with a 105° viewing angle. In bright light, an infrared filter is automatically applied, and a powerful infrared backlight is activated in the dark. These measures ensure detailed images with correct color reproduction and without edge distortions.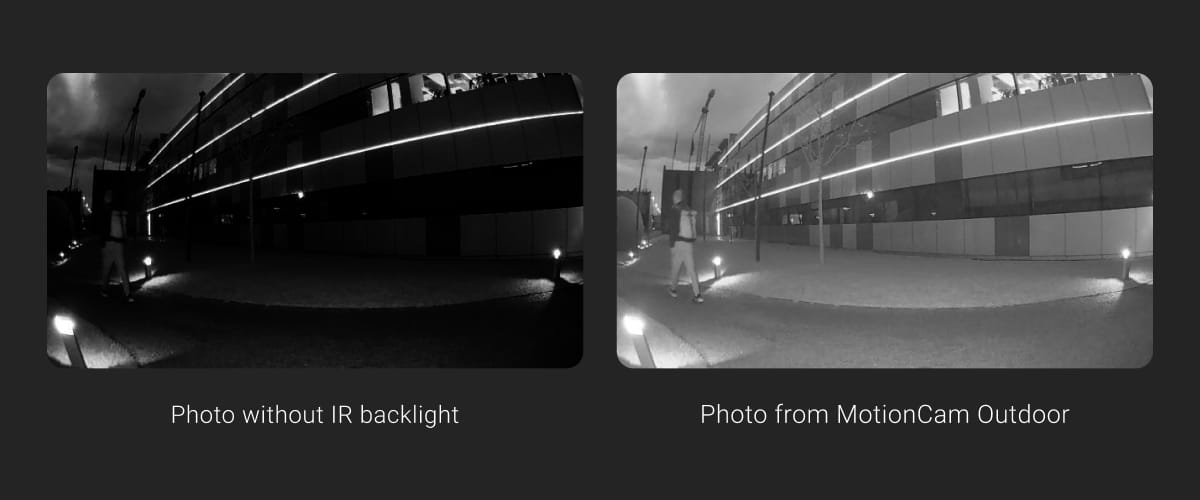 MotionCam Outdoor takes photos in a high dynamic range, better known as HDR. In simple words, the camera takes two consecutive shots at long and short exposures. The processor instantly combines these shots, equalizing the balance between light and dark areas, and then compresses the image for the fastest possible transmission via the Wings protocol.
👉 Features of alarm photo verification by MotionCam detectors
Wings is an encrypted radio protocol developed by Ajax Systems. With a communication range of up to 1,700 meters from a hub, Wings supports up to 200 MotionCam detectors in a system, with no Wi-Fi connection or power supply required.
A tool worthy of a pro
MotionCam Outdoor is a treasure for installation engineers and monitoring companies. To add a detector to the system, it is enough to scan a QR-code with the Ajax app, name it and assign a room. An engineer can easily mount the detector with a SmartBracket and configure it in the app using the detection zone and signal strength tests without disassembling the enclosure. If necessary, MotionCam Outdoor can be temporarily disabled or its system settings can be changed without site visits.
Alarm monitoring with MotionCam Outdoor is a process that doesn't require a high level of expertise. With the comprehensive Ajax PRO Desktop app, monitoring center operators get the best user experience possible. Photo verification, detailed logs, floor plans and travel routes, rapid response units — all available in one click.
In PRO Desktop, Ajax system events are combined into an incident. An operator needs only a quick glance to understand what is going on at a site.
👉 Learn more about PRO Desktop 3.0
Photo verifications are also available to monitoring stations, regardless of which software they use. We've integrated photo verification with more than a dozen monitoring apps, including Manitou, SBN, Patriot, and Mastermind. And this list is constantly growing.
👉 Learn more about Ajax connection methods to CMS apps
Reliability at the core
MotionCam Outdoor is a Grade-2 professional equipment. An advanced anti-masking system responds to covering the body and painting over the lenses. A tamper will instantly alert you of an attempt to open the enclosure or dismounting a detector from a SmartBracket. And short ping intervals by a hub help to detect the communication loss in less than a minute, even if the security system is disarmed.
The detector electronics are ready for sudden temperature changes, and a special hood is provided to protect the masking sensors from rain and snow. Despite a built-in camera and two infrared sensors, MotionCam Outdoor operates for up to 3 years from a pre-installed battery. Such autonomy, combined with a weatherproof body and a communication range of up to 1,700 meters from a hub, allows MotionCam Outdoor to protect the most remote areas of property.