Ajax Systems is a global business already present in 169 countries. But the roots and spirit of the team are in Ukraine. Ajax Systems was a company of challenges from the beginning, but no one expected the full-scaled war to become a new challenge. And even this didn't stop business from growing, constantly cooperating with partners, and helping to bring victory closer.
Despite all the challenges of 2022, we increased revenue by 35% and capacity by more than twice compared to the previous year. Also, we opened a factory in Turkey, continued to expand our product lines, and rapidly gained steam.
We have become faster and more flexible. Now, we share the results of the year.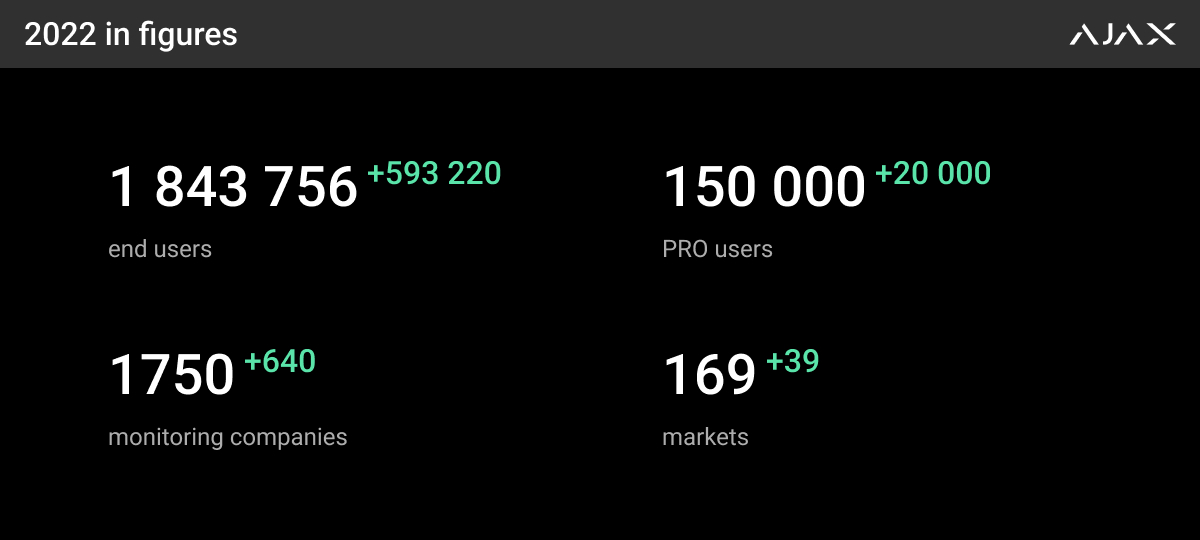 Ajax Systems at the beginning of a full-scale war
As the company focused on sustainable development, we have long been planning to diversify our production. When the full-scale invasion of Ukraine began, we opened a factory in a safer region of the country, created new job positions there, and relocated many employees.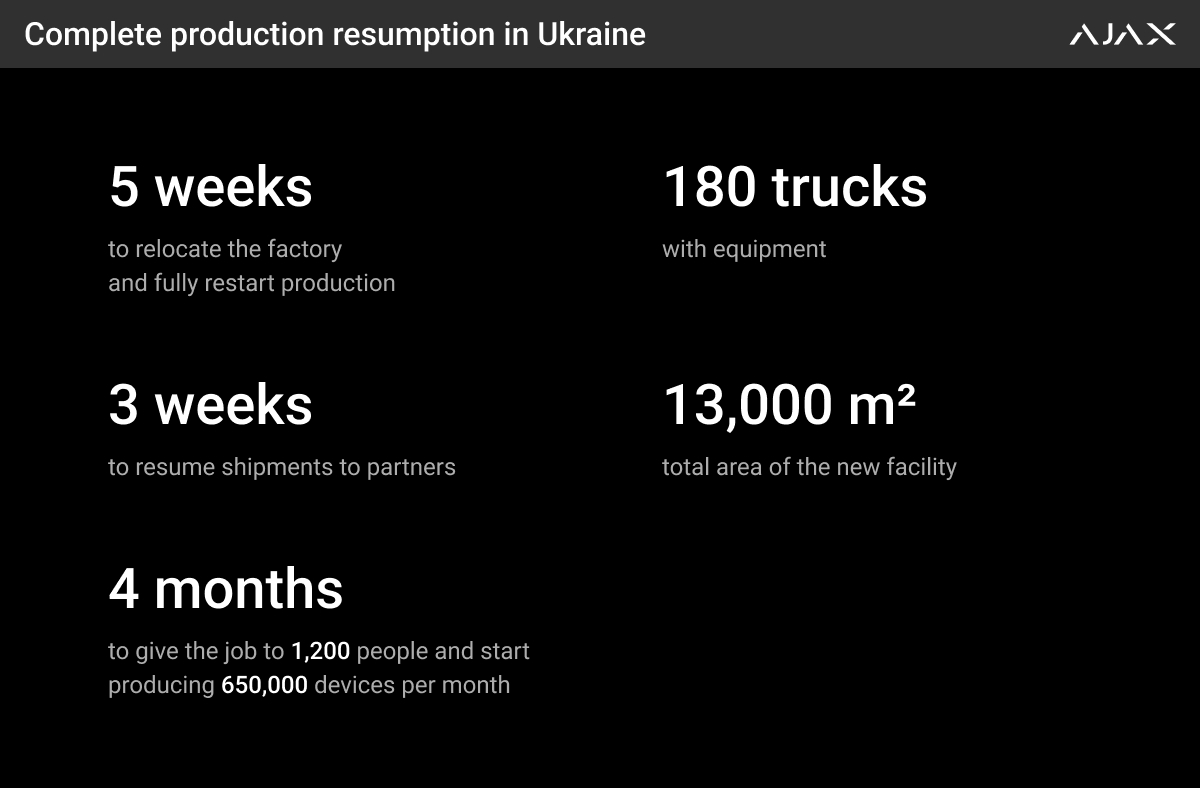 The company managed to resume shipments in three weeks and the production cycle in five weeks. All this against the backdrop of bombing and new logistics challenges.
We overcome these challenges together with our team and partners. Their support helps us to exist and grow.
Launch of production in Turkey
The factory opening was planned as a part of scale-up long before the war. New full-cycle factories are always a diversification of risks. We already have our own logistics hub in Poland. After exploring the options, the choice fell on Turkey due to a combination of factors.
In May, Ajax Systems announced the opening of the first factory outside Ukraine. In October, the first DoorProtect detector was made there.
The opening of the new factory in Istanbul is a strategic step aimed at diversifying our production capacities. We chose Turkey based on various factors: presence of professionals in the production field, infrastructure, conditions of the free economic zone, tax level, quality of contractors, and proximity to our main markets. The new production facility will enhance the development of Ajax devices and accelerate entry into new markets.Aleksandr Konotopskyi, CEO of Ajax Systems
New markets
By the end of 2022, Ajax is present in most countries of the world. The company entered North and South American markets — USA, Canada, Argentina, Uruguay, and other countries of the region.
Leaders of the security industry join the partner network. Inaxsys is now the official Ajax distributor in Canada, and SS&SI — in the United S. ADI and Wesco became Ajax Systems partners in both countries. In the Australian market, the company cooperates with NAS Australia and SecuSafe. We announced the partnerships with Microfal in Uruguay and Getterson in Argentina. Among the countries with newly added distributors, there are Latvia, Qatar, Saudi Arabia, Indonesia, and the Philippines.
This year was also fruitful for integrations. SoftGuard, CAMS, Immix, INSOCAM, Solid, LISA — each of these monitoring software is integrated with Ajax now. And monitoring stations that use Sitasys or AM/Win software can receive alarms with photo verification from Ajax.
1,750 monitoring companies around the world are already working with Ajax. Let's name the loudest ones in new markets. In Canada it is CCAQ, Centrale d'Alarme De Bromont, Lanvac, API, SRC, Paladin. In the USA — Rapid Response, CMS, Centralarm, USA Central Station, Emergency 24, NMC (National Monitoring Center).
Special Event: Comfort zone
Despite everything, our team has filmed a fourth Special Event in Ukraine. After February 24, we forgot about our comfort zone and focused on protecting our country and business. But still, we chose the comfort zone as the central theme when we presented new Ajax products. After all, Ajax is always about an ambitious future, innovations, and technologies that make this imperfect world a better place.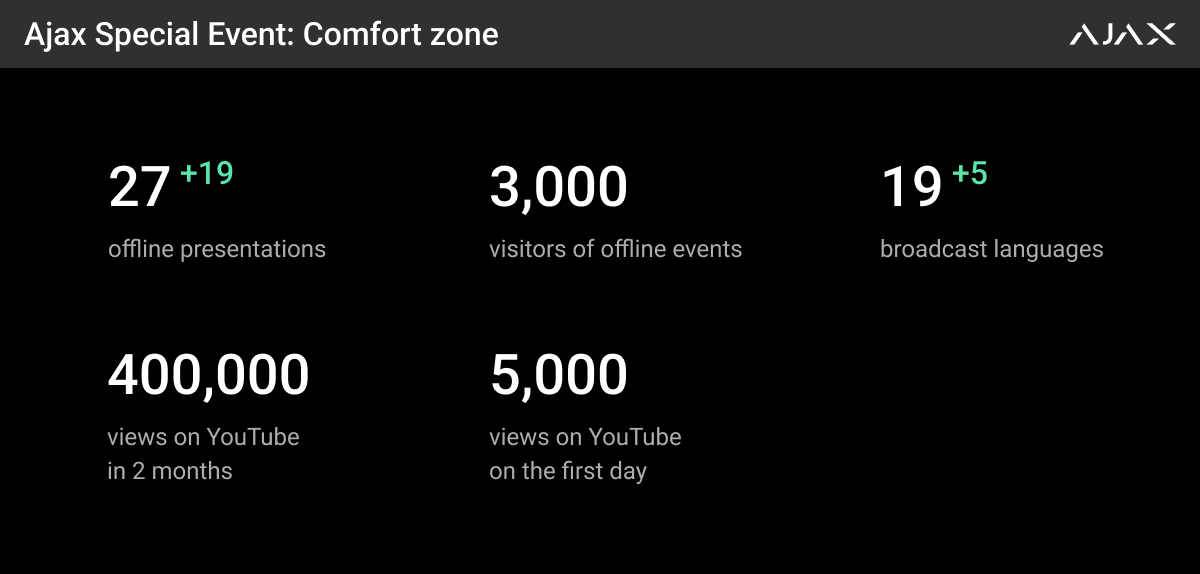 Products we presented:
LightSwitch, a smart light switch. All models of switches have a large touch panel that works both by touch and contactless — just put your hand closely. With LightSwitch, you can control lighting from your smartphone. Also, it supports automation scenarios that make life more comfortable. This is the reliability of a professional security solution and the best user experience.
We have an advanced set of technologies to create an outstanding lighting control product. Our systems are already in over a million facilities, our users love Ajax, and we believe we can reinvent how people control light.Aleksandr Konotopskyi, CEO of Ajax Systems
LifeQuality, a smart air quality monitor with temperature, humidity, and CO2 sensors. It helps evaluate air quality dynamics at home, in the office, workplace, or in any other space. Users get medical-grade measurement accuracy, comprehensive in-app information, and automation scenarios with new features. For example, an Ajax security system with LifeQuality and automation devices can now turn on the ventilation or humidifier if the air quality indicators become uncomfortable.
FireProtect 2, is the first seven devices of the new Ajax fire detector line. The patented smoke chamber does not require regular cleaning. The dual-spectrum sensor distinguishes smoke from steam. Two thermistors react to burning synthetic materials, and advanced analysis algorithms minimize the risk of false alarms. This is a reliable home fire protection that meets EN 14604:2005/AC:2008, EN 50291-1:2018 and Q mark standards.
WaterStop, a water shutoff valve which you can remotely control from the smartphone. It runs on batteries or an external power supply and connects with a hub via the Jeweller radio protocol. It is equipped with a Bonomi Industries valve. WaterStop, LeaksProtect wireless detectors, and the hub create an automated anti-flood system.
DIN Holder bracket to fix Relay or WallSwitch on a DIN rail. Provides passive ventilation of the device, makes it possible to manually switch relays, saves space, and keeps order in the electrical panel.
PRO Desktop 3.4, an advanced security service with maintenance reports. The reports functionality allows you to get all the important information about the installed devices at the facility. One page that contains the hub status, communication status, battery levels of each device, and other critical parameters. The report can be downloaded to local storage in PDF format or transferred to third-party software via Enterprise API.
Temperature scenarios. Many of the Ajax devices displayed the ambient temperature in the app, but this indicator was available only for viewing. Now, it can run temperature scenarios. This means the heater will turn on if, for example, the temperature of three detectors in the room drops below 15°C.
Keypad access codes for unregistered users. This feature allows assigning a person or company a separate access code in the hub settings without creating an Ajax account. So there is no need to register office employees, cleaning companies, or real estate agents in an Ajax app. When a code is used, this will appear with the user name in the events feed and push notifications.
Co-branded app for Ajax Systems partners. A new digital tool for security or service companies to increase brand awareness and automate payment reminders. The app displays the company logo and information about the client's account balance.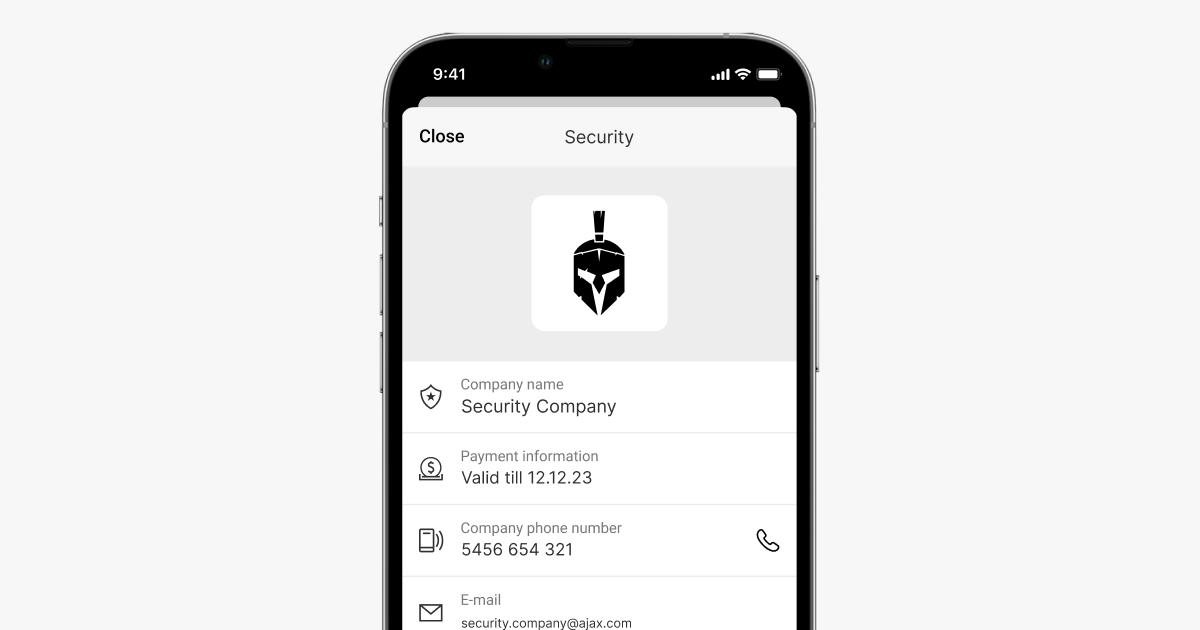 Also, the team rethought the user interaction with the apps. We considered modern trends and natural features of human interaction with interfaces. The texts have become more contrasting, each security mode has its own colour, and the control of automation devices (relays, smart sockets, and switches) is now in a separate menu.
Ajax apps become even more convenient
Watch the full video of Ajax Special Event: Comfort zone
👉 Read the article Ajax Special Event: Comfort zone
Opportunities for partners
The philosophy of comfort has spread to software, business activities, and daily work with partners. The company has developed two partner programs: for distributors and installation and security companies. This will help Ajax Systems partners build their business, install more systems, and increase the average check.
Now we have Ajax Partner Portal. Monitor your progress in the incentive program, track the calendar of events in your region, and manage the information about your company in your profile. All of this is always at hand in the partner's account.
Partner Portal is a transition from the era of correspondence to a digital service. In 2022, access was granted to the UK, Italy, Spain, Portugal, the countries of Scandinavia and Benelux. The portal and new partner programs will be available in 2023 for all countries where Ajax is present.
We rebuilt the Ajax-based training system and launched the Ajax Academy. Academy is where our experts explain the system's features, discuss devices and specifics of working with them, and share the secrets of customer interaction.
All over the world, Ajax Systems partners receive the same experience and knowledge regardless of the training format: offline events, webinars, or video lessons. Unified testing standards are implemented for all partners.
Contact the Business Development Manager (BDM) in your region to get access to Ajax Academy.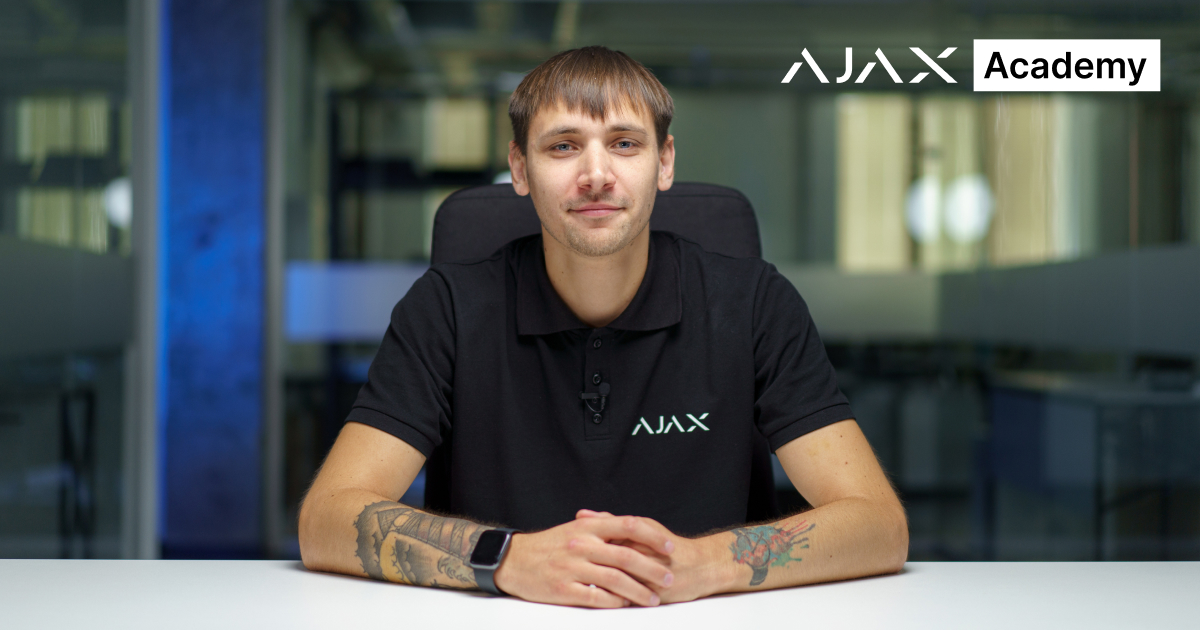 Ajax Systems provides partners access to a huge database of working materials and support from the largest marketing team in the industry.
Customer stories
Сustomer stories is a new section on our website. Here we share the diversity of use cases for Ajax system implementation worldwide.
The microclimate system on a farm, protection of yachts, large outdoor territory or museum exhibits, and prevention of fuel theft from trucks — all this destroys the myth that Ajax is only a «home alarm».
Customer stories is a tool that visually convinces potential customers.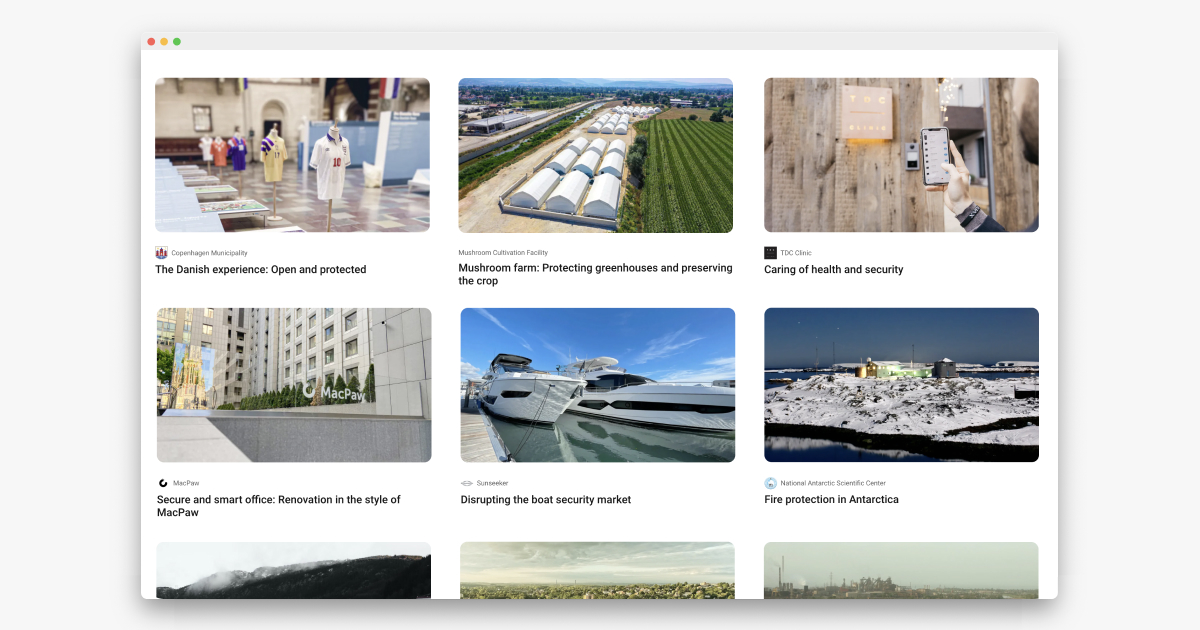 A few examples:
👉 Security against fuel theft
👉 Mushroom farm: Protecting greenhouses and preserving the crop
👉 Secure and smart office: Renovation in the style of MacPaw
👉 Disrupting the boat security market
👉 Safer Pod S1 is the future of construction site protection
If you have an interesting completed project, please share your story.
Recognition and awards
Ajax Systems made it to the final of the 2022 Security & Fire Excellence Awards in 3 categories:
Security Hardware / Software Manufacturer of the Year — Ajax Systems.
Security Hardware Product Innovation of the Year — Ajax Systems with DualCurtain Outdoor.
Security Software Product or Software as a Service of the Year — Ajax Systems with PRO Desktop 3.2.
We are pleased to be recognized by the British security community.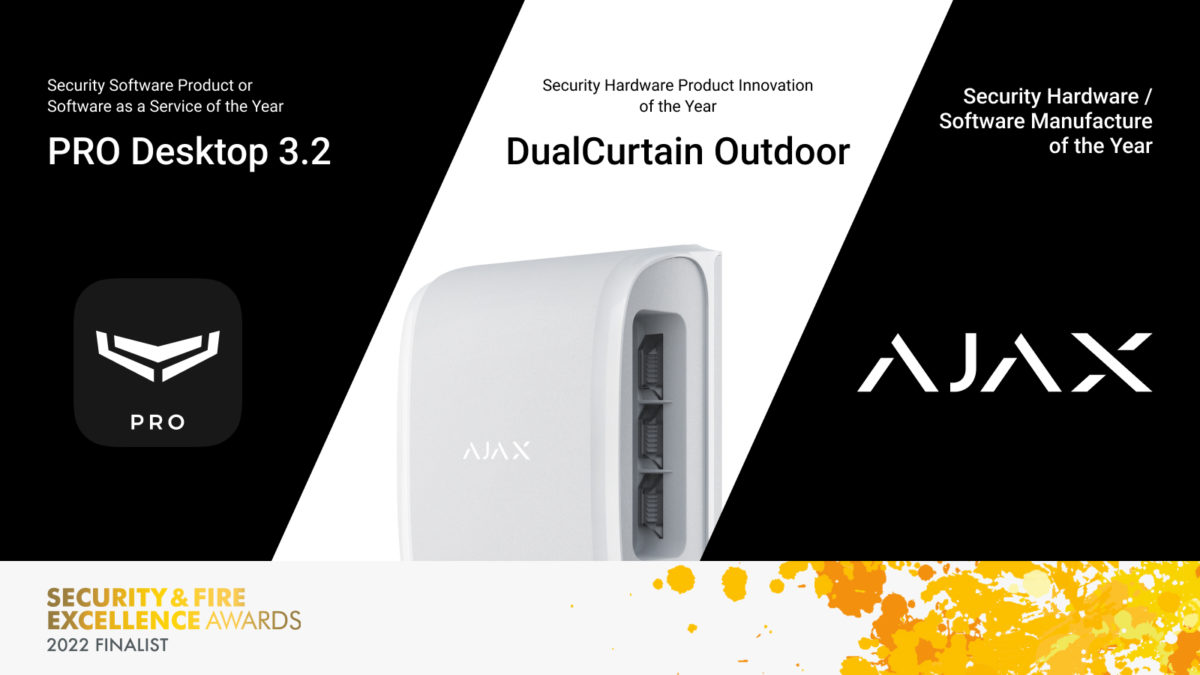 MotionCam Outdoor detector received prestigious GIT Security Award 2023. This is an annual reader award of the German publishing house Wiley-VCH Publishing. Readers from all over the world vote online for the product with the best innovation, user experience, and unique offer on the market.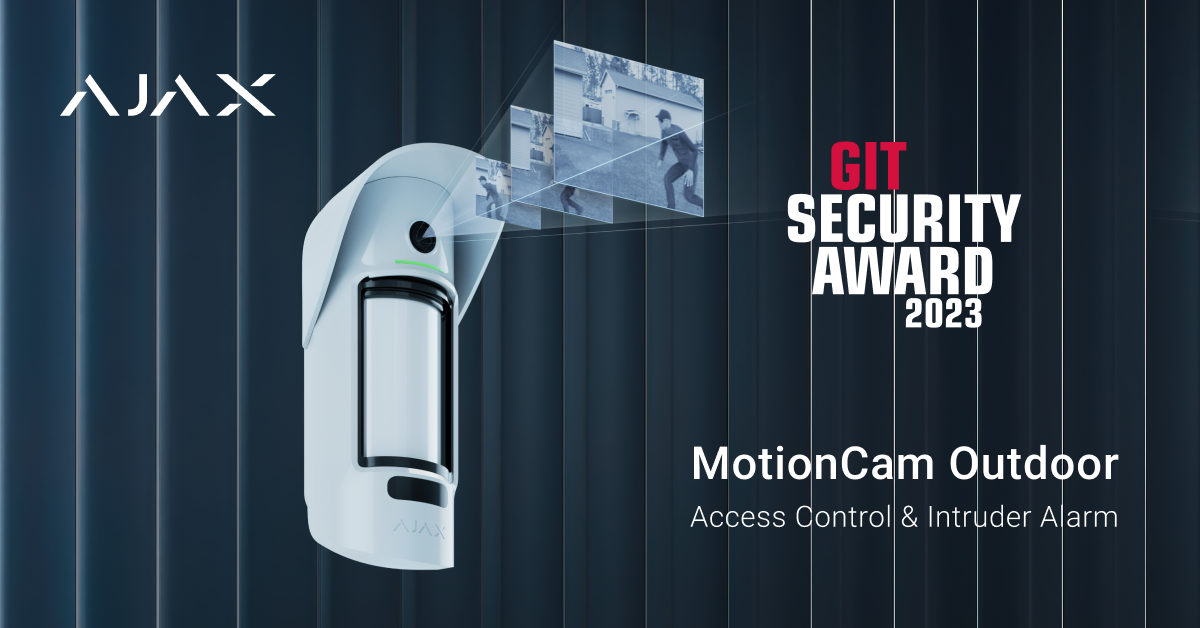 Strong community
In 2022, Ajax was presented at 51 exhibitions in 32 countries. Ajax Systems participated in 27 exhibitions as a vendor, while partners presented products at all others. Partners also held 263 events in 33 countries.
We did not give up offline events, even in Ukraine. Of course, in compliance with all wartime safety rules.
On December 20, the company held a partner seminar in Kyiv, the final in a series of Ukrainian events and the first in the capital for the last 3 years. The tour of Ukraine took place in 9 cities and gathered about 1,000 visitors.
In addition, we held 169 webinars in technical and business areas, which gathered 15,780 views globally.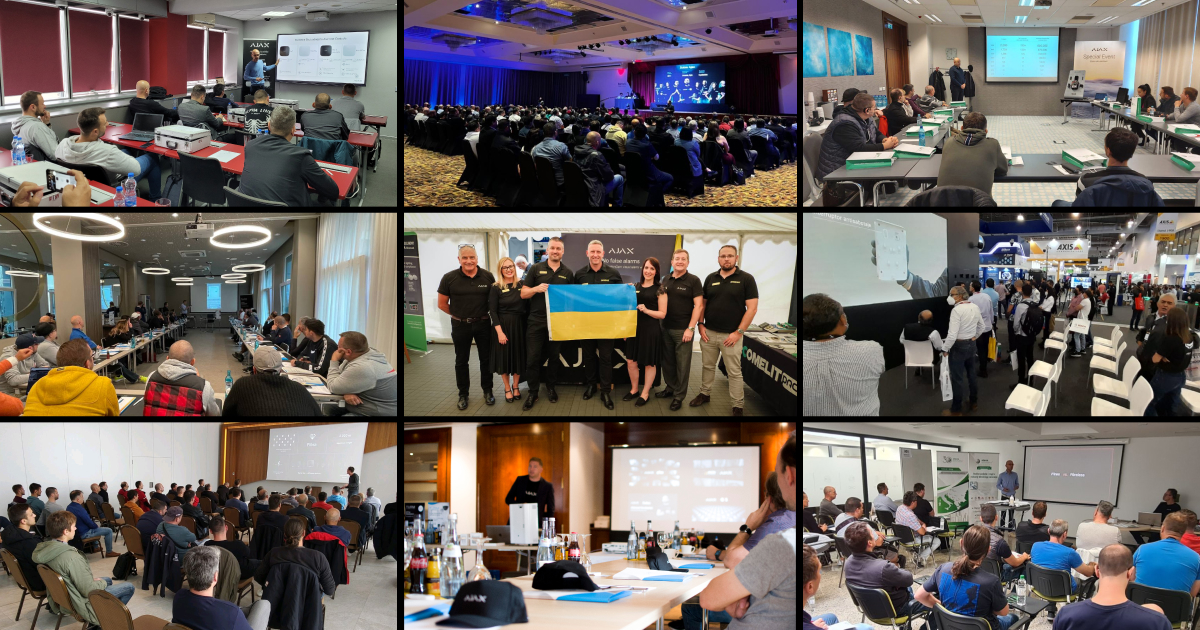 Team
Ajax Systems continues to hire and does not downsize. Instead, the company is rapidly growing and investing in human resources. The team unites professionals with a unique skill to work and maintain high efficiency under conditions of war.
In 2022, the Ajax team comprised 2,620 employees, 877 more than the previous year.
International branches also continue to scale, with experienced industry representatives joining the teams in their regions.
We invite you to consider job opportunities at Ajax Systems.
Air Alert app
Since the beginning of the full-scale war, the company has been actively thinking about how we can help. Ajax Systems carries a security mission with its technologies, making the imperfect world a safer place. In partnership with Stfalcon and with the support of the Ministry of Digital Transformation of Ukraine, we've developed the Air Alert app. The app has 14.5 million downloads today. It's in news broadcasts in Europe, Japan, and the US. And in Ukraine, it saves people's lives.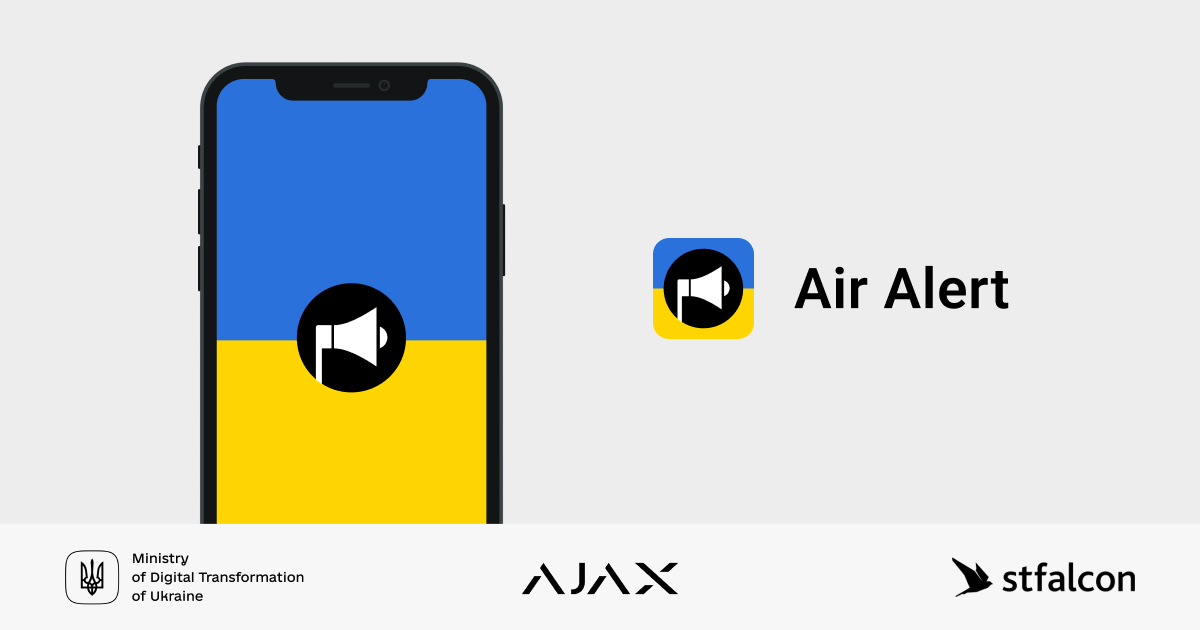 The Ajax Systems team has implemented the solution to notify the public of war alarms via Ajax security systems. Prompt alerts are especially critical for large enterprises and offices with many people. In schools, kindergartens and universities, such alerts are a mandatory requirement of the State Emergency Service of Ukraine.
Due to the Enterprise API interface, notifications are sent directly to Ajax security systems. Loud HomeSiren and StreetSiren sirens are triggered by the alarm.
The team pays special attention to ensuring that alert notifications are not scary. Now the voice of the Air Alert app is Mark Hamill, who plays Luke Skywalker in Star Wars. When an alert is over, the actor calls for donations to purchase drones for the Ukrainian military.
The update will be helpful for journalists, international missions, and everyone currently working in Ukraine. People in other countries can download the app, so they can kind of feel what Ukrainians are going through.
This is more than just an app update for us. It's a part of the work on the information front and an opportunity to help the Armed Forces of Ukraine to continue to fight effectively. Unfortunately, air alerts are still common for Ukrainians, and we constantly need help from the Western world. We hope the English version of the app will help draw foreigners' attention to the war in Ukraine and encourage them to support our defenders. We thank UNITED24 partners and world legend Mark Hamill for their involvement and tireless work for victory.Valentyn Hrytsenko, CMO of Ajax Systems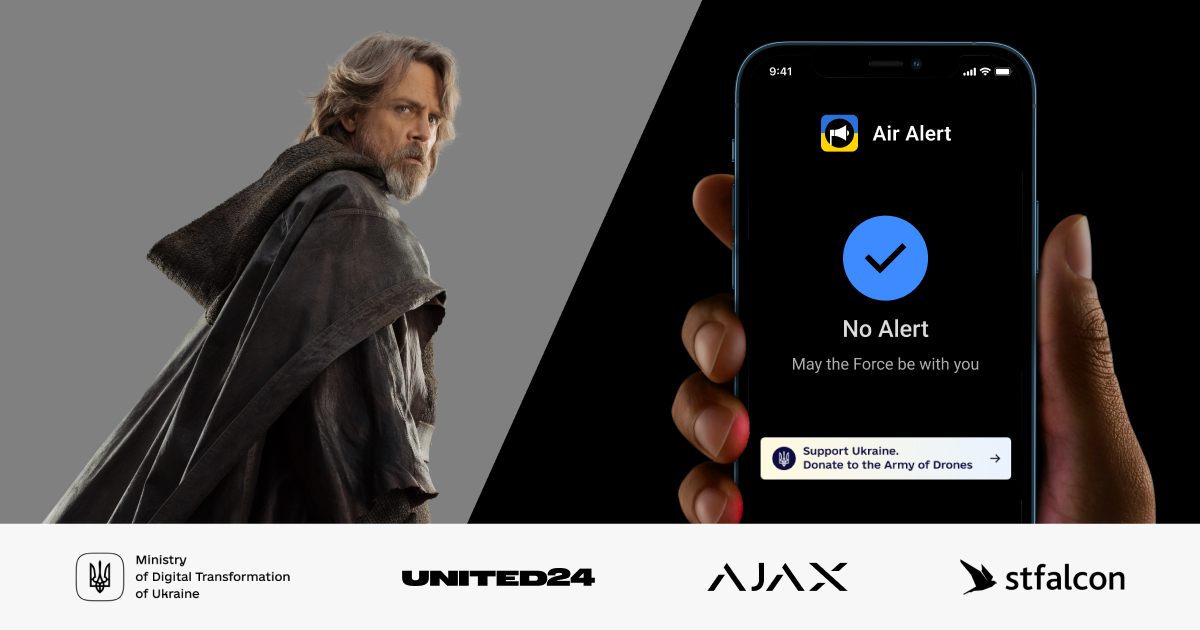 The Air Alert app is available in the Google Play Market, AppStore and Huawei AppGallery.
In addition, Google uses Ajax infrastructure for separate alerts on its side. As a result, Android smartphone users receive notifications even if they do not have the Air Alert app installed.
Unstoppable
Despite everything, we are developing our business, foreseeing risks, and making plans for rapid growth.
Ajax Systems is a systematic and coordinated business. Control and security are in the company's DNA. This approach has united us and made us ready even for a full-scale war. The team is constantly developing the product; manufacturing is growing, batches of products are shipped to all corners of the world, the infrastructure is stable, the customer support service works 24/7, we introduce new initiatives to support partners and more. Securely dispersed servers outside Ukraine and diversified production make us resistant to various dangers.
Now we are not just confident that we are ready to develop even in the most challenging circumstances. We have proved it in real conditions.
2023 will be the year of a great victory for Ukraine, and Ajax Systems will continue to grow and achieve its goals.
---