Roller doors and shutters can become an ideal element of a smart home. They can be used to both protect and decorate it. But roller constructions have two problems:
opening/closing is exhausting if there is no single control center.
relying only on roller shutters and doors is not wise — you need a security system for complex protection.
Ajax allows you to control roller doors/shutters via an app as well as automatically by a scenario and schedule. In case of an alarm, roller constructions will work as part of the system, fully protecting against burglary and intrusion. At the first sign of fire, they will open to provide access to firefighters and facilitate evacuation.
We will tell you how to organize comfortable management of roller doors/shutters and strengthen the security of your facility with them.
Roller shutters and doors: how they work and what types there are
There are different names for roller constructions: roller doors, roller shutters, roller gates/grilles, and even roller blinds. They all work by the same principle: they are either rolled up into a roll or shifted on rails.
Roller doors and shutters can perform decorative and protective functions.
Decorative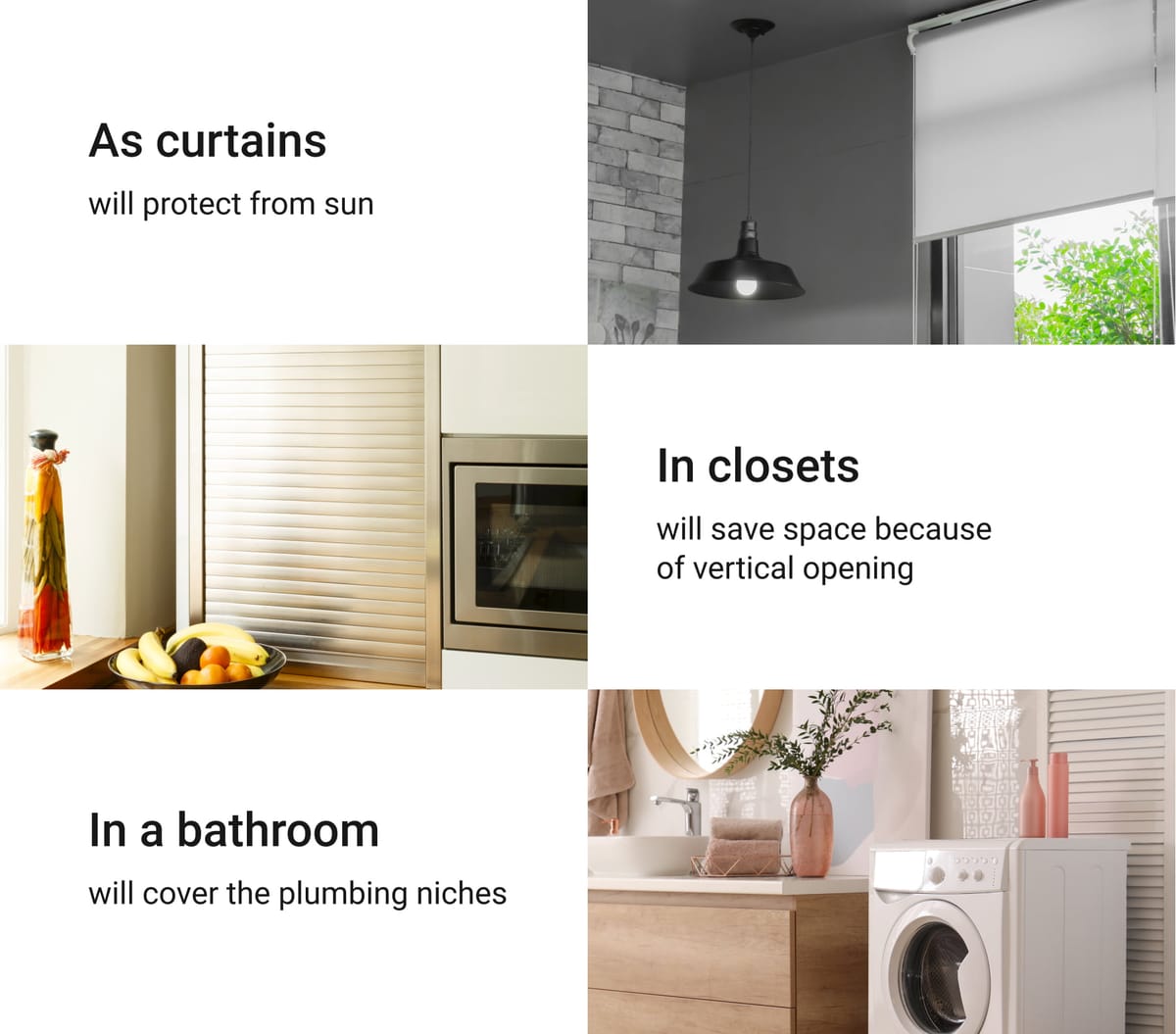 Protective
What type of control to choose
The roller constructions can be opened/closed manually and (or) automatically. Manual roller doors and shutters can be automated by connecting an electric motor. Electric roller doors and automatic roller shutters are equipped with a remote control or a button for opening and closing.
In order to connect roller shutters and doors to Ajax, they must be equipped with an electric motor.
How to operate roller doors and shutters with a tap
In the app or with a button
With Ajax, you don't need separate remote controls and buttons for each roller door and shutter; there is a smartphone with the Ajax app or Button at your fingertips for control. For example, when approaching the garage, you don't have to waste time waiting for the roller gates to open. The button works at a distance of up to 1,300 meters in the line of sight.
👉 How to manage gates and barriers with Ajax
Automation scenarios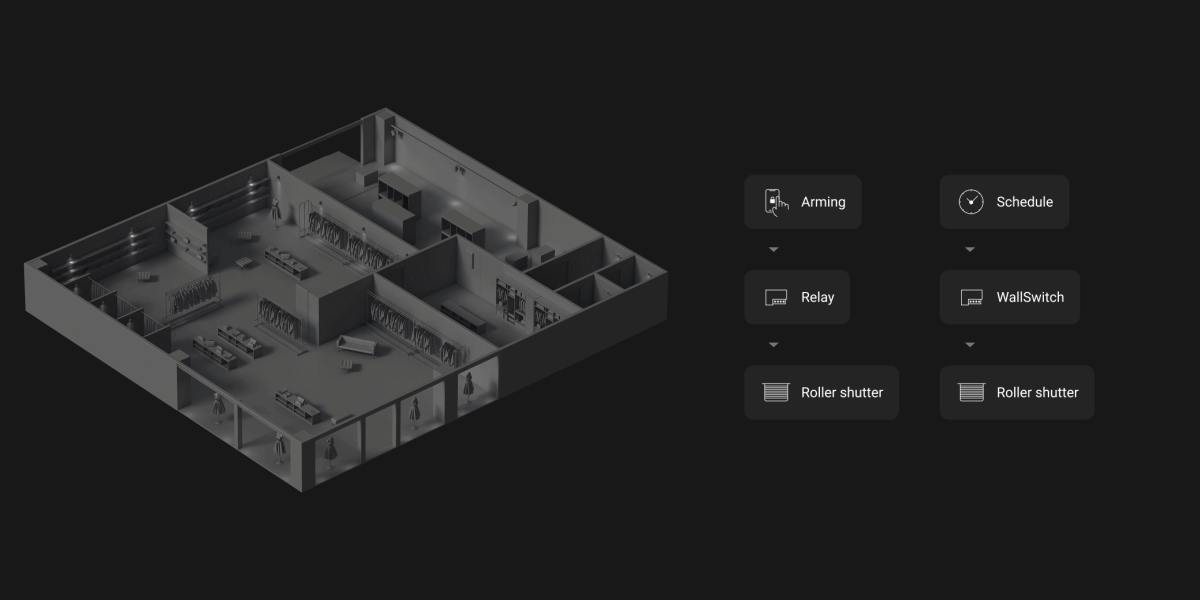 By security mode change
When leaving home — just one touch to arm the system with a smartphone or a key fob. Roller doors and shutters will move down. You don't have to check each window separately, inspect entrances and exits. When disarmed, the shutters will open in the same way.
By schedule
You can set up a schedule for opening/closing roller doors and shutters. For example, you want the shutters in the office to close at 7 pm and open at 8 am automatically, regardless of the security mode.
When turning the Night mode on and off
When you activate the Night mode before going to bed, the blinds close, or the window roller shutters roll down by scenario. The Night mode activates the security mode without restricting movement within a perimeter. But if someone tries to break into the house, an alarm will be raised.
By temperature
Set up automatic closing of roller shutters and blinds depending on the temperature inside the room. If your home is located on the sunny side, you can set up a scenario to close the roller shutters when a certain indoor temperature is reached.
Automation scenarios can be implemented by connecting Relay or WallSwitch relays to roller doors and roller shutters.
How roller doors and roller shutters can improve security with Ajax
Several examples
In case of an intrusion attempt
Office on the first floor is protected by roller shutters. An opening detector on window shutters detects an attempted burglary. Outdoor video surveillance cameras record the appearance of intruders. A hub (a security system control panel) has already sent an alarm to a monitoring station, and a patrol is on its way.
In the long absence of the owners
When leaving the summer house, a single press of a button lowers all the roller doors and shutters, de-energizes their drives. Security mode activates. Outdoor detectors with a photo camera monitor the area and spot movement. When alarmed, the owner will be able to see images from anywhere in the world and understand if the danger is serious: whether burglars are breaking the shutters or relatives forgot to disarm the system.
In case of attack
Intruders are on private property when the owners are home — sirens and property lights are turned on — roller shutters on windows and the back door close down. The owner presses the panic button and exits through another door, waiting in a safe place for the patrol to arrive.
In case of fire
Ajax fire detectors recognize smoke, carbon monoxide, or a temperature spike. Roller doors and shutters open automatically to clear evacuation routes and provide access for firefighters. This can save lives when minutes or even seconds count.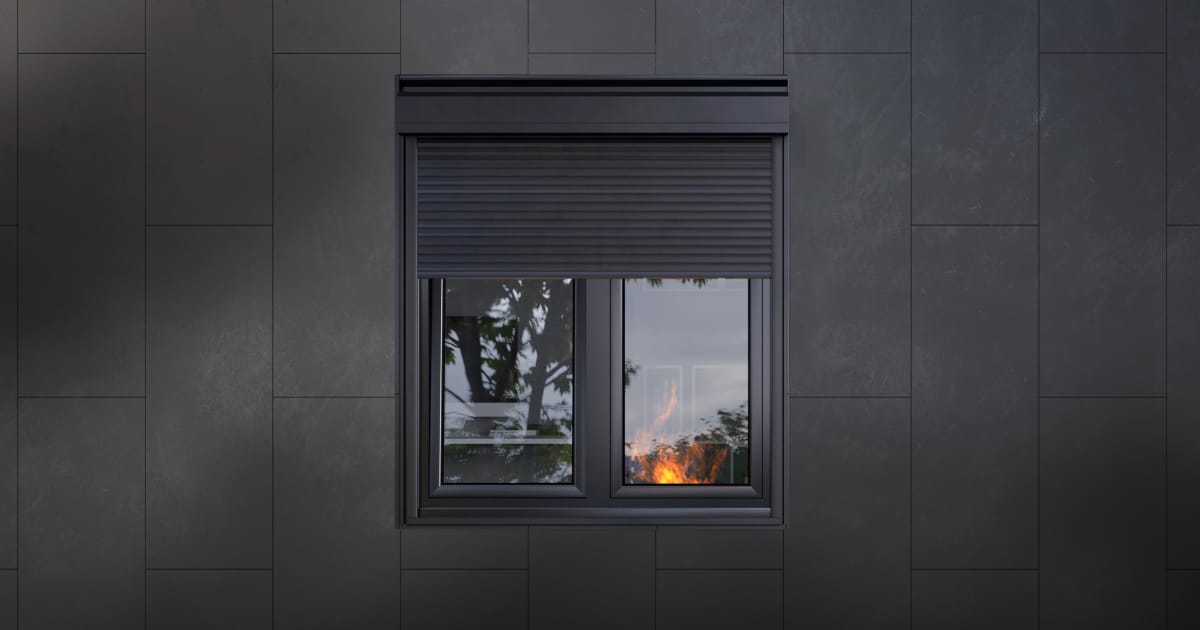 How to connect roller doors and shutters to an Ajax system
We recommend you contact a specialist. To make sure the connection takes the minimum amount of time, we prepared detailed instructions.
👉 How to set up roller doors and roller shutters control with Ajax