MotionCam
Wired indoor motion detector with photo verification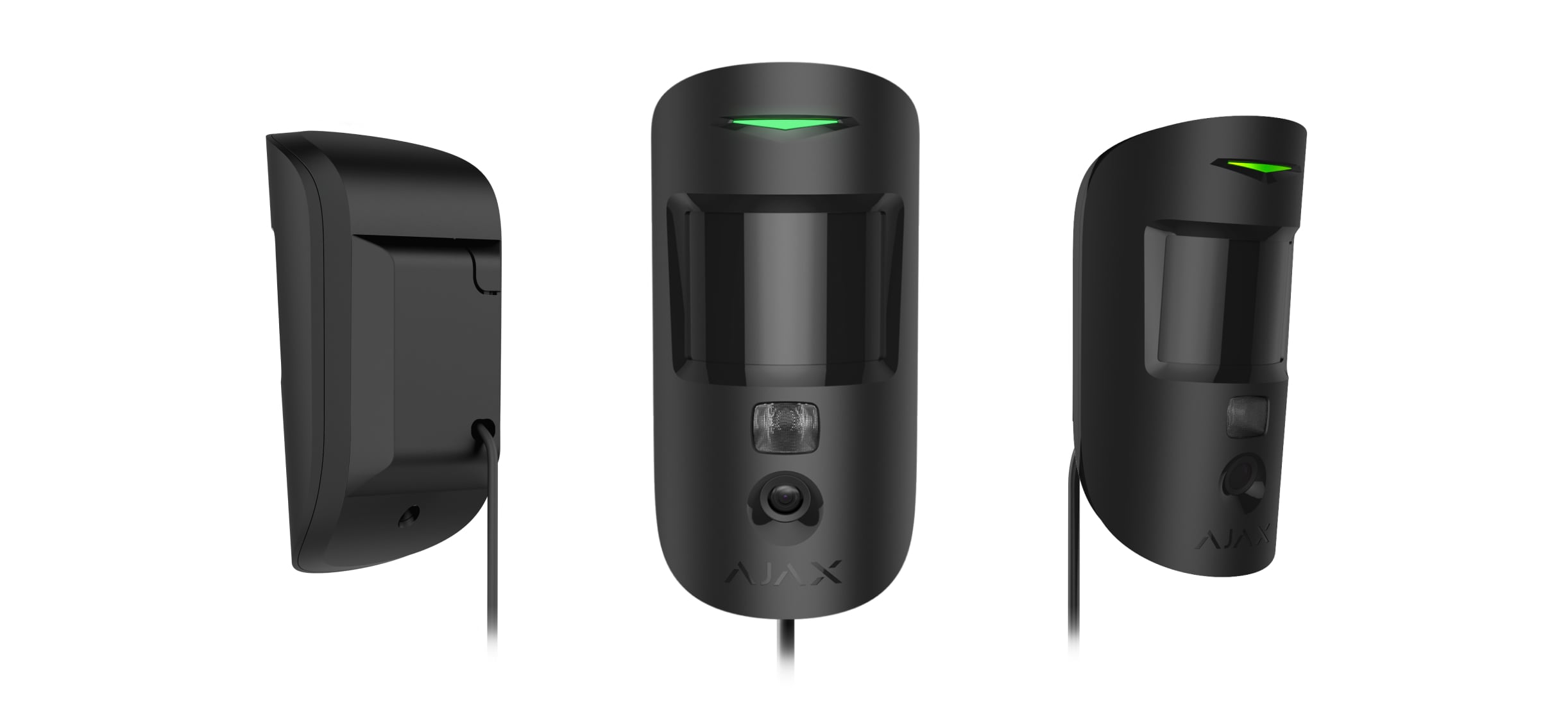 Communication
Fibra communication technology
Proprietary wired communication technology. Fibra combines the reliability of wires with the freedom of radio connection.
It features:
Two-way communication.
Advanced anti-sabotage.
Instant notifications.
Remote configuration in the Ajax apps.
Line connection
4-core cable
Fibra line length
up to 6,500 ft
When using the U/UTP cat.5 twisted pair cable.
Encrypted communication
Detection
Sensitive element
1 PIR sensor
Motion detection distance
up to 39 ft
When installed at the height of 7.9 ft.
Motion detection angles
horizontal — 88.5°
vertical — 80°
Motion detection speed
from 1 to 6.6 ft/s
The direction of the detector lens should be perpendicular to an alleged intrusion path into the room.
Sensitivity
3 levels
Adjusted by a PRO or user with admin rights in the Ajax app.
Pet immunity
up to 44 lb
up to 1.6 ft in height
False alarm prevention
SmartDetect
Software algorithm.
Temperature compensation
Effective motion detection within 14°F to 104°F range.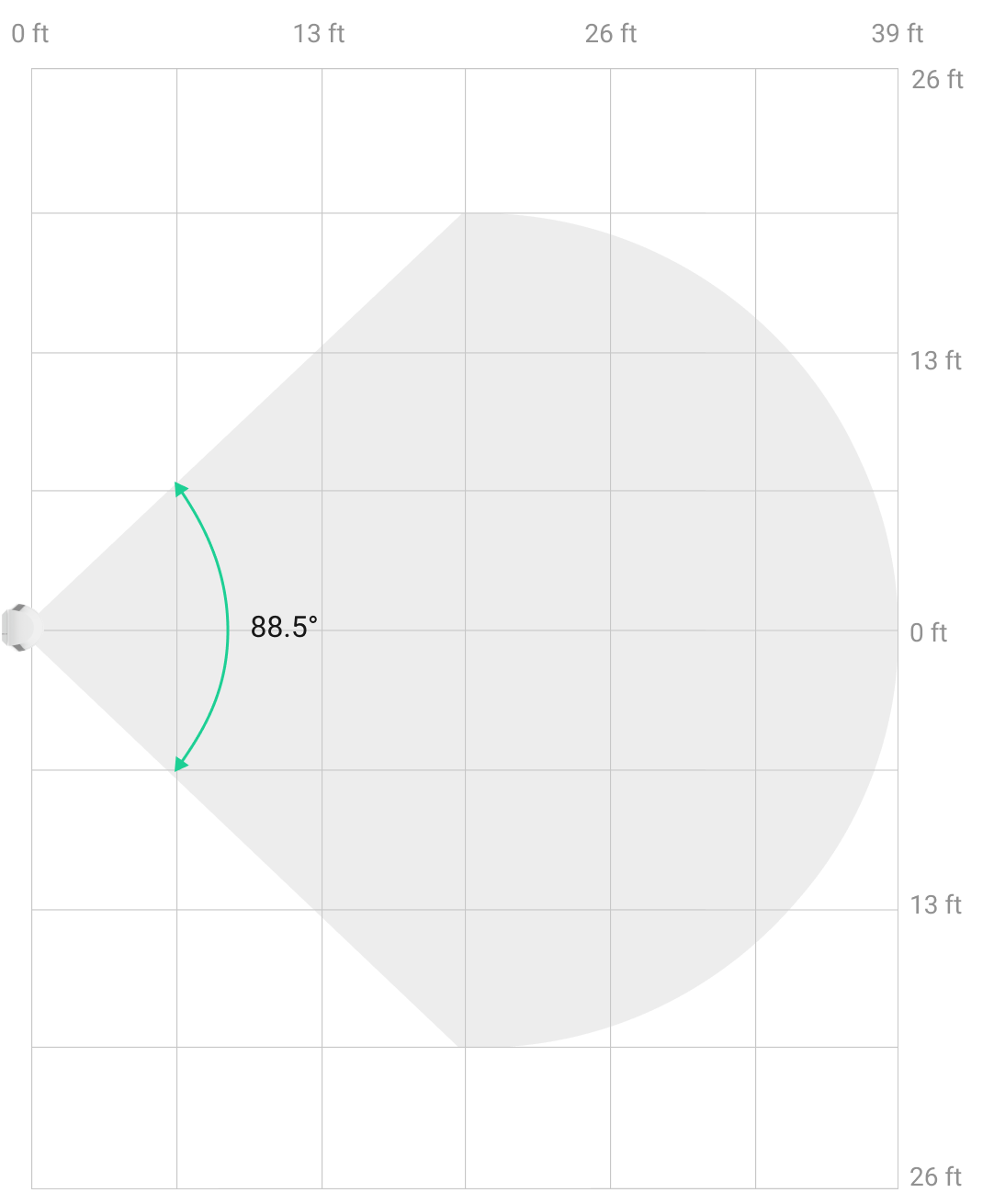 Photo verification
Photo by alarm
The built-in camera is activated if the detector is armed and motion is detected.
Adjustable photo resolution
640 × 480 px
320 × 240 px (default)
160 × 120 px
Adjusted by a PRO or user with admin rights in the Ajax app.
IR backlight
For night photography and low light conditions.
Series of pictures
from 1 to 5 snapshots
Adjusted by a PRO or user with admin rights in an Ajax app.
Photo delivery
up to 7 s — 160 × 120 px resolution
up to 9 s — 320 × 240 px resolution
up to 20 s — 640 × 480 px resolution
Photo delivery time depends on the image resolution selected in the device settings.
Recommendations
It is recommended to install the detector at the height of 7.9 ft. The device is designed for indoor use only.
Anti-sabotage protection
Tamper alarm
2 tampers
Both are needed to fasten the left or right side of the detector's mounting panel. The system receives notifications about attempts to detach the device from the surface or remove it from the mounting panel.
Protection against spoofing
device authentication
Power supply
Fibra line power supply
7−30 V⎓, up to 500 µA
The detector is powered by the control panel.
Sealed battery
LTO AA
It is used when the detector takes photos, activates an IR backlight, and transmits an alarm. The battery is charged from the Fibra line.
Enclosure
Dimensions
5.31" × 2.75" × 2.60"
Weight
5.29 oz
Operating temperature range
from 14°F to 104°F
Operating humidity
up to 75%
Protection class
IP50
Colours
Black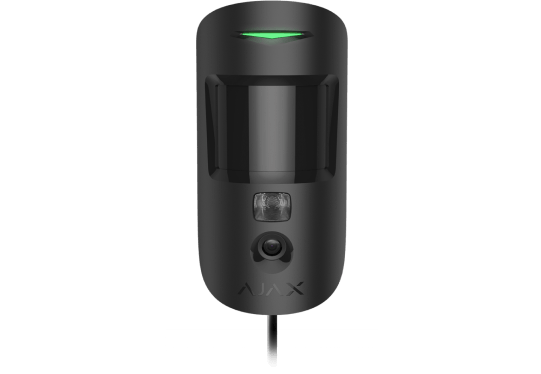 White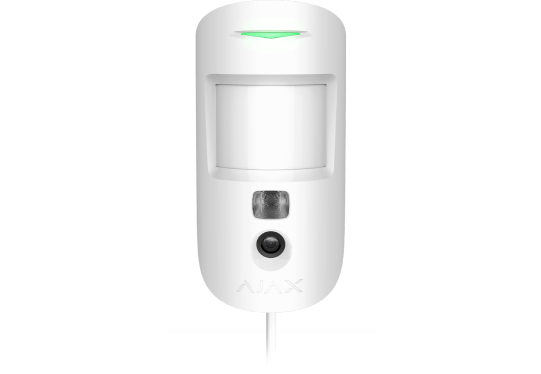 Complete set
MotionCam Fibra
SmartBracket mounting panel
Installation kit
Quick Start Guide
Additional information
Compliance with standards
Warranty
24 months
User manual