Why would you need a new security system if you already have a security system? The truth is modern security systems have evolved far beyond their traditional counterparts. Today's smart systems offer various features and functions beyond simple alarm signaling. Upgrading your old wired system means gaining access to advanced functionalities such as remote monitoring, automation capabilities, and seamless integration with other devices in your home.
A compelling reason to upgrade is improved security. Modern systems offer real-time alerts, remote access, and the ability to monitor your home from anywhere. The limitations of a wired system will no longer bind you.
Moreover, intelligent security systems provide unimaginable convenience. Picture being able to control your security system remotely through a smartphone or a tablet. Need to arm the system before leaving the house? You can do it when remembered with a few taps on your phone.
Additionally, smart systems can integrate with other devices in your home, creating a cohesive and efficient ecosystem. Imagine your lights turning on automatically when motion is detected. It is convenient.
How to determine if you need a home security upgrade
Assessing the security of your home can be achieved through a thoughtful and structured approach. Consider the following steps:
Put yourself in the intruder's shoes. Begin by imagining yourself as a potential intruder. Think about how you would attempt to gain entry into your home. Where would you search for valuable items? Contemplate challenging scenarios, such as removing a securely fastened safe hidden beneath your coat.
Evaluate your escape plan. Consider how you'd escape as an intruder to spot potential vulnerabilities.
Recognize areas for improvement. If your answers to the previous questions seem readily apparent, they suggest room for improvement in your home security measures. This realization is crucial as it prompts you to take action.
Prepare for worst-case scenarios. Visualize the worst-case scenario: an intruder gaining access to your home, stealing your prized possessions, or even setting your home on fire. Ask yourself how much time, effort, and money you would be willing to invest to prevent such a situation from occurring.
Assess your current Security system. To determine if an upgrade is possible, evaluate your existing security system. Check whether your current security system provider can offer the desired upgrades you require.
Consider the convenience of staying with your provider. If your current provider can meet your upgrade needs, acquiring additional equipment from the same company may be convenient. This simplifies the upgrade process and ensures compatibility.
Explore equipment compatibility. If your current provider cannot fulfill your upgrade requirements, explore equipment options compatible with your existing system. Some home security companies design their systems to work with equipment from other brands.
Ask a professional (this one is a first-priority action). People dealing with securing spaces daily know best how to protect their loved ones and belongings in the best way possible. Placement of the devices, kinds of those, and all the configurations is what a professional will help you with.
By following this approach, you can methodically assess your home security and take steps to enhance it, whether through improvements to your existing system or the addition of new equipment.
So, why smart systems?
Smart security systems offer increased security and convenience through automation and integration with other smart devices. These systems include smart locks, keypads, switches, and more, creating a more efficient and secure home environment.
Automation allows you to control your home according to your own rules, such as arming or disarming the system, and smart switches control lighting according to a user-friendly scenario.
Advanced technologies like Ajax provide comprehensive monitoring and protection against intrusion, flood, and fire threats. These systems are easy to use and integrate seamlessly with other smart devices, increasing the safety and efficiency of your home.
Security system renovation for a house
Let's take a closer look at a real-world scenario. Imagine you have an old wired security system in your house. You're considering an upgrade, but you're concerned about the cost. Ajax provides a cost-effective solution by allowing you to keep some of your existing detectors.
A fundamental renovation for your house can be achieved by integrating old wired detectors with new wireless ones. This approach saves you money and delivers modern security features to your home.
First, a thorough evaluation of your existing detectors is conducted. The goal is to identify which detectors can be integrated into the new wireless system. In many cases, door/window opening detectors, motion detectors, and smoke detectors can be reused.
Next, Ajax MultiTransmitter is installed. This device acts as the bridge between your old wired detectors and the new wireless control panel. It translates the signals from your existing detectors into a format the control panel can understand. Here is what you need to know about this device: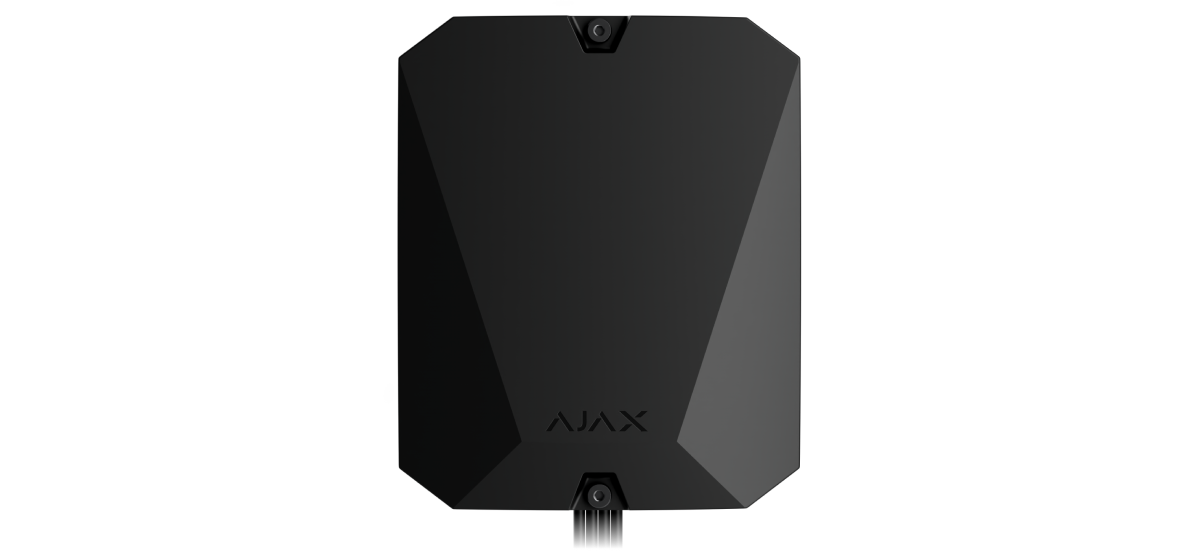 Uninterruptible power supply. During a power outage, Ajax MultiTransmitter switches to power from a 4 or 7 Ah backup battery. This ensures uninterrupted operation and promptly notifies the security company and users of power outages. This approach to backup power ensures that your security system remains uncompromised even during power outages.
Complete information about alarms. In the Ajax app, users can easily configure the settings for each device, including room, group, device type ("detector"), and alarm type. As a result, users receive clear notifications about when and where the alarm occurred. Security companies receive accurate alarm codes, making responding to alarms easier.
Enhanced protection against unauthorized access. The module has two tamper buttons that are sensitive to opening the body and removing the device from the surface. These functions instantly detect any attempts to open the enclosure and increase the security system's protection against unauthorized access.
So Ajax MultiTransmitter offers 18 zones for connecting third-party detectors. Now, we introduce Transmitter Fibra, a compact yet powerful module designed to integrate a single third-party device into the Ajax system.

Transmitter Fibra is incredibly functional. It supports all connection types, including three end-of-line options, providing ten event types for the connected device. It can be remotely configured and consistently reports its state to the hub. Transmitter even measures the end-of-line resistance values and saves them automatically in the settings, saving engineers hours of work on extensive projects.
To simplify the creation and updating of security systems of any topology, we've developed LineSplit. It's a revolutionary module that splits one Fibra line into four, allowing you to install it at any point along the Fibra line, even after another LineSplit. Each output line can extend up to 2 kilometers, making the process of renovation or installation more adaptable.

Best of all, splitting lines with LineSplit doesn't compromise the reliability and speed of the system's response to alarms.
We understand that power supply can be a concern for older lines with higher cable resistance. That's where LineSupply comes in. This module for powering Fibra devices offers two versions: a 45-watt module with one output line and a 75-watt module with two output lines.

Each output line can extend up to two kilometers, but LineSupply extends the total line length to tens of kilometers, covering areas like factories, farms, or cottage communities.
LineSupply can be configured remotely, as with all Ajax devices, and its status is accessible 24/7 through our user-friendly app.
Adding new wireless components also requires replacing the old control panel so that it can work with the new wireless equipment. This step ensures uninterrupted communication between all devices.
After the integration, you will get all the benefits of a modern security system. You can manage your security settings remotely using a convenient mobile application. Receive instant notifications on your smartphone in case of any security-related events. You can even integrate your home's security system with other electrical devices for convenience and automation.
To ensure proper setup and maximum security, entrust the installation process to an installation engineer. Their expertise can further enhance the reliability and efficiency of your security system.
Advanced security features
Updating the Ajax-based security system provides additional features and benefits: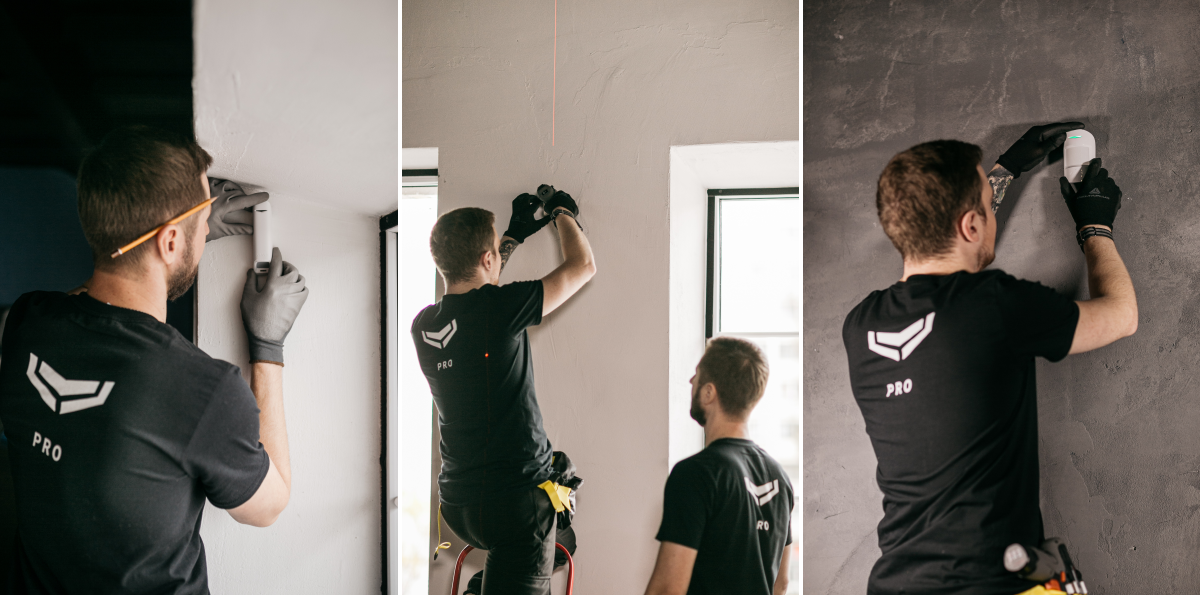 Cost-effectiveness: Reusing existing sensors can significantly reduce the overall cost of security system improvements. Even if you completely upgrade your system, the long-term cost savings and added convenience can be substantial.
Reliability: Ajax-based smart security systems provide secure communication, detect unauthorized access, and can operate autonomously for a long time.
Ease of use: Intuitive mobile apps make managing and monitoring your security system easy. Real-time alarms and notifications inform you of any events in the system, allowing you to respond quickly.
Scalability: If your security needs change, you can expand your system by adding more detectors, cameras, or other components. This adaptability ensures that your security system will meet new needs.
Advanced protection: These systems can integrate smoke and water leakage detectors, increasing your protection against fire and leaks.

Future-proofing: Ajax-based security systems receive regular firmware updates and enhancements, ensuring your system is constantly updated with the latest security technologies and features. This feature helps maintain the effectiveness of your security measures in the face of evolving threats.
How to supplement a wired security system with wireless detectors
Let's consider when you want to add outdoor detectors to a wired system. With Ajax, you can easily combine both systems into a single unified configuration. This provides convenience and comprehensive security protection.
Imagine that you have a wired security system that effectively covers the entire house. However, you want to extend the security coverage to include external areas, such as the yard or driveway.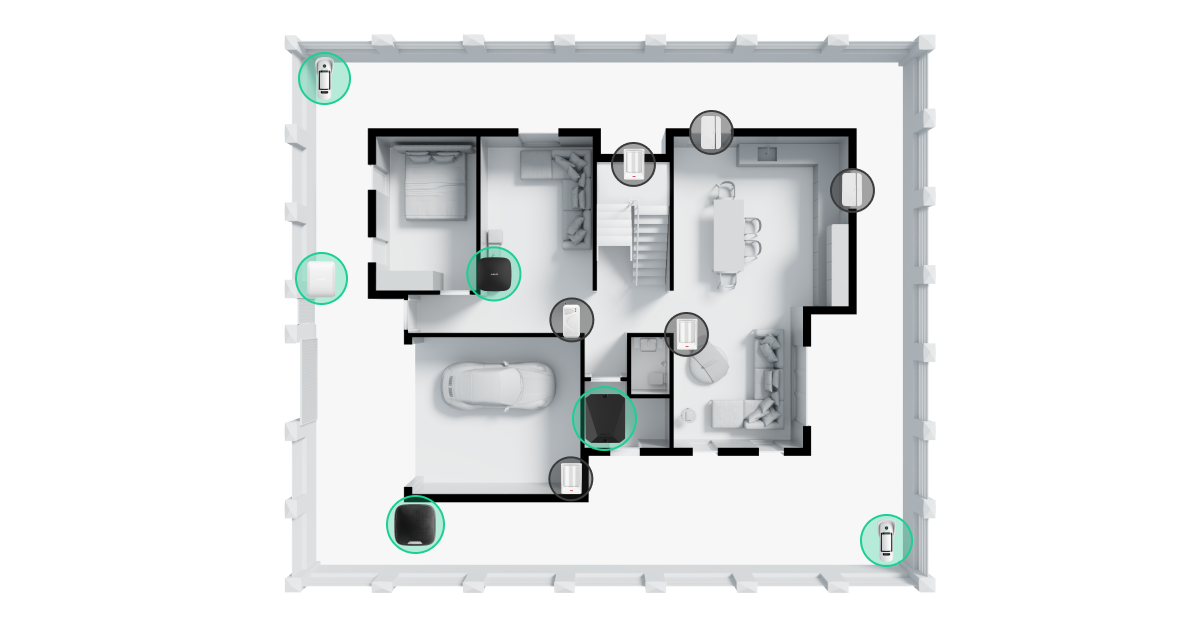 Traditionally, this could be a difficult and expensive process. Laying wires for security system detectors can be a difficult and expensive task. However, with an Ajax-based upgrade solution, it becomes a simple process.
Ajax offers a line of wireless outdoor and indoor detectors suitable for the environment. To supplement your existing wired system with wireless detectors, follow these steps:
Trust the professionals. When it comes to professional installation of a security system or smart system, this is the best way to ensure optimal performance of the system as a whole. Below are the steps that an installation specialist can help you with.
Select the appropriate control panel. The Ajax lineup includes various control panels for connecting new wireless detectors. If you are starting to build a security system from scratch, you can choose the one that best suits your needs with the help of a professional installer and the Ajax hub comparison tool. Hub Hybrid is the right choice if you are switching from a wired to a wireless security system. It is a control panel that monitors both wired and wireless security systems.
Choose the suitable Ajax detectors for your specific needs. Outdoor Ajax motion detectors are ideal for protecting large areas, while door/window opening detectors are suitable for specific entry points to a building.
Install wireless detectors. Install selected Ajax outdoor detectors in critical locations around the facility. These detectors are battery-powered and communicate with the Ajax central unit wirelessly.
Set up the system. Use the Ajax mobile app to set up new wireless detectors and integrate them with your existing security system. This step guarantees the smooth operation of all components.
Set up notifications and automation. Take advantage of the advanced features of the Ajax system — set up alarm notifications to receive notifications on your smartphone when outdoor detectors are triggered. You can also set up automation rules, such as turning on outdoor lighting when detecting motion.
Test the system. Conduct a thorough test to ensure all wired and wireless detectors work correctly. This step ensures that your entire security system provides complete coverage.

By supplementing your wired security system with wireless detectors, you extend the security zone without the hassle of laying wires. This approach not only increases the security of your home but also gives you a sense of peace of mind because you know that the open areas of your property are protected.
Conclusion
Replacing your old wired security system with a new wireless one is a smart choice that will bring numerous benefits to your home, including advanced features, cost savings, and increased convenience.
With an Ajax-based retrofit solution, such a transformation becomes possible, seamless, and efficient. You can retain your existing detectors while upgrading your security system and save money.
Modern systems offer real-time alerts, remote access, automation, and integration with other smart devices. Your home becomes safer, more productive, and more functional. It's not just a security upgrade; it's a lifestyle upgrade.