vhfBridge is a module for connecting Ajax security systems to third-party VHF radio transmitters. Acting as a transponder, it provides a hub with an additional channel to communicate with a monitoring station. With vhfBridge, you can install Ajax security systems in cities where Internet connection is unstable, in mountains, nature reserves, or desert areas. The system's alarms and events are transmitted over tens of kilometres, allowing for a quick, professional response.
New reliability level of a communication with a hub
VHF radio communication can be used as a primary or a backup channel for a monitoring station to communicate with the system. When operating as a primary channel, vhfBridge sends up to 15 types of the system's alarms and events to a central monitoring station. You can adjust a list of transmitting events in the Ajax app with a few clicks. When operating as a backup communication channel, vhfBridge adds one more independent way of communication that brings reliability to the next level.
As a primary communication channel, vhfBridge provides necessary information about the system.
As a backup channel, vhfBridge brings the reliability of communication to the next level.
Utmost versatility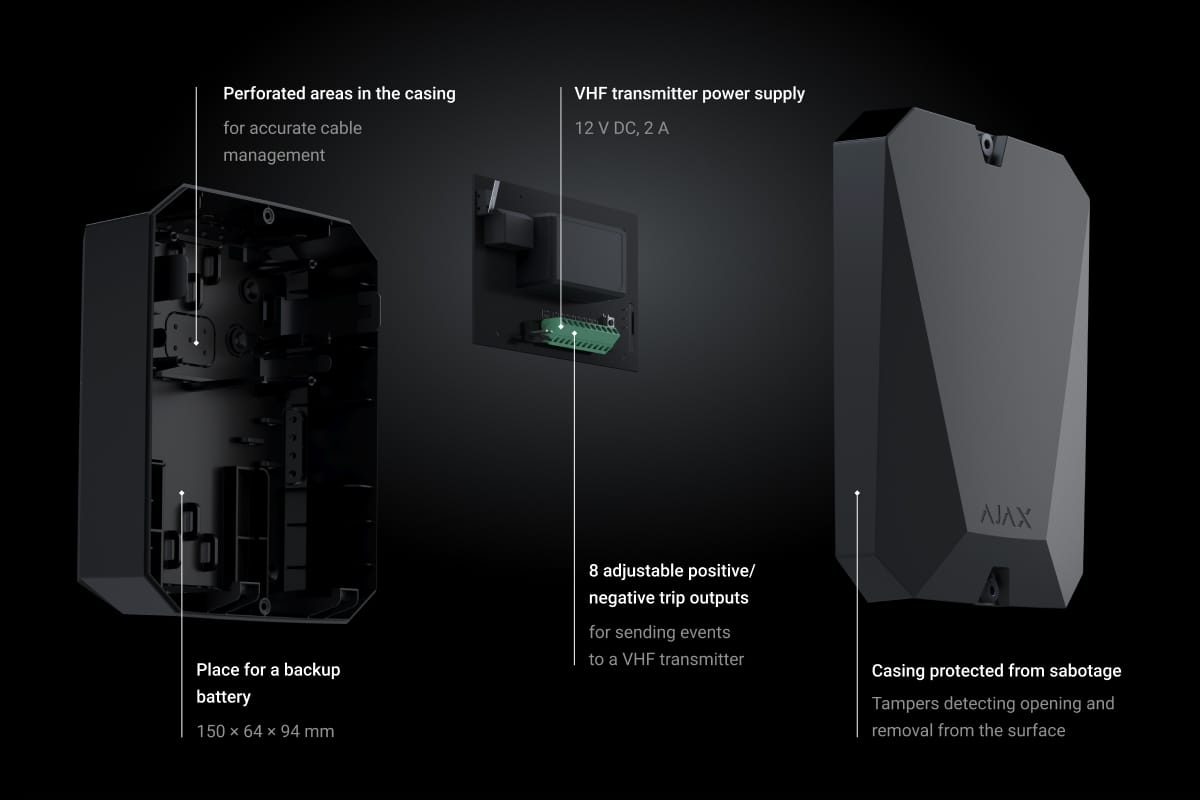 vhfBridge is an electronic board that has VHF transmitter power terminals and 8 adjustable output terminals placed on. The board has its own power supply unit with 100-240 V and connects to a backup battery (not included in the set).
You can get vhfBridge with a casing or without one in the set. A casing developed exclusively by Ajax Systems has a place for a 7 Ah backup battery and perforated areas for wiring. This allows for vhfBridge to be built in the existing system or installed separately in a discreet place.
Elaborate autonomy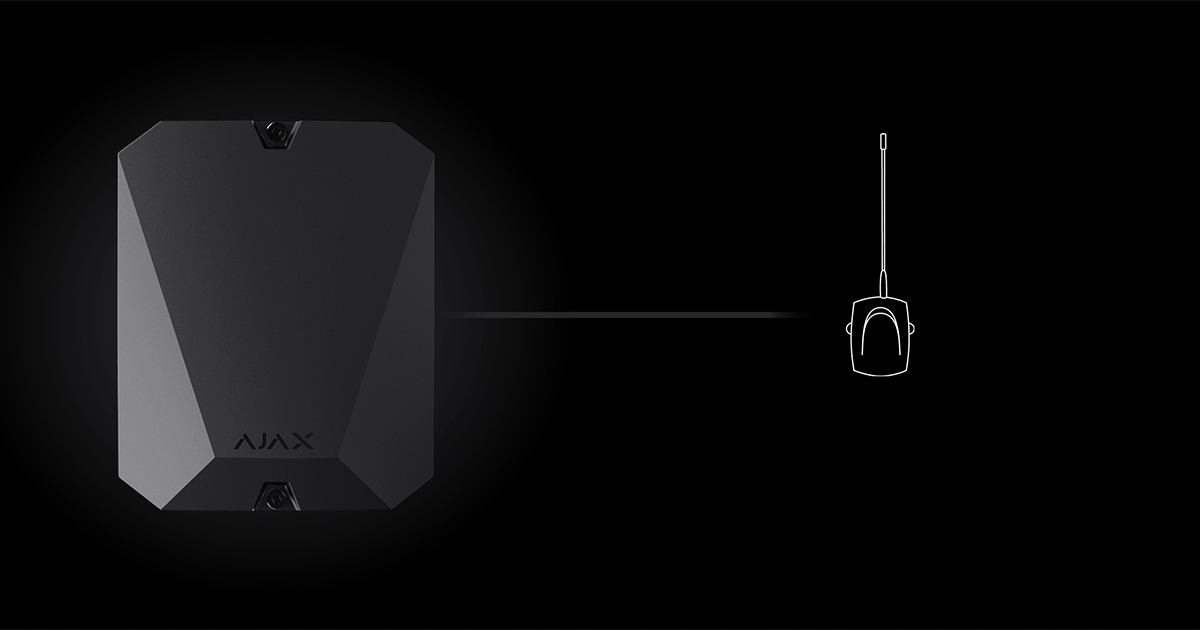 vhfBridge is compatible with any VHF-transmitters having relay inputs. Usually, a transmitter needs a separate battery that is changed yearly. vhfBridge acts as a power source for a transmitter in the Ajax security system. A transmitter runs for up to 75 hours during a power outage, powered by a more capacious and durable battery installed inside the module. Therefore, the need of maintenance for the module and the transmitter is minimized to an engineer's visit to a facility once every two to three years. If vhfBridge is used as a backup channel, you can reconfigure it remotely.
Continuation of an Ajax ecosystem
To configure vhfBridge, you do not need to have any programming skills — all configuration takes place in the PRO app. vhfBridge sustains the user experience immanent in Ajax security systems having an easy connection by scanning a QR code, user-friendly PRO apps for smartphones and PCs, illumination of terminals for testing purposes, built-in tests for choosing an installation location. This means minimal hassle and maximal intuitiveness.