The installation of the alarm system is a matter of mature self-care and foresight. A present-day security market offers different devices for users. A well-thought system will pay off over time in many ways. Ajax devices help to prevent or mitigate such threats as intrusion, fire, or floods. And that's not it! Learn more on why it's beneficial to install Ajax security system and what solutions can come in handy in case of different potential threats.
What is a security system?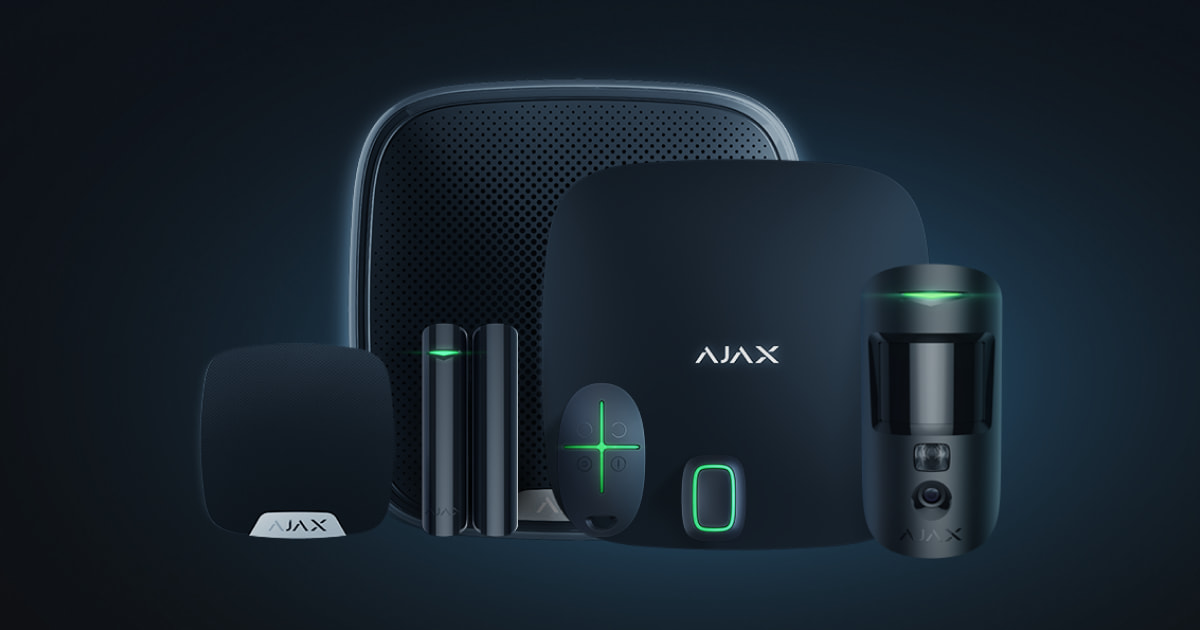 A security system is a modern solution on guard of your safety and peace of mind. Professional installers often set up such systems on commercial, industrial, and high-end residential premises. These premises require a higher security level. Yet, people also install alarm systems in their private buildings, as caution is never excessive.
A security market offers various products and services, making nowadays' security systems more complex and safe. Users can always expand a set of devices they already have to create a robust and efficient system. Security devices differ by purpose, price, technical specifications, and communication technologies.
You can choose from a range of devices to detect intrusion, fire, flood, or leak. As for, intrusion detectors, there are motion, door/window opening devices. Some devices (for example, MotionCam Outdoor Jeweller) have photo verification option.
Finally, security systems can use different communication technologies depending on the connection type. The Ajax system uses Jeweller (wireless devices) and Fibra (wired devices) communication technologies.
Types of security system
There are three types of security systems based on how the detectors send signals to the hub: wired, wireless, and hybrid systems. Such a variety allows flexibility under different circumstances.
Detectors send signals to the hub via the cable in a wired security system. Wired devices are mostly used for large commercial premises such as warehouses, factories, or workshops.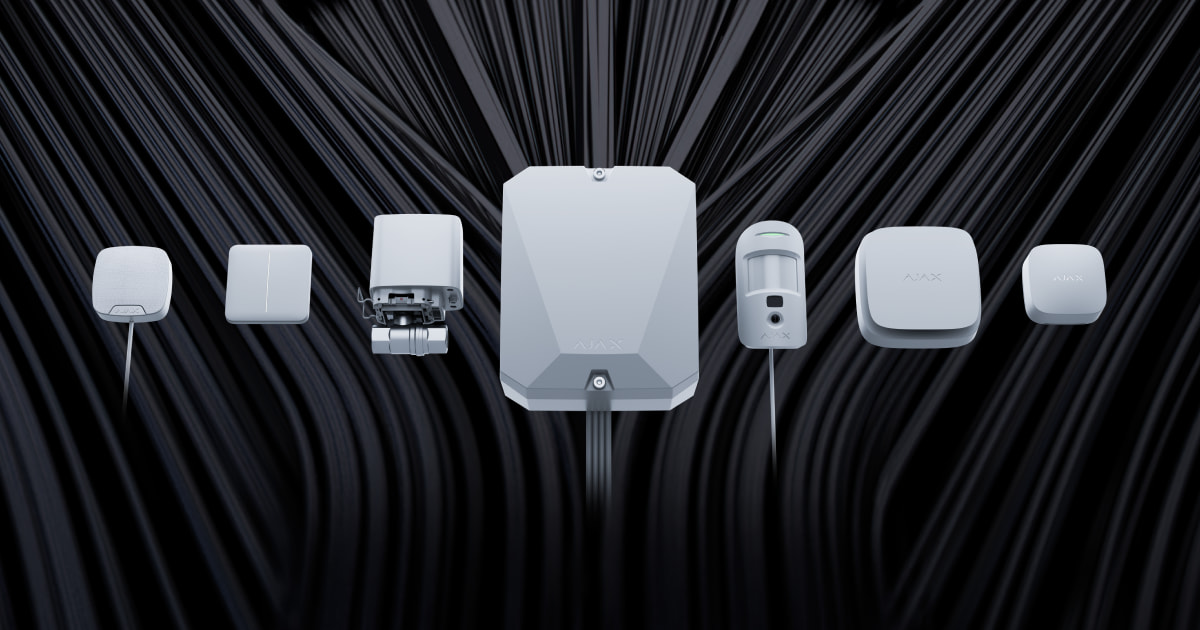 In wireless security systems, the signal from the detectors to the hub is transferred through the radio channel. If needed, you can move the wireless alarm system to a new place. Wireless devices are good for residential and movable premises, such as motor homes or ships, when you connect an additional power source to a control panel.
A wireless alarm system includes devices that protect the premises from intrusion, fire, and flood. Installers can configure the premise. Users or monitoring stations control secured territory using Ajax applications.
The third type of security system is hybrid. The hybrid alarm systems present a synergy of wired and wireless systems. Especially, if you need to use the wireless system outside, while having a wired one at home, for instance. The detectors send signals to the hub via the radio channel and wires. Combining the two technologies, Ajax provides complex protection for premises of different sizes and constructions. Instant in-app notifications, real-time system control, on-site or remote navigation, and automation scenarios add to the hybrid system's best possible user experience.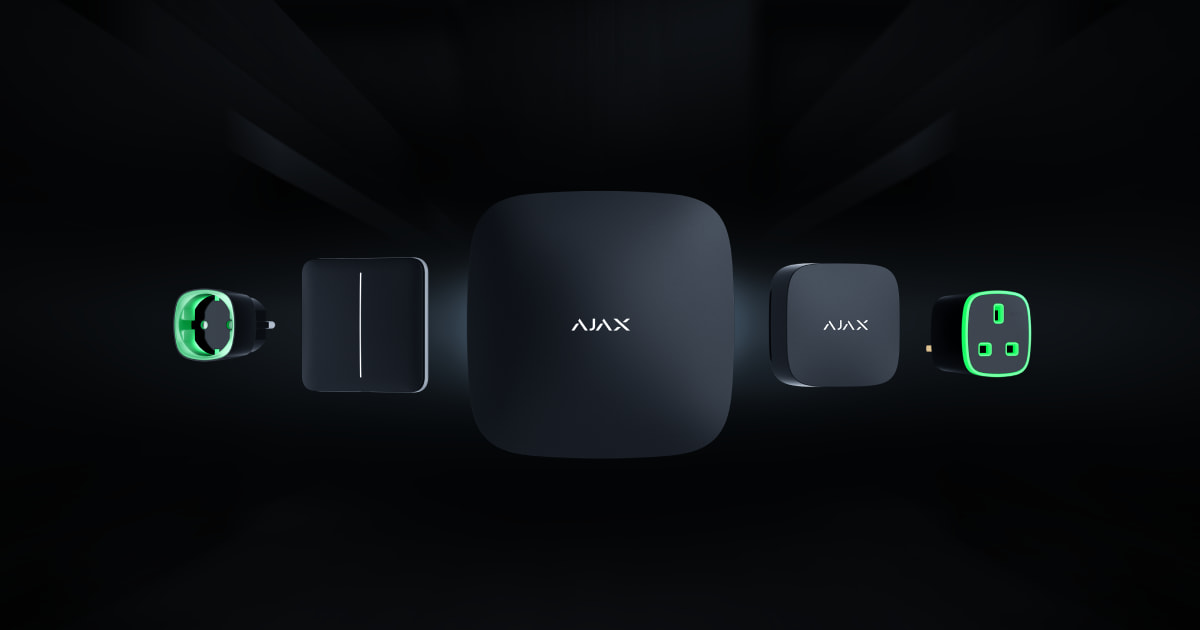 Prevent or mitigate potential threats
Ajax security system offers a range of devices that cover numerous needs. The devices meet high-standard requirements and can either mitigate or prevent potential threats. Intrusion, fire, or flood incidents can be devastating and bring lots of troubles, including financial loss and property damage.
Intrusion detection
A wide variety of motion, door/glass detectors, and sirens are designed to protect a secured area from intrusion. Ajax also has StarterKits — a basic set of devices for your safety. A StarterKit will be enough to have core protection. However, you can always upgrade your alarm system with extra solutions for enhanced security. And, if you have a private house, consider both indoor and outdoor protection.
Thanks to modern security systems' functionality, users have more opportunities to level up their protection against intrusion. Instant alarm notifications in the Ajax app inform a user or a security company about the incident. Motion detectors with a photo verification option verify the alert, so the professional monitoring services ensure it's not a false alarm.
Fire detection
Fire alarm systems promptly react to smoke, heat, and CO. Ajax fire detectors are critical for public spaces, as these can considerably minimize assets' damage in case of fire. Prompt in-app notifications inform users, giving them time for timely evacuation and fire department response.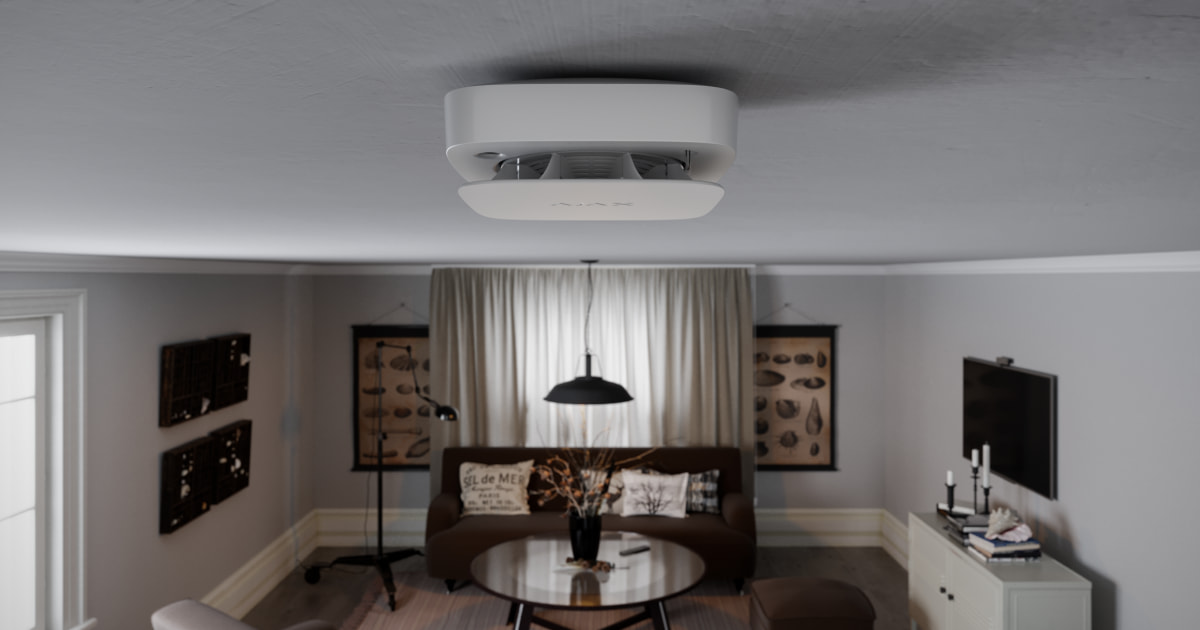 Ajax FireProtect 2 (Heat/Smoke/CO) is a next-generation fire safety detector with a dual-spectrum sensor to distinguish smoke from water steam straight away. This technology allows the detector to focus on the real threats only. Thanks to the device's innovative software algorithm, it detects fire accurately, and you can be calm regarding false alarms.
Water leak prevention
Floods might have destructive consequences, as well as fire. It can damage your property, flood neighbors, or lead to electricity disruption. Statistically, the cost of water damage is around $12,514 on average. Water leak prevention devices can become your nerve and money-saving remedy. Sometimes flooding may happen as the facility owners are away. The Ajax water leak prevention system comes in handy here.
LeaksProtect is a wireless leak detector with four side contact pairs. When the water reaches the device from any side, it raises the alarm, and a user receives a corresponding notification. In this scenario, having a device that allows you to stop the leak even remotely would have been excellent. Ajax offers a superb solution — WaterStop. It is a remotely controlled water shutoff valve.
The idea of WaterStop is that if Ajax LeaksProtect or a third-party leak detector is triggered, the device automatically shuts off the water within 5 seconds. An ability to monitor everything remotely allows flexibility. It also saves you and your neighbours from property damage.
Personal safety
One of the reasons to install the alarm system is personal security. You never know if anything will happen to you. Yet, it's always a good idea to take care of your security in advance, just in case. It's especially relevant for those living alone, on the outskirts, or for older people.
Alarm systems provide people with inner peace and confidence. For instance, with Ajax smart button, you do the following:
raise the alarm;
call for reinforcement;
prevent a robbery;
protect the children and yourself;
minimize the damage;
report a gas leak.
Besides, Button can function as an auxiliary help button for people who require help immediately.
How to upgrade the security system for additional protection
A contemporary complex security system must cover all potential threats. The market offers a variety of indoors and outdoors devices. Today, expanding the alarm system with additional devices and strengthening the premises' protection is easier than ever. And installers can assist in the old system's renovation.
Smart home devices
Ajax cares not only about your security but also about your productivity and comfort. With a touch-sensitive LightSwitch, you can turn on lighting fixtures whenever you want and control lighting at your house. In addition, the device allows users to control curtains remotely, simulating the owner's presence. If you have kids, you can deactivate the touch panel and control LightSwitch via the Ajax app so that the kids don't play with it.
LifeQuality is a step towards exquisite comfort, where you have top air quality and perfect CO₂ level. Poor air quality can undermine productivity and even health, causing drowsiness and a general inability to concentrate. For that reason, LifeQuality is a real saviour, as it accurately evaluates air quality at home or in any other space. For example, Ajax System will immediately turn on a humidifier if some showings are poor.
Outcomes
Overall, a security system offers an effective and robust solution to safeguard premises and protect against threats. The professionally installed alarm system makes you prepared for possible intrusion, fire, or flood. And security companies can consult you regarding devices that meet your needs.
Consider security system installation as the investment in your safety and inner peace of mind for many years. Whether you need to secure your apartment or a huge warehouse, Ajax devices provide a sense of safety, where security of any level is required.