KeyPad TouchScreen Fibra
Wired keypad with touch screen to control an Ajax system
Convenient Ajax system control
KeyPad TouchScreen combines security and automation device management. An intuitive Ajax app-like interface and multiple language options make it an easy-to-use solution. The big display, DESFire® and BLE technologies, and code options ensure a secure and efficient experience.
Touch IPS display
with a diagonal of 5"
Control via smartphone
due to BLE support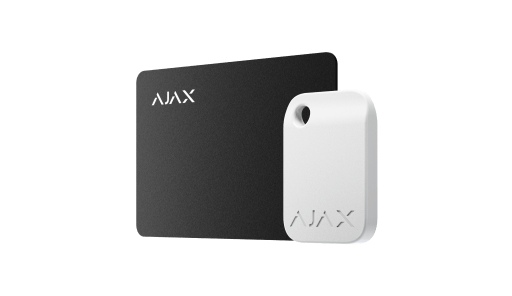 Operation with secured cards and key fobs
Pass and Tag access devices
Black and white themes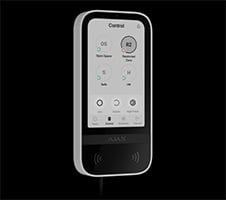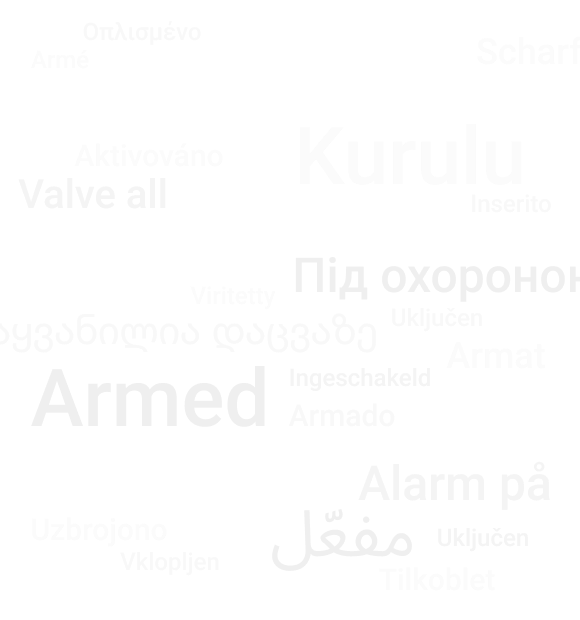 Personal access codes and duress codes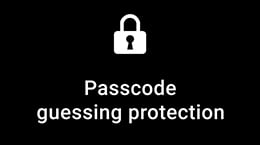 Easy security group management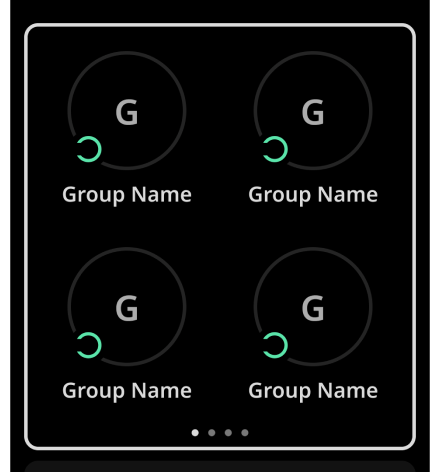 Automation control
Sound notifications
about delays, door openings, and alarms
Fibra line connection
Up to 2,000 m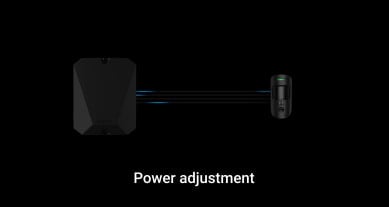 Informative app notifications
10:00
Ajax
Home: Dining room, Backyard armed by John
10:00
Ajax
Workplace: Night mode activated by Ann

Remote control and configuration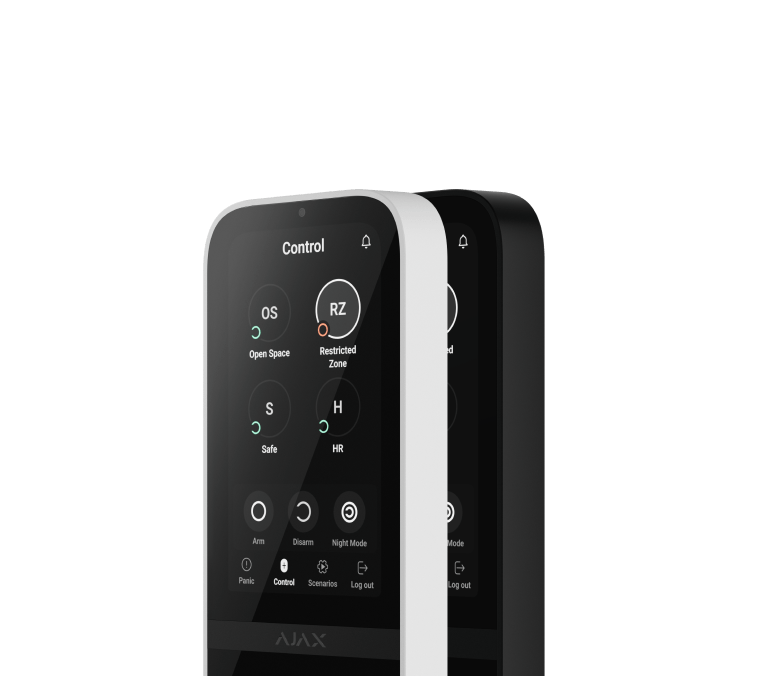 This is the wired device of the Fibra product line. Only accredited Ajax Systems partners can sell, install, and administer Fibra products.
Three missions united in one device
Easily manage security for multiple groups. Users can view what's armed and make changes with just one touch, whether it's securing one group, multiple groups, activating night mode, or arming the entire facility. It's all simple and straightforward.
Security mode of each group is displayed on the screen
Night mode and the entire security system control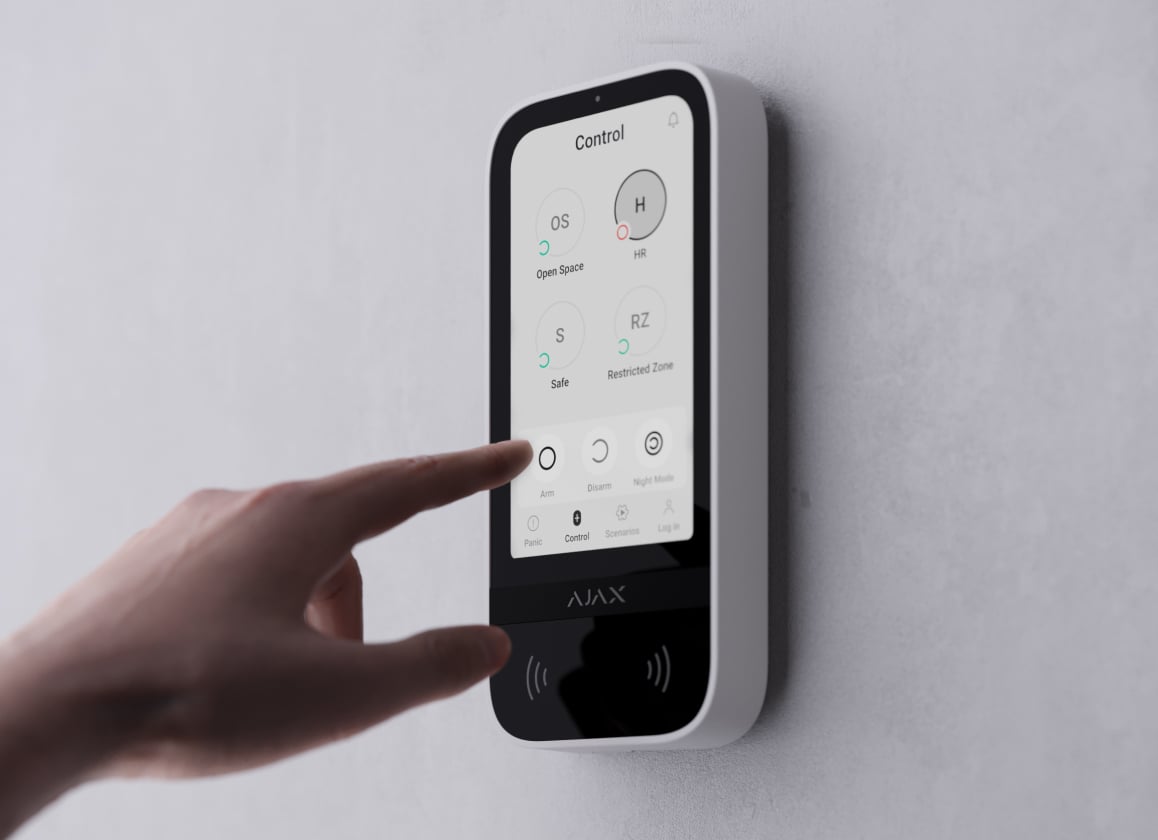 The keypad has a separate control tab for automation devices, with the capacity for up to 6 buttons. Groups simplify the process of controlling multiple automation devices: switches, relays, sockets, and others. For instance, all LightSwitch switches can be assigned to one button and easily turn off all the lights in the entire house when users go to bed.
Separate tab for automation
Up to 6 devices or groups of devices on one screen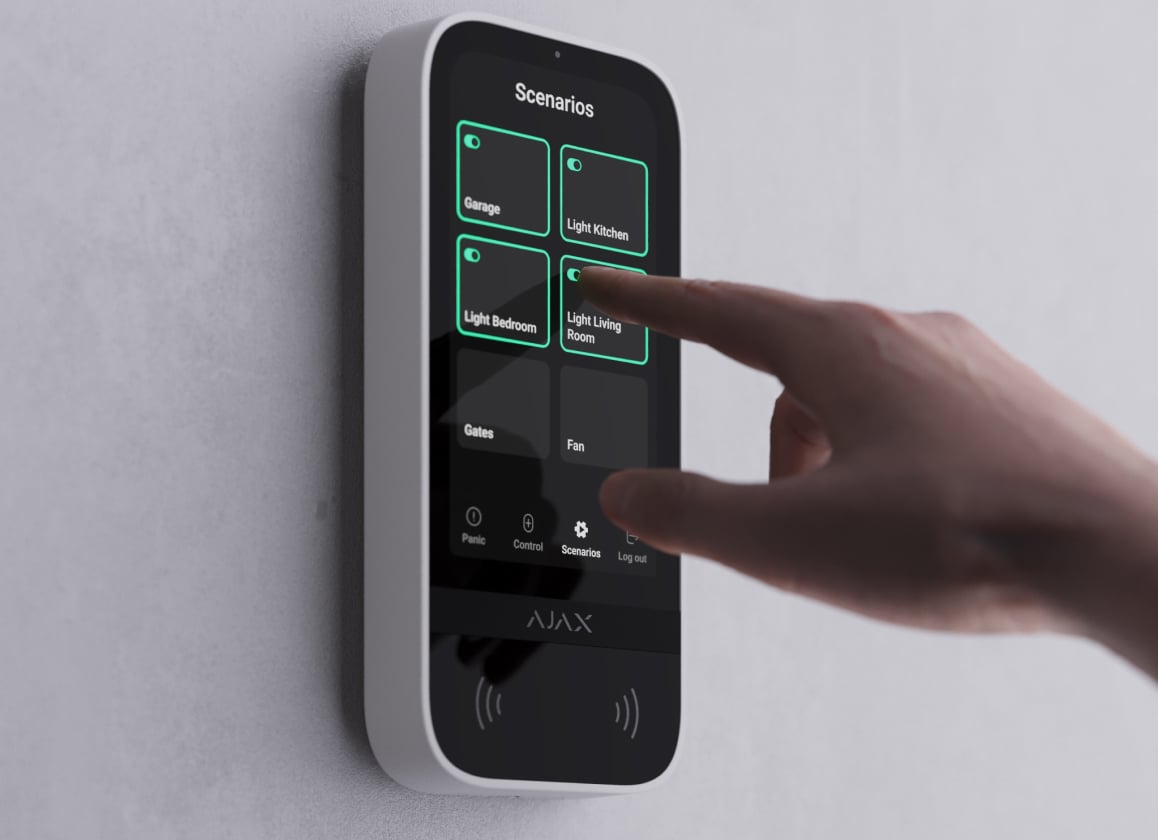 Stay always informed with the built-in buzzer, receiving notifications for alarms, door openings, and entry/exit delays. PRO can effortlessly adjust the sound volume on a smartphone or PC. Remain one step ahead with the keypad's malfunction notifications during arming.
Sound notifications about alarms and events
Instant malfunction notifications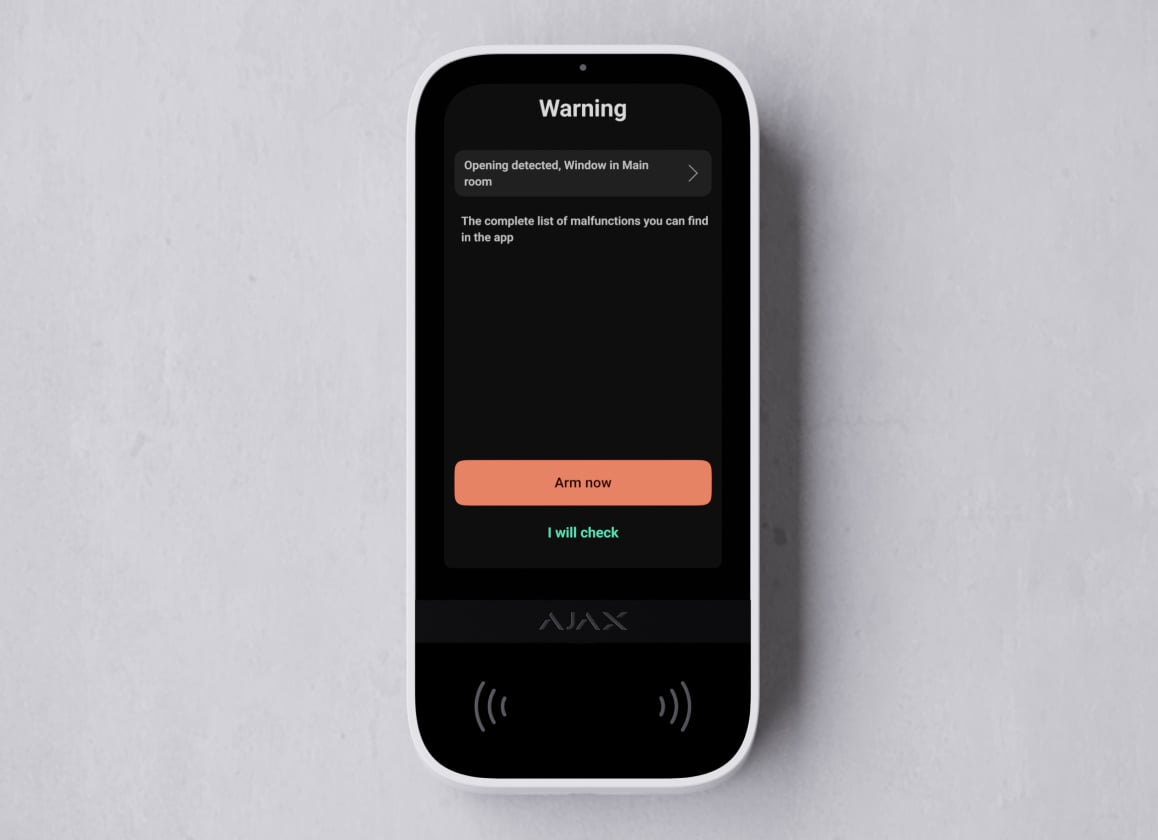 Designed for any location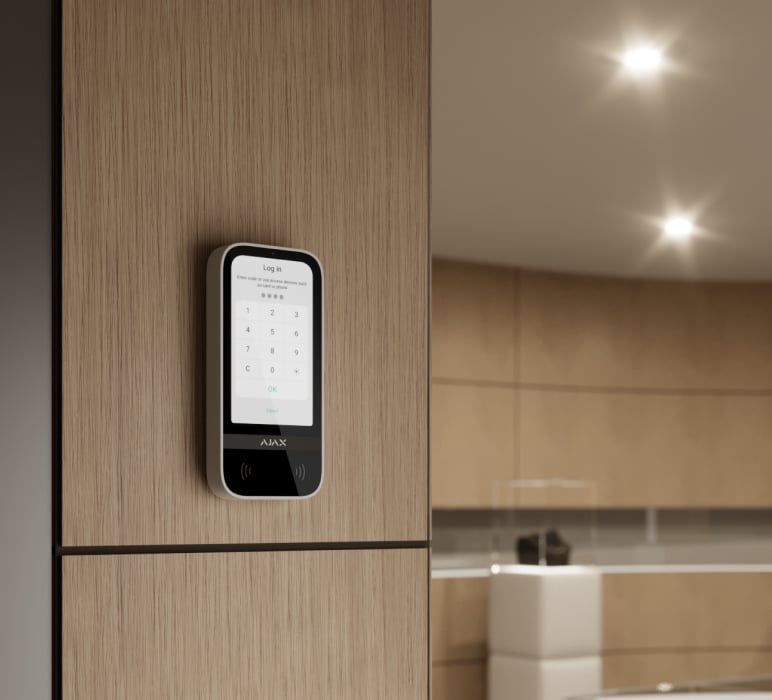 Shop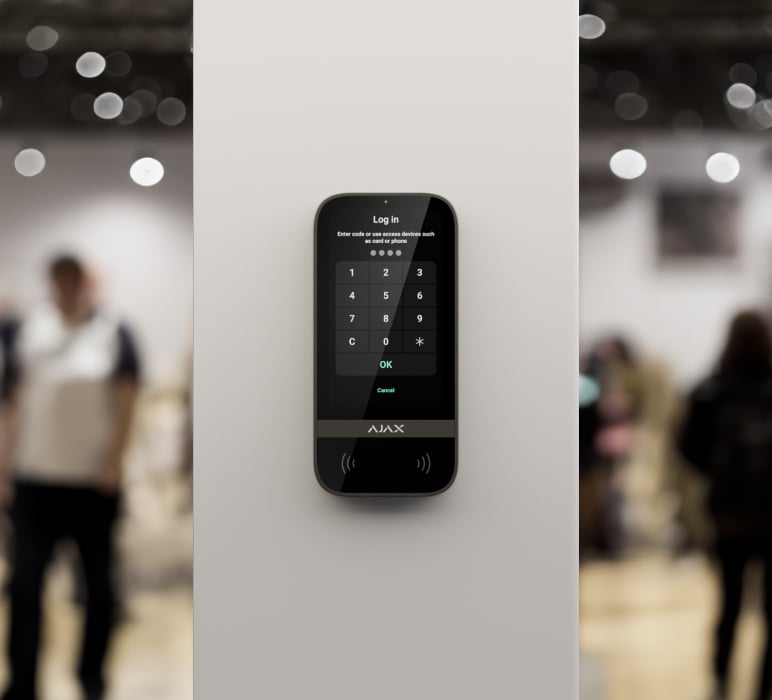 Museum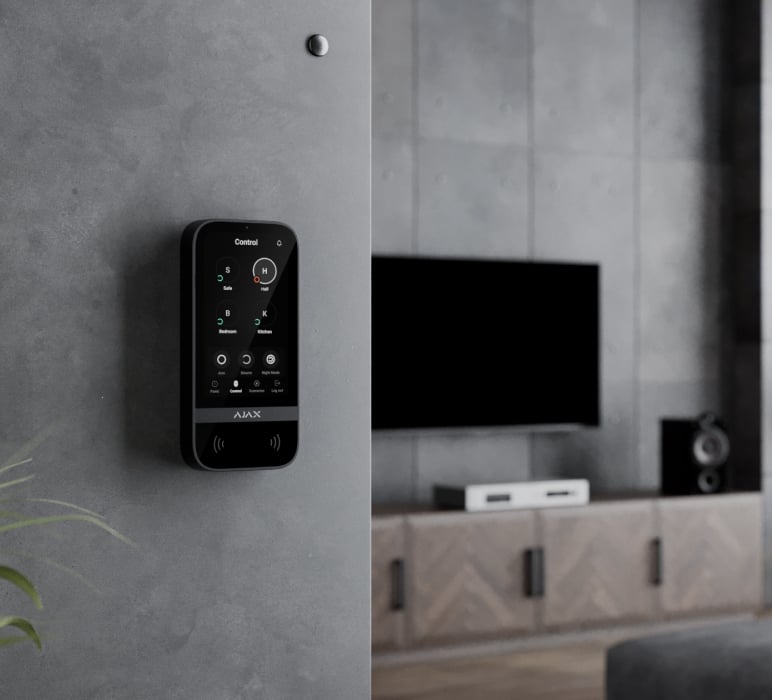 Private house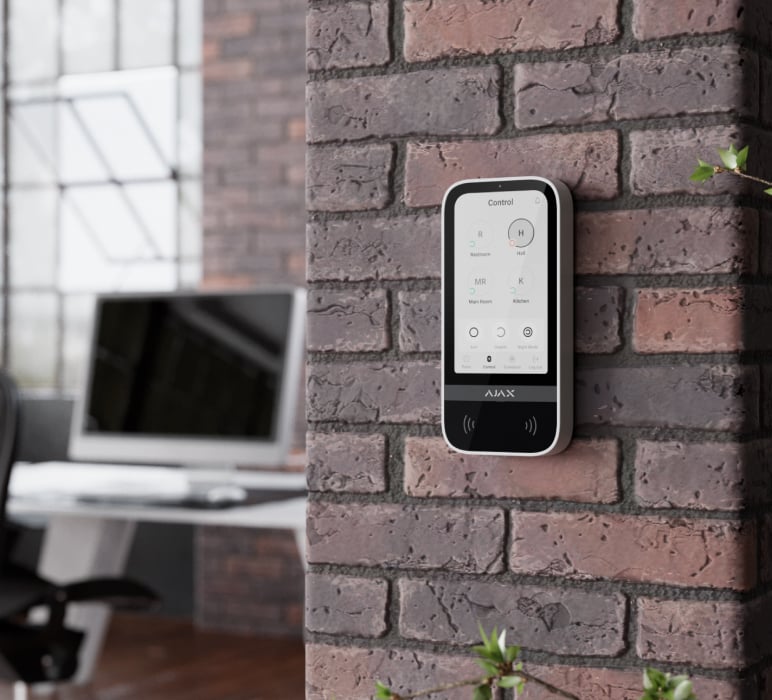 Coworking space
Workplace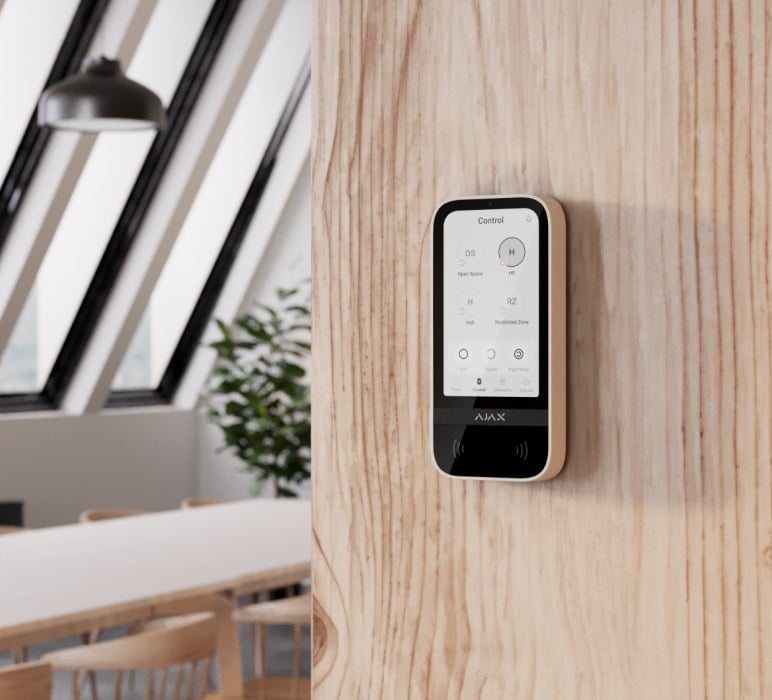 Office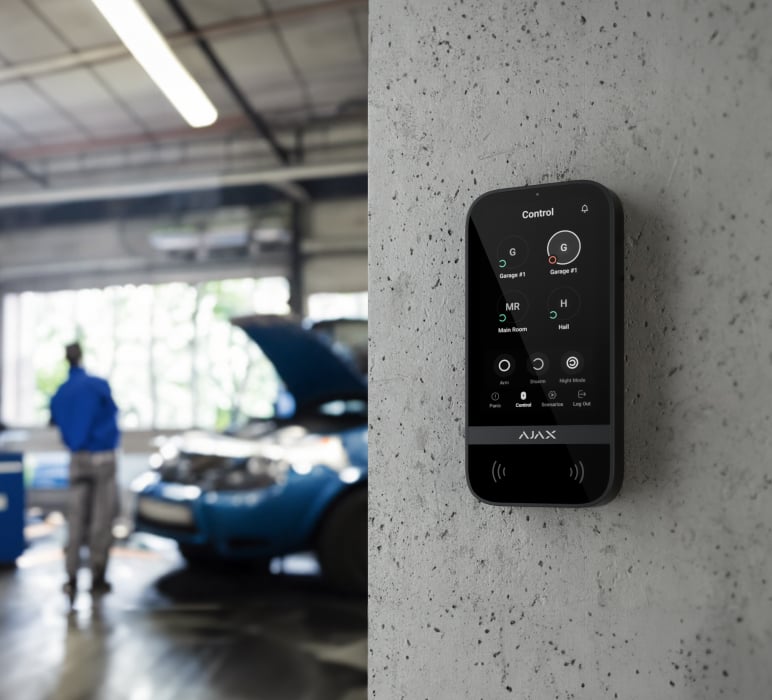 Car service
Educational institution
Three authentication methods
There are three easy ways to control the keypad, giving users the flexibility to choose what suits them best. All events display in the feed, including user activity and authentication details.
Smartphone
Control the keypad via smartphone with an Ajax app. Access rights are only granted to users approved by the admin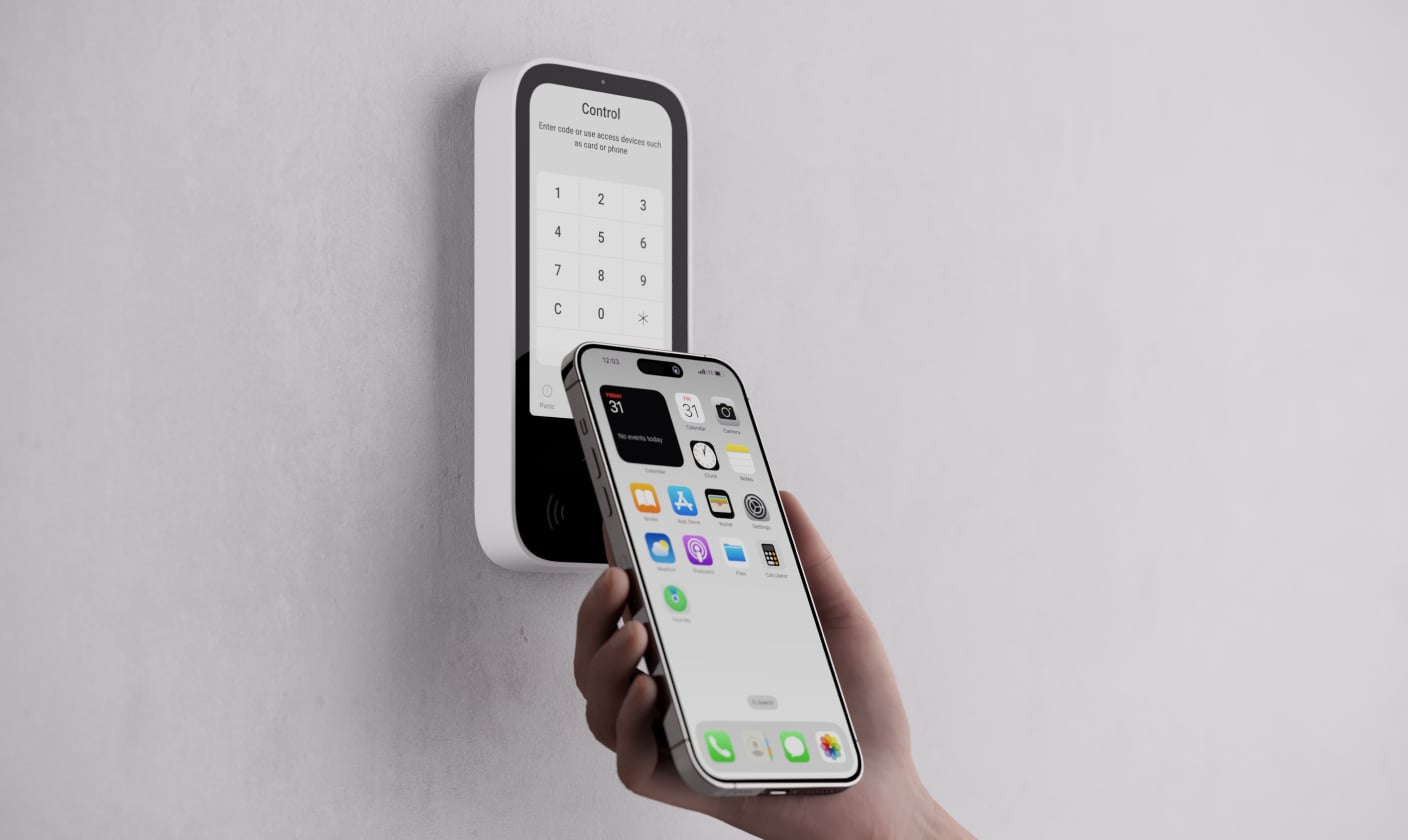 Pass card and Tag key fob
When someone uses the Pass card or the Tag key fob, it's logged in the event feed of the Ajax app. The admin can revoke or restrict the access rights of the contactless access device at any time.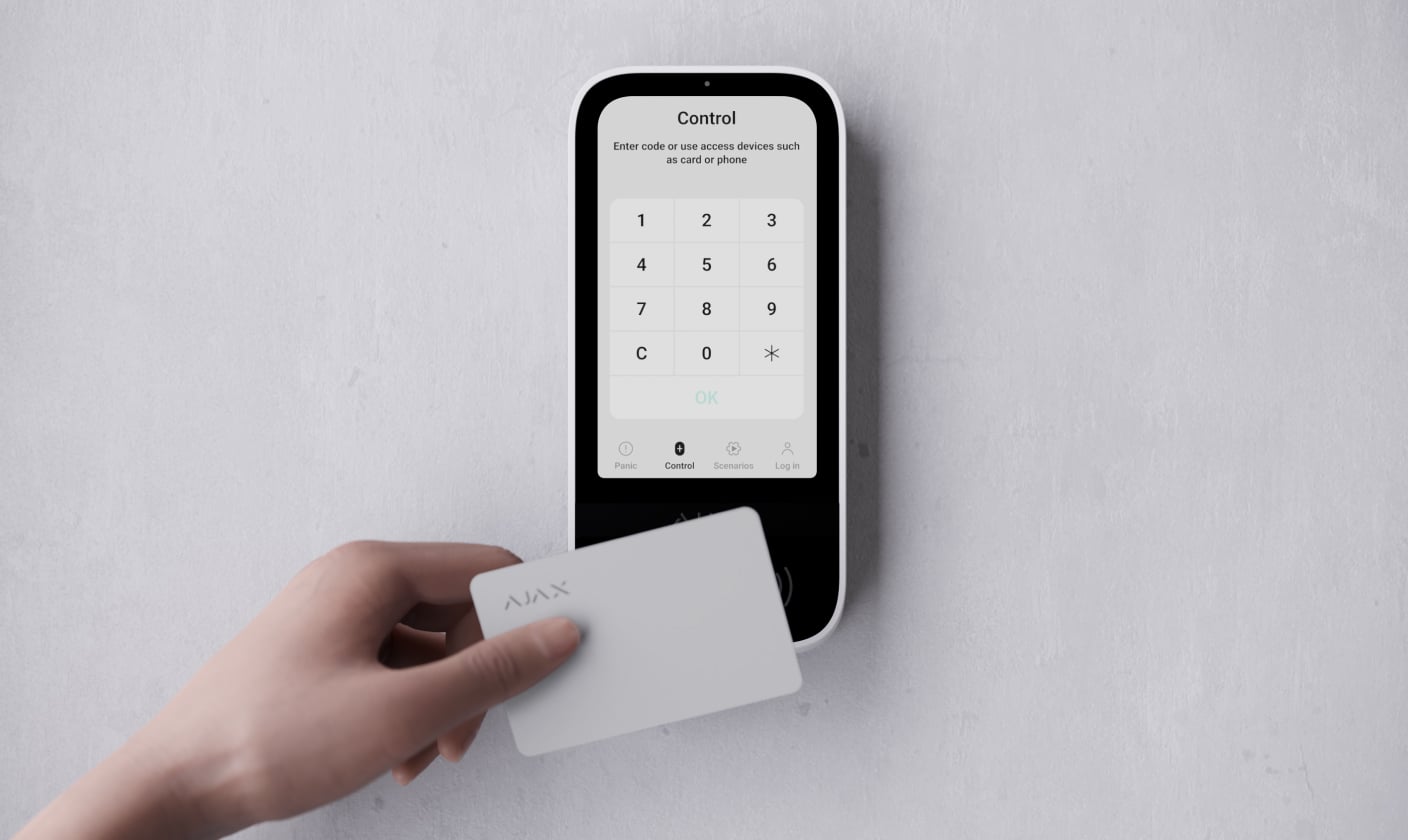 Code
KeyPad TouchScreen supports the following code types:
keypad code (one per keypad)
personal code (individual for each user)
code for an unregistered person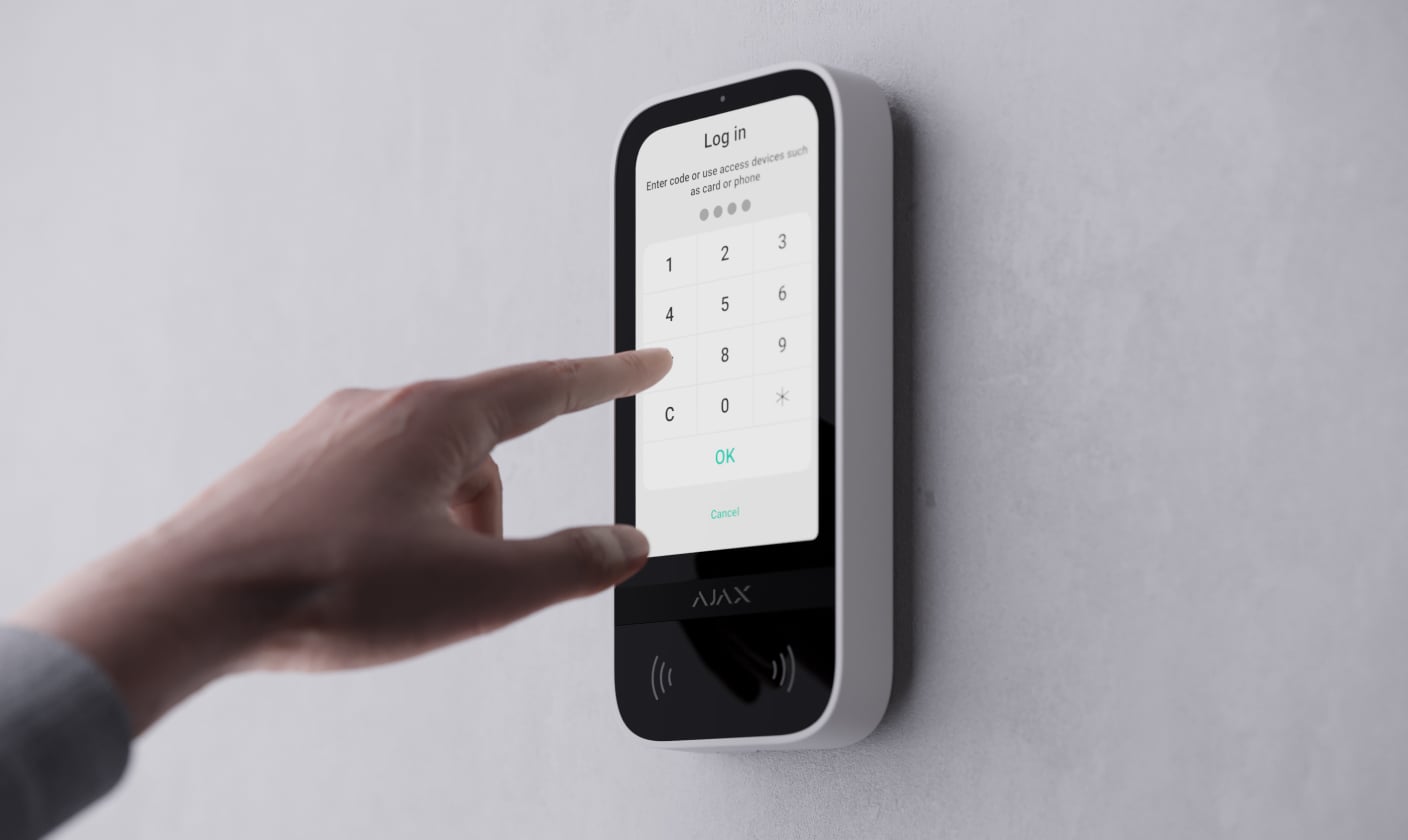 Contactless access devices
Pass card and the Tag key fob are equipped with original DESFire® chips and feature the same functionality but different enclosures. Users can choose the convenient form. One Tag or Pass can control up to 13 security systems. Access devices are sold separately in batches of 3, 10, or 100 pieces.
Access for unregistered users
With a simple assignment of a personal access code in the hub settings, office employees, cleaning company staff, or other individuals enter the area with convenience at its finest.
Remote creation and management of codes
Notifications for adding, removing, and deactivating codes
A unique name and ID binding to identify the user
Up to 99 keypad access codes
Full protection in case of emergency
User notifies about the emergency alert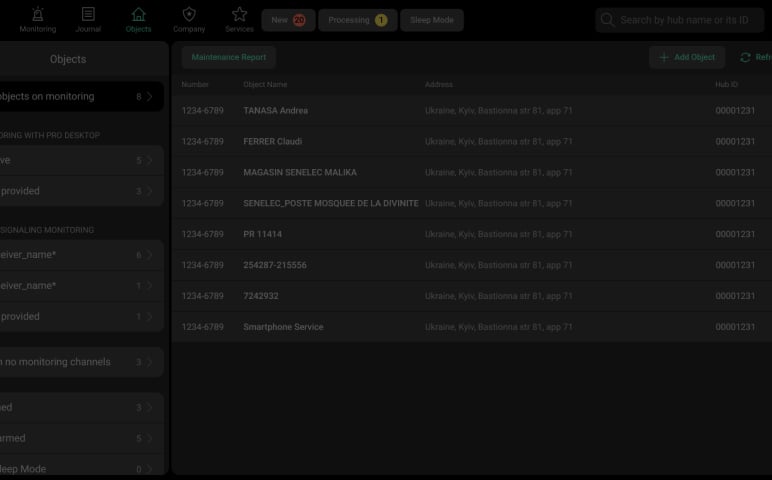 System transmits the alarm

Security company calls a rapid response unit
KeyPad TouchScreen provides a tab with configurable panic buttons that can notify about three event types. If the user is forced to disarm the system, they can use a duress code. It simulates disarming, and simultaneously sends an alarm to the security company.
Tab with panic buttons to notify about alarm, fire, or auxiliary event
Exceptional touch screen experience
A high-resolution screen accommodates all necessary controls, ensuring a stunning and high-quality image. Featuring automatic brightness adjustment and a sleek glass design, the product combines aesthetics with convenience.
5-inch screen with a resolution of 480 × 854 px
Bright during the day, not dazzling at night
Screen protection against scrapes, scratches, etc.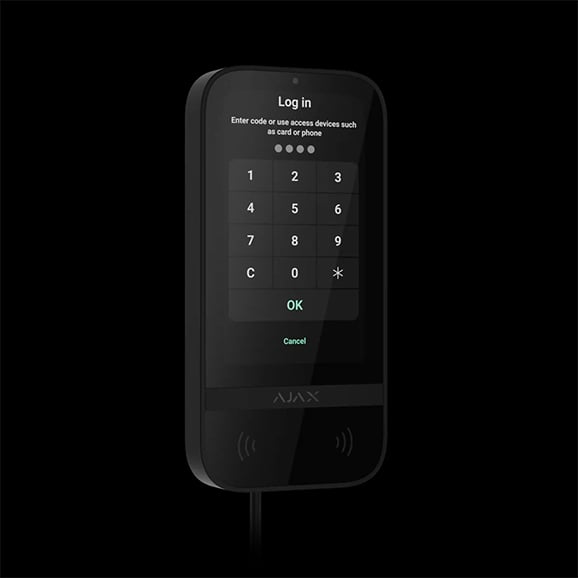 Fibra
Unique wired technology
An Ajax system uses secure two-way communication based on Fibra proprietary protocol. It features encryption and device authentication to prevent sabotage, spoofing, and data theft. Fibra lines are versatile and support connecting different types of devices to one line: sirens, keypads, and detectors with photo verification.

Up to 2,000 m of wired communication with a hub
One line for different types of devices
Photo delivery via Fibra line without interference
Protection against sabotage and spoofing
Remote access rights management
Change access rights and codes in real time in the Ajax apps. Compromised codes can be remotely altered within minutes. The installer doesn't need to visit the object.
Remote user access rights management
Remote blocking of cards, key fobs, and smartphones
Complex sabotage protection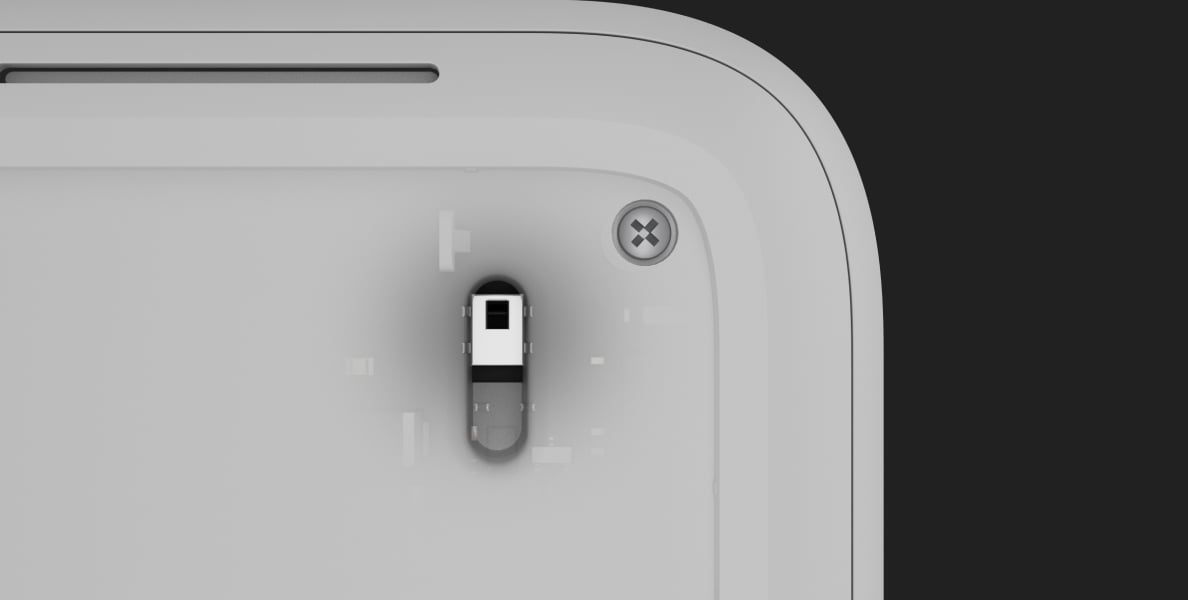 Users and the security companies are notified when someone tries to remove the keypad from the mounting panel or detaches the device from the surface. The keypad is secured with a screw at the bottom, enhancing its resistance to tampering and increasing its reliability.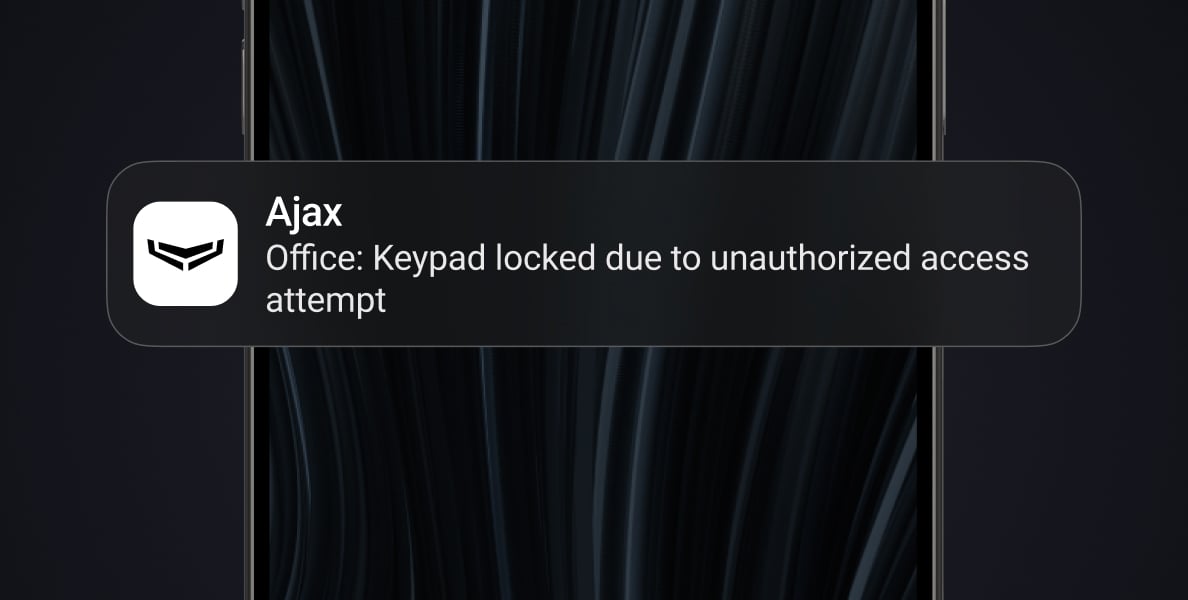 KeyPad TouchScreen locks itself if an incorrect code is entered consecutively more than three times within a minute. The keypad exclusively responds to cards, key fobs, and smartphones authorized in the Ajax app, rendering it impossible to control the system through a third-party access device.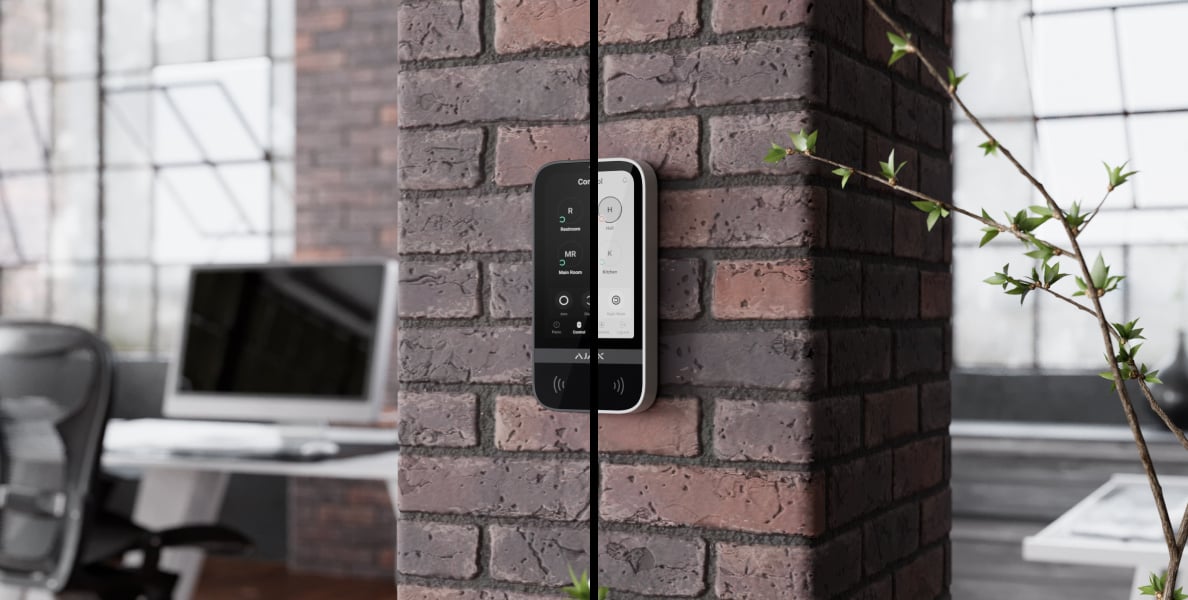 The hub verifies the device's unique parameters for authentication during each communication session. Should any parameter fail this check, the hub will disregard device commands.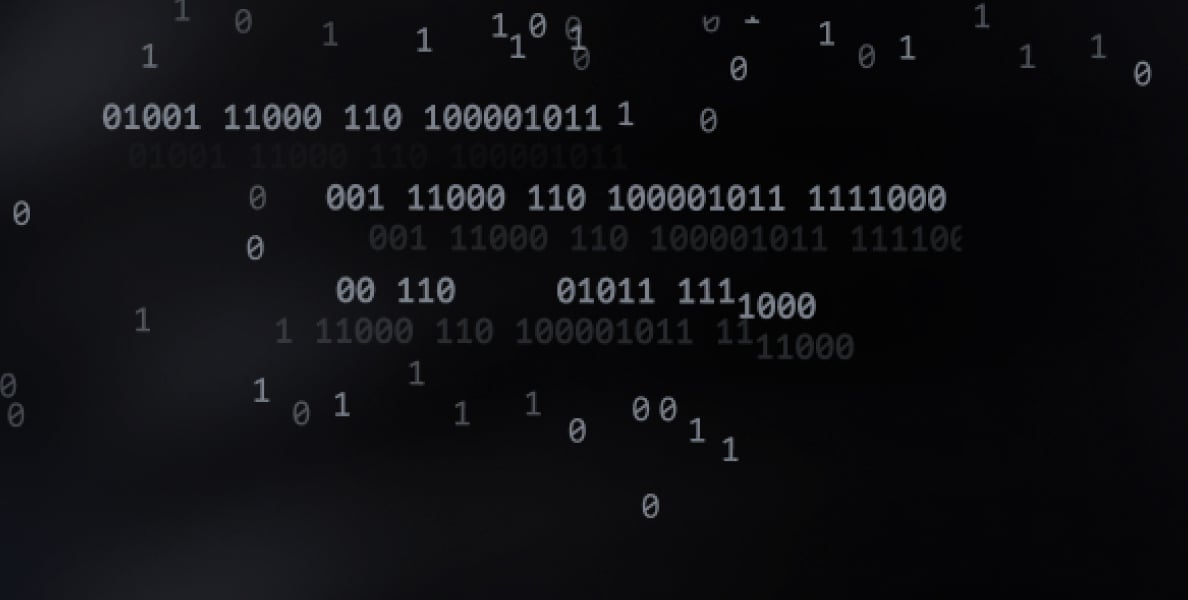 All data stored and transmitted by the system is protected by a block cipher with a dynamic key. This encryption ensures that reprogramming the keypad, replacing, or stealing the data becomes extremely challenging.
The Ajax system instantly notifies about alarms and events with informative notifications: security companies and users know exactly which device was triggered, when and where it happened.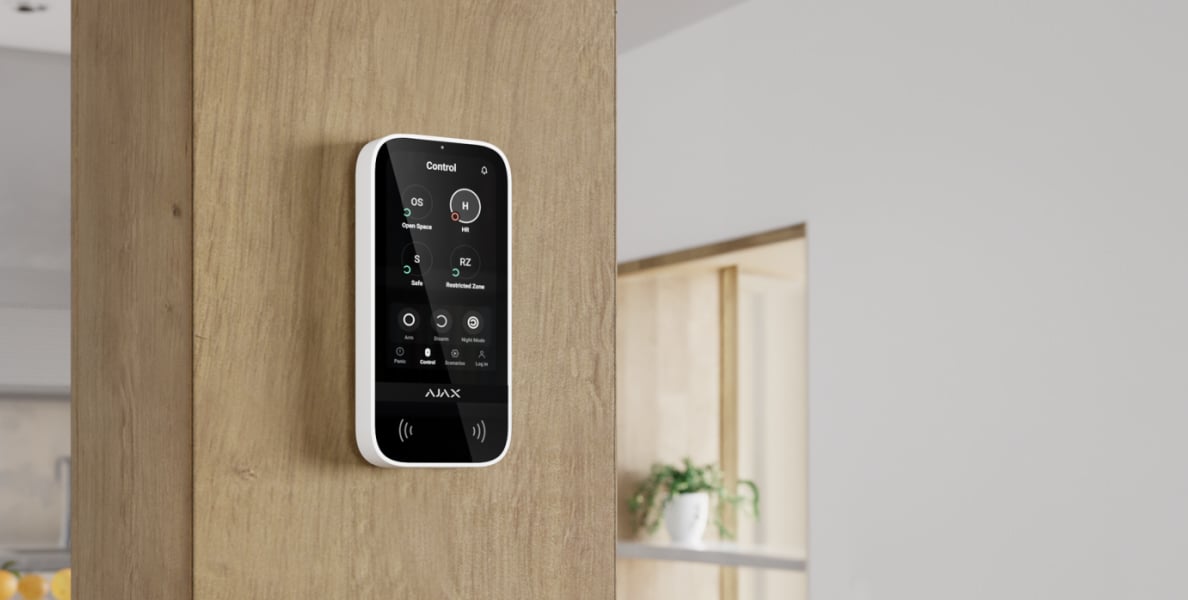 The device regularly exchanges data with the hub. With minimal polling settings (3 data packages in 12 seconds), it takes 36 seconds to identify communication loss and notify the security company and users about the incident.
PRO is king
The myth that wired systems are difficult to install has been busted. Ajax has transformed what used to be an expensive, lengthy, and dusty experience for PROs by developing an ultimate set of tools to make the process easy and flexible, from project design to client support and system maintenance. There is no need to disassemble the device for installation. Intuitive Ajax apps ensure the device can be integrated into the system quickly, and each device can be reconfigured remotely without the need for site visits.
Fibra power supply calculator
Use our online calculator to ensure the Fibra system covers your facility. It helps verify the project of a wired security system and provides additional information for installers.
With the SmartBracket panel, an installer can effortlessly mount the device on a wall. The installation kit includes all the necessary fasteners, eliminating the need to disassemble the device. Instead, the board with terminals is placed outside the enclosure under SmartBracket, preventing any hardware damage during installation. This board is also removable, simplifying the entire process. To effectively manage cables, channels are integrated within the SmartBracket to secure the wires. Furthermore, a special screw ensures that the keypad is securely fastened onto the SmartBracket.
No need to disassemble the keypad's enclosure
All the necessary fasteners included in the installation kit
Holding screw to secure the keypad on a mounting panel
Installers can add a keypad in two ways: by automatically scanning lines or scanning a QR code. When scanning lines, they can identify the desired device either by clicking in the app or by activating a tamper. Once a device is added by an installer, it immediately has a default name and settings suitable for most cases.
Pairing with a hub via line scanning or QR code
Device identification via triggering or LED indication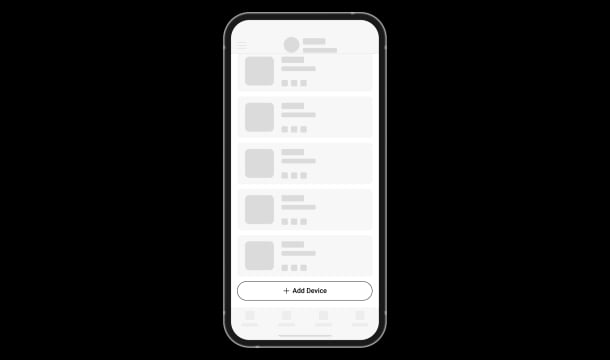 All testing and configuration can be done in mobile and desktop Ajax apps. An installer can work both on behalf of the company and as a sole installer.
Configuration and testing remotely and on-site
Accounts for companies and installers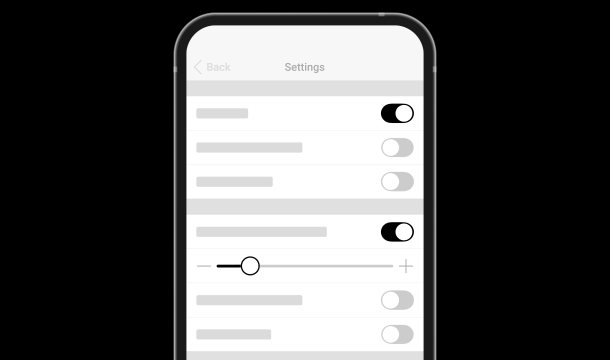 Using proprietary protocols, any Ajax system can transmit alarms to the PRO Desktop monitoring app and third-party CMS. When an alarm is received, the monitoring station operator knows what happened and where to send the rapid response unit. All Ajax devices are addressable, allowing the transmission of events, device type, assigned name, and room to PRO Desktop or third-party monitoring software.
Fully addressability of the device
Instant notifications in Ajax apps
Alarm and event monitoring in PRO Desktop for monitoring companies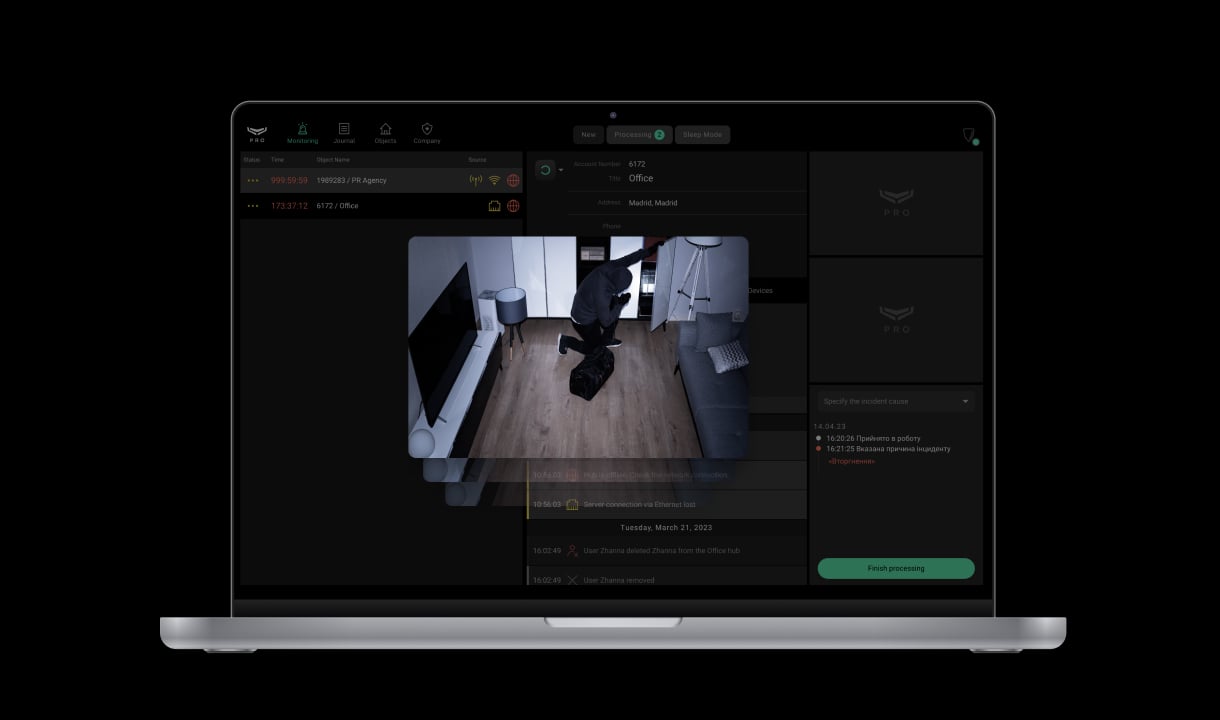 Ajax product lines
Superior, Fibra, and Baseline product lines are mutually compatible. This opens up numerous possibilities for building systems of any configuration.