Ajax Systems is revealing exciting new launches to expand the Fibra product line. The upcoming release focuses on sabotage protection at hardware and software levels and brings extra flexibility to the project design. Four more products joined 15 ship-ready Fibra devices:
LineProtect, a module to protect devices on the Fibra line from short circuits and sabotage.
LineSplit, a module to split one Fibra line into four lines.
MultiRelay, four-channel relay module with potential-free contacts.
Case, a casing for LineProtect, LineSplit, and MultiRelay.
Moreover, with OS Malevich 2.16 release Fibra gets Ring topology — a sharp upgrade that makes the wired connection almost impossible to sabotage.
All devices will be available to order in July.
Please note that only accredited Ajax Systems partners can sell, install, and administer Fibra products.
Powerful addition to the Fibra product line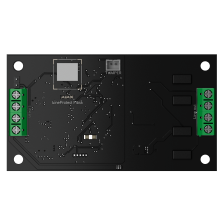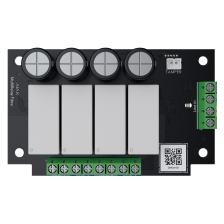 LineProtect Fibra
protects an Ajax hub and connected wired devices from overvoltage, short circuits, applying 110/230 V~, or shocks with a stun gun. The module constantly monitors the input and output voltage on the Fibra line. If an intruder tries to sabotage the system, LineProtect instantly detects an abnormal voltage on the line and activates fuses, cutting off the devices installed on the line after the module. As a result — sabotage is localized, and all devices connected between the hub and LineProtect continue to operate as if nothing happened. As usual, the Ajax system sends the notification, so the users and security company are immediately aware of an incident.
We recommend installing LineProtect before devices that can be potentially sabotaged: opening detectors, outdoor sirens, keypads etc. The system becomes more sabotage-resistant with LineProtect installed on each Fibra line.
LineSplit Fibra brings numerous possibilities for designing the system: splitting one line into four allows using not only Beam or Ring but also a Tree topology to build the system. The module can be installed at any point of the Fibra line, even following another LineSplit. A PRO installer can route cables in a way intruders wouldn't expect, so sabotaging such a system becomes a great challenge. LineSplit gives an additional 2,000 m of wired connection. The Fibra system is now more than ready to protect large-scale objects. Since there is no need to run new wiring, LineSplit is an easy way to upgrade an old alarm system. And MultiTransmitter makes it even easier to integrate old wired devices into Ajax.
Wired connectivity increase may require more power supply. Please use the Fibra power supply calculator to check if your configuration with LineSplit will have enough power supply.
The first Fibra automation device — MultiRelay — has four relays with potential-free (dry) contacts designed to implement complex wiring diagrams. MultiRelay can integrate a wide range of appliances, electrical mechanisms and even third-party security devices such as sirens or intrusion detectors: the module can control not only the operation mode but also the security mode of some detectors. No more need to use several third-party relays to connect automatic gates, roller shutters, fog generators, or electric locks. And Ajax scenarios provide automated actions in response to alarms and security mode changes or perform them by a specified schedule.
MultiRelay Fibra itself does not require a power supply: it connects to the Fibra line, which provides 24 V⎓. But connected appliances or electrical mechanisms should be additionally supplied from an external power source.
One multi-purpose casing
Great versatility comes with Case. LineProtect, LineSplit, and MultiRelay are compatible with Case and can be installed together in one casing. The casing is available in different sizes and allows combining configurations of several modules to save not only space but installation costs. It may seem like a simple plastic casing, but all the magic is in the details.
The convenience of PROs is a big priority, so Ajax products are always thought to every detail, hence easy to work with. Everything for correct and smooth installation is already in the set. A built-in spirit level and slightly bigger fixing points assist the professional in a perfectly accurate mounting position. Inside, Case has special fasteners for cable management and several perforated parts on the sides and back for wiring out cables. Markings for drill positioning and special protectors inside help to stop the drill before it hits holders or other components. The holders for device placement are flexible and require only one move of hand to install the module inside. The top lid of the casing is equipped with anti-falling screws to prevent accidental dropping of installation parts. And a secret weapon is a built-in tamper: it connects to any device compatible with Case.
The upcoming release has Case in two sizes:
106 × 168 × 56 mm, which can hold 1 device;
175 × 225 × 57 mm, which can hold up to 2 devices.
The Case series will expand with future releases in two additional sizes to fetch even more convenience for PROs during installation.
Ring topology to level up anti-sabotage
So far, Ajax security systems support two topologies:
Beam (Radial wiring);
Tree (available with LineSplit Fibra).
With OS Malevich 2.16, connecting Ajax wired devices to Hub Hybrid via Ring topology became possible. It means that the Fibra line is now protected from sabotage at the software level and physically. The ring connection occupies two line outputs of the hub. In the event of a ring break, not a single device will be disabled: the connection will form two separate lines that will continue to operate as usual and transmit events from connected devices. At the same time, a security company and users will receive a notification about line break.
To create the ring, the beginning of the Fibra line should be connected to one line output of the hub and the end — to the other line output. After it's physically connected, an installer can easily configure the topology in Ajax PRO apps: the hub automatically determines which line outputs are used to form the Ring topology and sends a notification with an option to add it to the system.
👉 More about OS Malevich 2.16 update
Why professionals choose Fibra
The Fibra signature feature is its communication protocol, which guarantees seamless system functionality and exceptional energy efficiency. With Fibra, detectors consume mere energy milliwatts. Low power consumption not only enables the connection of a greater number of devices on a single line but also facilitates longer wired connections.
Professional tools to simplify the installation:
Automatic line scanning. The feature finds physically connected devices not yet assigned to the hub and allows adding them to the system in a few taps. Thus, an installer could scan 100 devices in 10 minutes.
Power consumption stress test. It helps to ensure that the system has enough power in any situation. In PRO apps, an installer launches the simulation of maximum power consumption to check the system's response.
Automatic sync with CMS. After the installation and setup, all system settings are automatically downloaded from the cloud server to PRO Desktop. The CMS engineer does not waste time transferring the devices manually.
Moreover, professionals have access to a variety of tools and information resources created by Ajax. Use the Fibra power supply calculator to check the security system project. Read articles on our website to learn more about Fibra. Also, professionals have access to free training at Ajax Academy and a dedicated Technical Support team which is available round the clock, 365 days a year.
How to work with Fibra
Only accredited Ajax Systems partners can sell, install, and administer Fibra products. Please fill in the form to get access to the Fibra product line. If you haven't partnered with Ajax yet, please complete the following Become a Partner form.