Ajax presents the co-branded app — a solution helping security companies increase brand awareness daily and customers receive better service. The security company can now place its logo on the main screen of the Ajax Security System mobile app. And the client needs to tap on the logo to quickly view the account status and contact information. The solution is available only to authorized partners of Ajax Systems.
Associate your brand with a quality user experience
Every fifth customer chooses an Ajax system because of the availability of a convenient mobile app. It gives full control over the system even thousands of kilometers away from the home, office, or any protected facility. A user receives device statuses, instant notifications, event logs, and automation scenarios.
The Ajax app with updated design features more contrasting fonts and menus to control automation devices.
Over the years, the Ajax apps have received more than 300 updates. System owners can watch streams from security cameras, use photo verification of alarms, Geofence, an in-app panic button, and many other features. The co-branded app has all the benefits of the Ajax app but with your logo.
Every time a user opens a co-branded app and uses it to interact with the system, they see the security company's logo. This is how the brand unobtrusively reminds of itself on the client's smartphone.
A security company is just a click away
With one click on the company's logo in the app, the client has access to contact data for prompt resolution of security issues and sees their account status (if the billing function is enabled). When it's time to pay for services, the user can see it in the app — the account status turns red. Annoying phone calls and text messages with reminders become a thing of the past.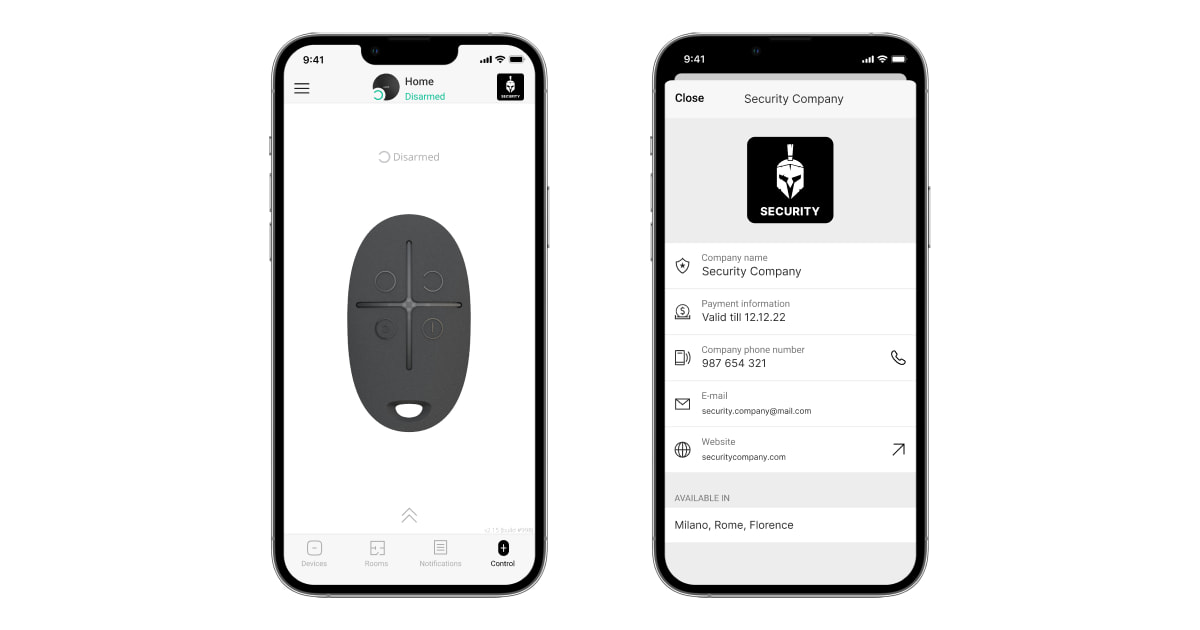 The client knows the status of security services without unnecessary communication and reminders from the company manager. This makes the interaction more relaxed and saves the client's time and the company's resources.
👉 How can a security company enable billing for Ajax system
Introducing co-branded app during Ajax Special Event: Comfort zone.
How to get co-branded app
Only authorized partners of Ajax Systems can receive the benefits of the co-branded app. Please contact the Ajax manager in your region for the details.
The billing function is optional and must be connected separately. It is not necessary to use it in the app.
The co-branded app is available to customers of security companies who have the following versions of the Ajax Security System app:
2.25.2 for Android
2.22.3 for iOS
You can download the app in App Store or Google Play.