Ajax Systems has introduced TurretCam, BulletCam, and DomeCam Mini cameras as part of Baseline product line. Harnessing the power of the proprietary JetSparrow technology, these devices blend high-definition surveillance with unparalleled privacy safeguards. Designed for versatility, they're apt for both indoor and outdoor environments with their IP65 rating. The passwordless authentication ensures a seamless and secure setup. With various matrix types and lenses, cameras accommodate a spectrum of surveillance needs.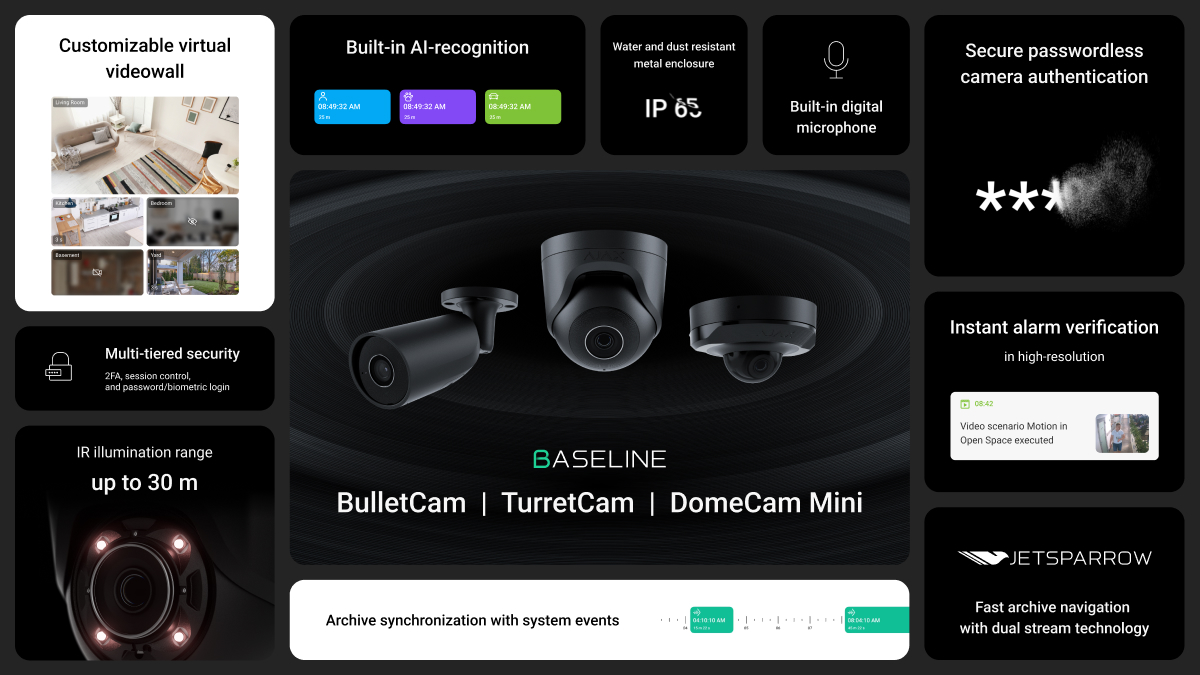 Designed for your security, respecting your private space
The video surveillance sector has long faced a problem: achieving robust security while upholding data privacy. Many CCTV systems out there show glaring vulnerabilities, leading to significant breaches in user privacy. Unauthorized access to IP cameras, often due to subpar default settings or intentionally left backdoors, has further emphasized this concern.
Users often find themselves juggling multiple apps to monitor, control, and analyze recordings. This lack of integration not only consumes precious time but also dilutes the user experience. Each app comes with its interface, complicating what should be a straightforward task: ensuring safety. This often leads to missed security incidents, slow response times, and increased frustration for users seeking an integrated and seamless surveillance solution.
Believing firmly that security and privacy can coexist, Ajax embarked on a journey to fill this gap. The initial pivotal step was the launch of the MotionCam series with a Privacy menu. Today, Ajax cameras, powered by proprietary video streaming technology, present an integrated and efficient surveillance solution. These cameras are synchronized with system events, granting users swift access to videodata and enabling customizable scenario-based recordings.
Discover future-proof hardware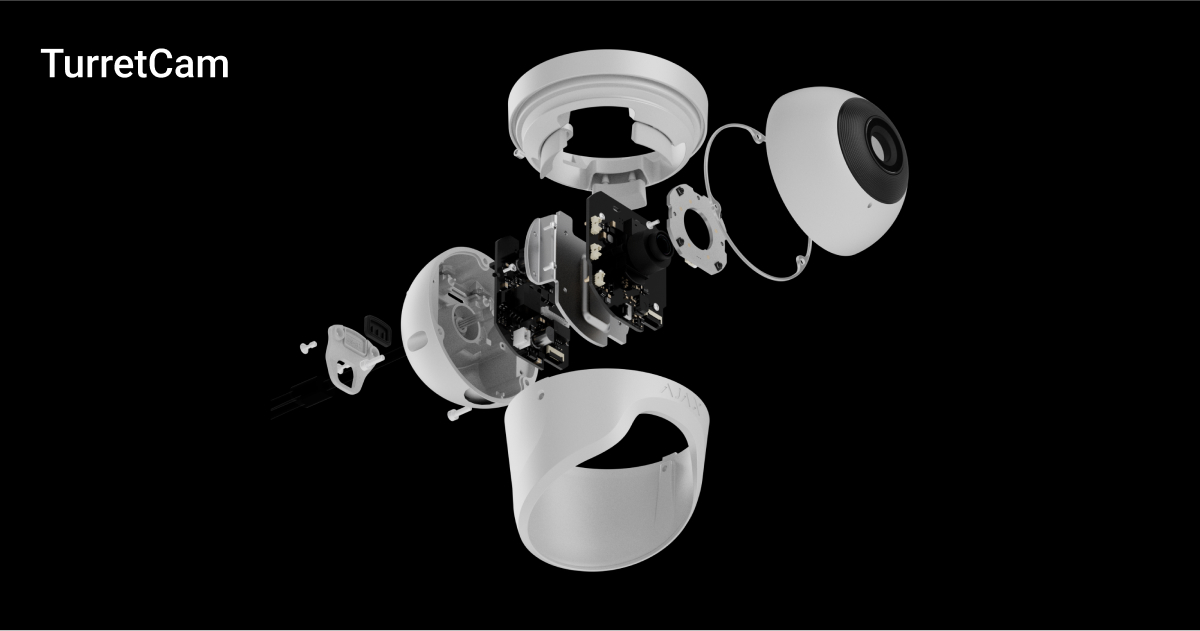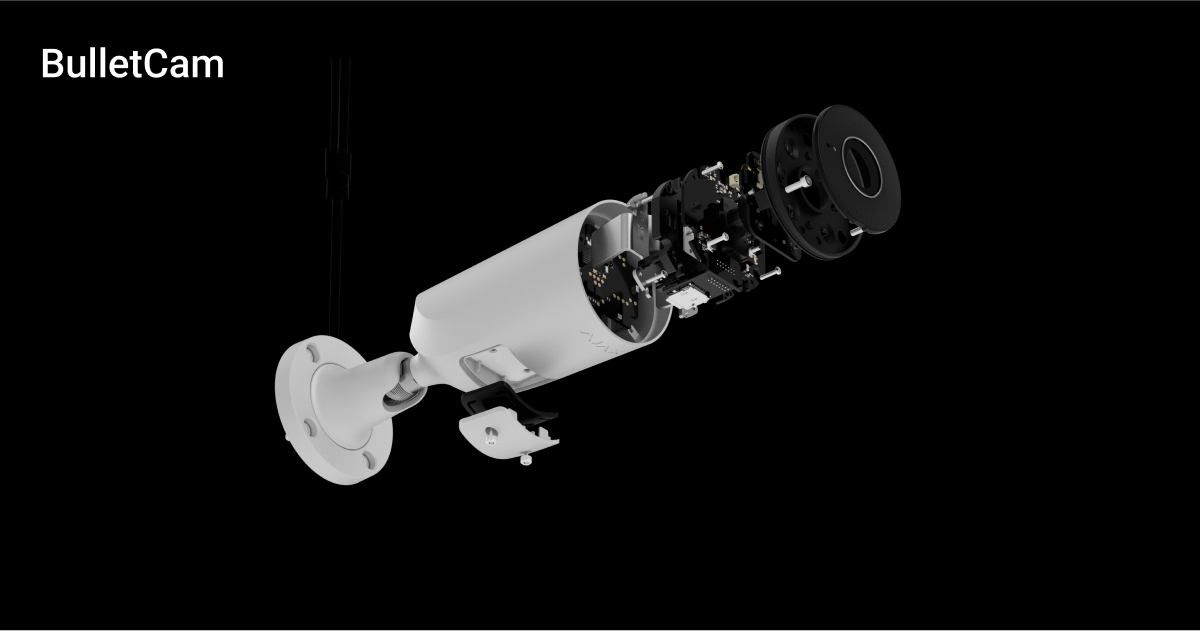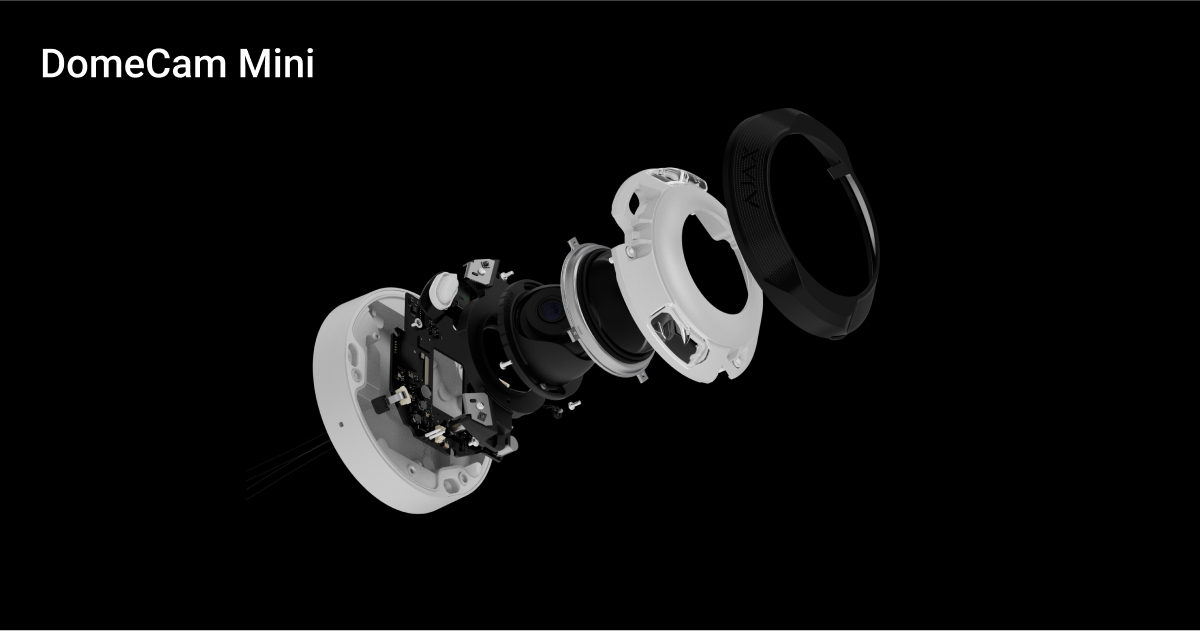 TurretCam, BulletCam, and DomeCam Mini stand out with their minimalist design, offering durability with an IP65 protection class. They feature varying lens options, built-in accelerometers reporting dismantling and impacts, and a microSD slot supporting up to 256GB. Sound is crisp with the G722 codec microphone. Backlighting ensures visibility under diverse conditions.
Four image options for any space
Ajax places a high value on image quality. To enhance video quality, the company has established its own laboratory. Camera sensors are calibrated and standardized directly during the production process to ensure optimal performance.
TurretCam
BulletCam
DomeCam Mini

5 Mp/2.8 mm
5 Mp/4 mm
8 Mp/2.8 mm
8 Mp/4 mm

5 Mp/2.8 mm
5 Mp/4 mm
8 Mp/2.8 mm
8 Mp/4 mm

5 Mp/2.8 mm
5 Mp/4 mm
8 Mp/2.8 mm
8 Mp/4 mm
The True WDR technology in each camera balances light disparities, ensuring clear video in varied lighting. The WDR configuration is effortless through the app. IR LEDs, boosted by optics, cover distances up to 35 meters for TurretCam and BulletCam, and 30 meters for DomeCam Mini.
The CMOS sensor comes in 5 Mp with dimensions of 2880 × 1620 pixels and 8 Mp with dimensions of 3840 × 2160 pixels. The available lens options are 2.8 mm and 4 mm.
No hidden agenda: System data is securely stored in the EU, meeting European data protection standards. Ajax cameras are NDAA-compliant, sourced from US government-approved manufacturers, versatile for any location, and have passed independent cybersecurity tests for safety and reliability.
Fast dual channel streaming
Experience unparalleled video streaming speed and convenience with Ajax cameras. At the heart of rapid and seamless experience is JetSparrow, Ajax's innovative video streaming technology. The substream enables quick and seamless rewinding through the reference frames, and JetSparrow immediately directs the user to the full-size recording. The substream is easily configured in the app.
Peer-to-peer transmission
TLS encryption
High stability
JetSparrow guarantees high loading speeds, ensuring you enjoy a fluid and hitch-free navigation experience in the app. Set up a scenario in which Ajax detectors activate specific cameras and initiate video recording. Configure the video settings to immediately receive high-resolution visual alarm confirmations.
Comprehensive surveillance with video wall
Ajax cameras provide an easy-to-use interface that integrates with security systems for complete protection. They offer a video wall for real-time views across large areas or different sites. The video wall updates in real-time, without overloading the system. You can easily access data and switch to live view quickly. Video wall is available via the Ajax mobile and desktop apps.
| | |
| --- | --- |
| Enhance third-party cameras with Ajax NVR and gain up to 16 TB of video storage | |
Cameras empowered by AI
Ajax cameras with their AI-analysis capabilities, can distinguish different objects, enabling selective recording. This ensures only relevant events, such as a person entering a room or a car in a parking lot, are captured. All processing is done on-camera, which reduces infrastructure load and saves more storage compared to traditional motion detectors that trigger based on pixel movement on the screen. Ajax AI expertise is homegrown, and has no affiliations with questionable data sources.
Established security expertise
The camera features a metal enclosure that guards against both water and dust damage. If someone attempts to break the camera or dismount it to extract the SD card, the built-in accelerometer is triggered.
However, internal security is just as intricate. Media data is stored on a microSD card in a pattern, decipherable only by the camera's owner through their account. Enhanced archive security ensures that this visual data can be accessed solely using credentials. For added security measures, the Privacy tab allows users to determine which accounts can access specific video streams and photos in real time.
Multi-tiered account security includes 2FA, session control, and password or biometric login. Once set up, only the end user controls the system, eliminating any backdoor access. PRO account access is temporary and strictly under the system administrator's discretion.
Passwordless camera authentication
Ajax cameras prioritize security at every level, and don't come with default passwords. The devices use passwordless mTLS authentication, allowing connections to only one space.
Space is a virtual entity, allowing users to easily add devices and manage them seamlessly within the Ajax app.
Cloud interactions are secured with encrypted certificates, which eliminates password risks. Cameras can be easily added via the Ajax app through a secure and streamlined process.
Hassle-free installation and setup
Ajax cameras provide easy installation with minimal disassembly, an included template for accurate mounting, and a secure screw design. Quick app connection via QR code makes setup effortless for installers and secure for users.
Learn more about Ajax cameras:
👉 TurretCam
👉 BulletCam
👉 DomeCam Mini