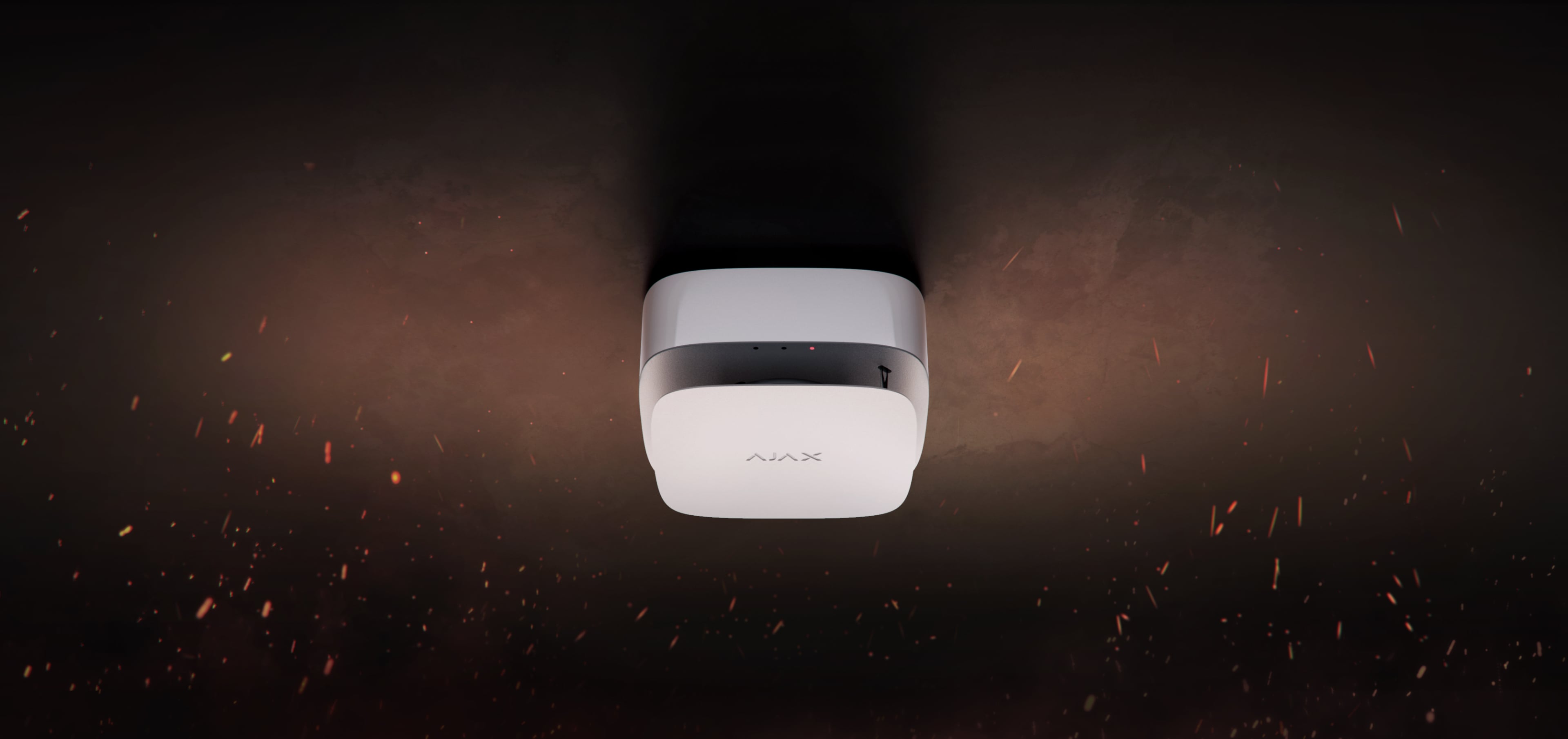 FireProtect 2 RB (Heat)
Wireless fire detector with temperature sensor
The fire standard of the future
FireProtect 2 is a new generation detector for effective fire detection. Externally, the sensor has two thermistors that quickly detect temperature rise. Elaborate software protects against false alarms, and also provides interconnected alarms of all fire detectors at the object in just 20 seconds. This is more than required by modern fire safety standards. The SmartBracket mounting panel, combined with in-app settings, provides simple and quick installation.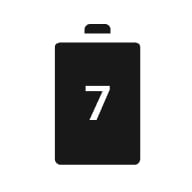 Up to 7 years of operation from replaceable batteries
Jeweller radio communication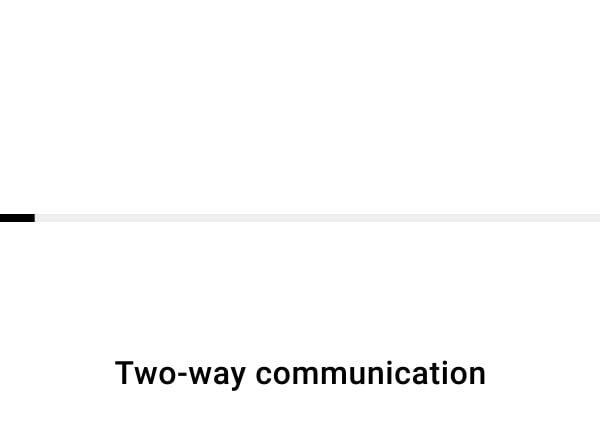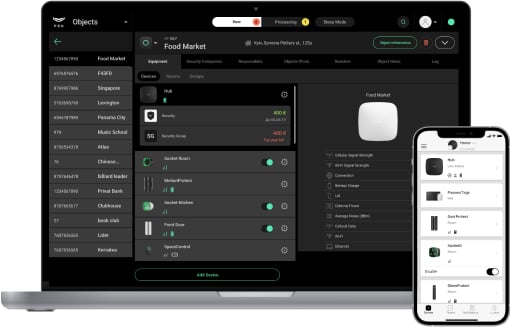 Remote control and configuration
Up to 5500 ft
range of communication with an Ajax hub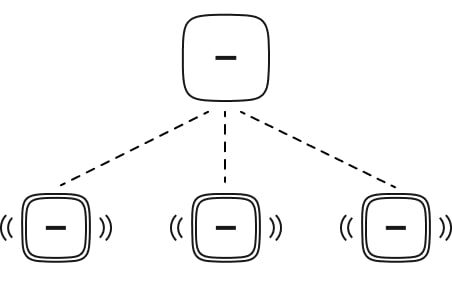 Interconnected alarm in 20 seconds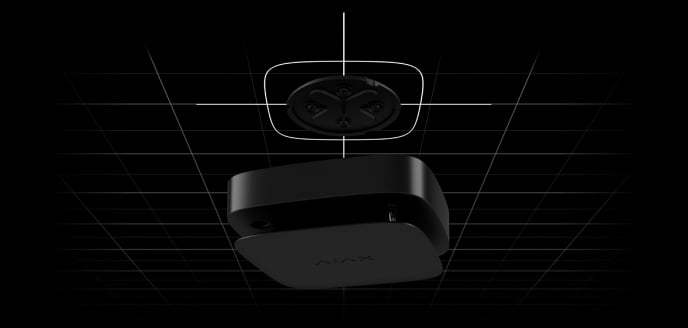 SmartBracket
with adjustable rotation angle
10:00
Ajax
Home: Rapid temperature rise detected, FireProtect 2 in the Kitchen
11:35
Ajax
Home: A photo by scenario upon alarm is received by MotionCam in the Kitchen
Informative in-app notifications
Two colours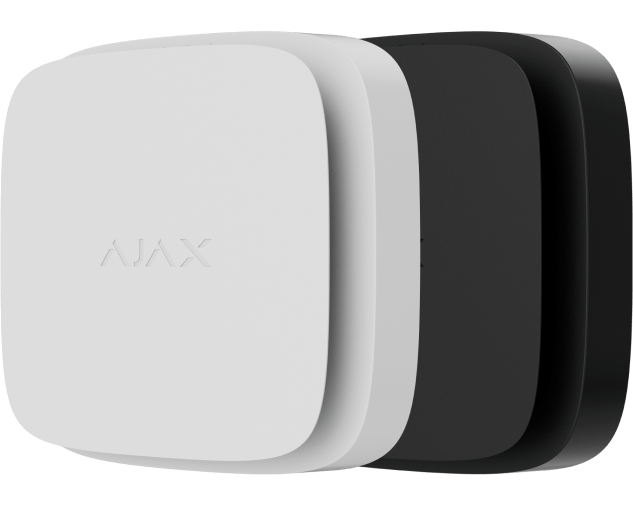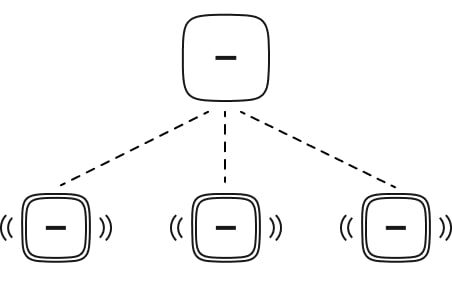 Interconnected alarm in 20 seconds
Thermal fire detectors
When a fire breaks out in a room, the temperature begins to rise rapidly. Because of this, one of the most effective ways of early fire detection is a heat detector, a fire alarm device that is able to respond to changes in indoor temperature. Detection of an increase in the temperature level is possible due to the presence of a heat sensor in the detector, which is its sensitive element. Heat detectors use different types of sensitive components, but regardless of their type, the main function of the device is to respond to a change in temperature. After detecting a change in temperature, the fire temperature sensor sends a signal to the receiving and control device.
Types of heat detectors
The division of heat detectors into types depending on the type of sensor installed in them is one of the most important categories:
Electronic — The concept of operation of this type of fire detectors involves changing the resistance of the electric current. This class of fire temperature sensors is more sensitive and can successfully work far from the receiving and control device. Thanks to these qualities, they have become so common nowadays.

A steel conductor wrapped in a material sensitive to temperature fluctuations is called a "Contact". Heat detectors that use this type of sensor have the advantages of being inexpensive, easy to install, and convenient to use, but they also have the disadvantage of a narrow temperature range that makes them unsuitable for installation in all facilities.

Mechanical — metal tubes containing gas under pressure (thermocouples) are used here. A mechanical heat detector is triggered by a change in pressure, which is the result of a change in temperature. Modern security systems practically do not use this type of fire detector.

Optical — a laser is used to observe the change in the structure of the fiber optic cable, which occurs as a result of temperature. Models of optical fire temperature sensors are resistant to corrosion, excessive moisture and pollution.
Installation and use of heat detectors
For each type of heat detector, there are separate recommendations for installation and further use. It is important to remember that all heat detectors must be installed on the ceiling or at the point where the ceiling meets the wall. All this is caused by the fact that hot air always tends to rise up, according to the laws of physics.
The FireProtect 2 (Heat) wireless fire detector
The FireProtect 2 (Heat) is a wireless fire detector that has been designed to detect indoor fires. With two thermistors located outside the sensor, it can immediately detect any temperature rise, thanks to sophisticated software that protects against false alarms. The system is designed to sound an alarm in less than 20 seconds, making it a valuable addition to any facility that requires reliable fire safety equipment.
In accordance with modern fire safety regulations, the FireProtect 2 (Heat) wireless fire detector is easy to install and equipped with a SmartBracket mounting panel. Communication between the sensor and the control panel or signal repeater is supported by Jeweler wireless communication technology, which supports two-way communication and the transmission of alarms and events at a distance of up to 1700 m in the absence of obstacles.
The device's floating-key block encryption ensures that all stored and transmitted data is secure, making it a secure solution for any facility that requires reliable fire protection equipment. With instant notifications, remote configuration via Ajax apps and automatic power regulation to reduce power consumption and radio interference, the FireProtect 2 (Heat) wireless fire detector offers an efficient and reliable fire detection solution.
The device has several features that make it a valuable addition to any establishment. The Ajax fire alarm is equipped with an automatic power control system that reduces power consumption, and a frequency hopping function helps prevent radio interference and jamming.
The FireProtect 2 (Heat) is a highly reliable wireless fire detector that swiftly and accurately detects hazardous temperature levels, triggering an alarm when the temperature exceeds 64°C, or when there is a sudden temperature increase of more than 10°C in 1 minute (or less)
The device comes with several additional features that make it an efficient and reliable fire detection system. The built-in siren has a volume of 85 dB at a distance of 3 meters, making it loud enough to be heard even in noisy environments. The audible notification of alarms is active until the cause of the trigger is eliminated, or until the user disables the notification.
The interconnected alarm of fire detectors is a valuable feature that activates the built-in sirens of all Ajax fire sensors in the system if at least one of them is triggered. This function allows the sensor to notify as many people as possible in the facility, and with an improved synchronous alarm operation algorithm, the sensor can activate the sirens of all fire sensors in just 20 seconds
The LED indication is a useful feature that provides a power indication, an indication of malfunctions, and an indication of fire alarms. The button on the front panel of the sensor is used to test the functionality. In the event of an alarm or malfunction, pressing the button turns off the sound notification of the sensor.
The FireProtect 2 (Heat) is designed for indoor installation only and is available in two colours, black and white. The SmartBracket swivel mount allows you to adjust the position of the sensor after installation, making it a flexible solution for any facility. The device also offers protection against sabotage, tampering, and spoofing, and it notifies the user of any attempts to detach the sensor from the surface or remove it from the mounting panel.
By detecting the loss of communication in less than 5 minutes, the device offers a reliable solution for any facility. The time to detect a lost connection depends on the settings for the number of undelivered data packets (specified in the Jeweler or Jeweler/Fibra settings). The survey duration can be set from 12 to 300 seconds.
The FireProtect 2 (Heat) is powered by 2 CR123A batteries and can operate autonomously.