Relay is a convenient tool for implementing automation processes at home, office, apartment, production facility, villa, or store. Relay remotely controls electrical appliances and will be handy for professional installers whose clients regularly ask for smart home functions to automate routine actions.
Relay features
The smart Relay operates from a 12 or 24 V⎓ power supply. The relay contacts are capable of switching loads up to 5 A in the range of 0–36 V⎓, and in the 110–230 V~ grid with a capacity of up to 3 kW. The contacts are electrically isolated to the relay's power supply, so it can be connected to the input control circuits of various equipment, simulating a button or a toggle switch.
For 110-230 V~ grids, we recommend using WallSwitch power relay.
The relay closes and opens contacts by user command via Ajax app or by Button pressing. You can also configure Relay to automatically turn on or off:
to temperature, humidity or CO

2

changes 

when arming/disarming the system

as a response to an alarm of other devices

by schedule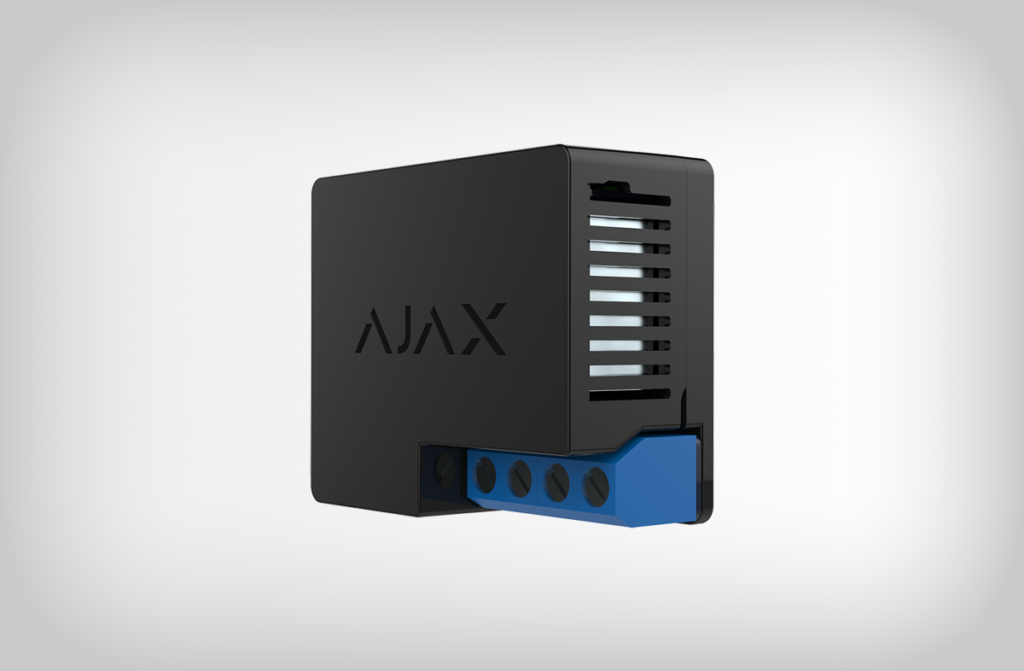 👉 More about scenarios
👉 How to create and configure a scenario
In addition to switching relay operation mode, the Ajax app allows monitoring device status: Jeweller signal strength, connection to the hub, supply voltage of the relay and electrical appliances connected via Relay if they are supplied from the same power source. If the relay and the electrical device connected to it operate from the different power sources, then only the relay supply voltage is displayed in the app.
Since the relay enclosure is quite miniature — 39 × 33 × 18 mm — the device can be easily installed in an electrical panel or switchgear enclosures. To install the Relay on a DIN rail, we recommend using DIN Holder.
Relay operating modes
Two relay operating modes and two contact states are available. They can be combined depending on user requirements.
Operating mode:
Bistable — when the contacts close and open according to the switch principle.
Pulse — when the contacts close or open for a period of 0.5 to 255 seconds, and then automatically perform the opposite action.
Contact type:
Normally open.
Normally closed.
Two level protection
To avoid accidents and equipment burnout, we have equipped the Relay with protection mechanism against overheating and power surges. The protections are active by default and cannot be disabled. If the temperature in the place of Relay installation exceeds 65°C or becomes higher than 85°C inside the device, the power supply through Relay is stopped and the device reports a malfunction. Power supply resumes automatically when parameter returns to normal.
In the case of the supply voltage there are two limit values: lower than 6.5 V⎓ and higher than 36.5 V⎓. If the voltage is too high or too low, the protection turns the device off, and the user gets a warning notification. After the voltage stabilization, the relay continues operating and notifies about it with a notification in the Ajax apps.
Ways to use Relay

Gates and barriers. They open by pressing Button or a command in the Ajax app, so you do not have to carry the gate key fob with you. Moreover, Ajax apps for smartphone are locked with a password, fingerprint or face recognition technology, so no one can use it without your knowledge.
👉 How to control gates or barriers with Ajax

Roller shutters and blinds. Can automatically open and close when the owner comes home, goes to work, or at a set time.
👉 How to set up roller shutter/lengthened roller shutters control using Ajax

Electric locks. They are locked when the system is armed and unlocked when the armed mode is deactivated. So, you can always be sure that everything is closed. Locks can also automatically open when fire detectors alarm, unblocking entrances and exits.
👉How to remotely control electric lock using Ajax

Routers, modems. If you connect network equipment via Relay, you can reboot the router that has stopped responding directly from your smartphone. Under such conditions, hub keeps working via SIM card and picks up the connection via Ethernet or Wi-Fi after the router reboots.

Electric valves of other manufacturers. Help to automatically shut off water and gas supply if there is an accident and you are not at home. Or turn off communications automatically when you leave for work or go on vacation.
👉 How to control water shut-off with Ajax
The Ajax product line includes a smart water shutoff valve WaterStop, which automatically shuts the water off without Relay. Along with the hub, LeaksProtect water leak detector and scenarios, an automated water leak detection system can be built on the Ajax basis.
More options with scenarios
Ajax system enables you to configure the Relay reaction in response to:
Alarm
Change of security mode
By schedule
By Ajax device temperature, displaying the indicator in Ajax apps
By temperature, humidity, CO2 concentration of the air quality detector LifeQuality
By pressing LightSwitch
By pressing Button
Use scenarios to automate your security system and reduce the amount of routine actions. For example, set up water shut-off with WaterStop in case of LeaksProtect water leak detector alarm, switch on the heater at low temperature, or automatic electric lock closing when armed.
👉More about scenarios
👉How to create and configure a scenario