By the end of 2019, Ajax secures homes and offices of almost 400 000 people in 93 countries around the world. From a local hardware startup, we transformed into one of the largest European manufacturers of security systems in just 4 years. Yet our goal remains immutable. Ajax Systems provides people with the comfort of safe living.
The focus of the first years was to engineer a professional wireless security system that is reliable, intuitive, and intelligible to everyone. In 2016, we started to enter new markets. Just two years later, Ajax became the most awarded wireless security system in Europe. This year we've scaled our production line 4-fold.
2019 became the year of "going Beyond" and opening the new security possibilities. Ajax hubs went beyond security and became the brain of smart home and security automation. The new MotionCam motion detector with a photo camera and Hub 2 central unit brought the alarm notifications to the next level of informativeness. Support of multiple ReX range extenders opened the market of sizeable commercial application of Ajax wireless security. And we gained Horizon Capital as a reliable strategic partner.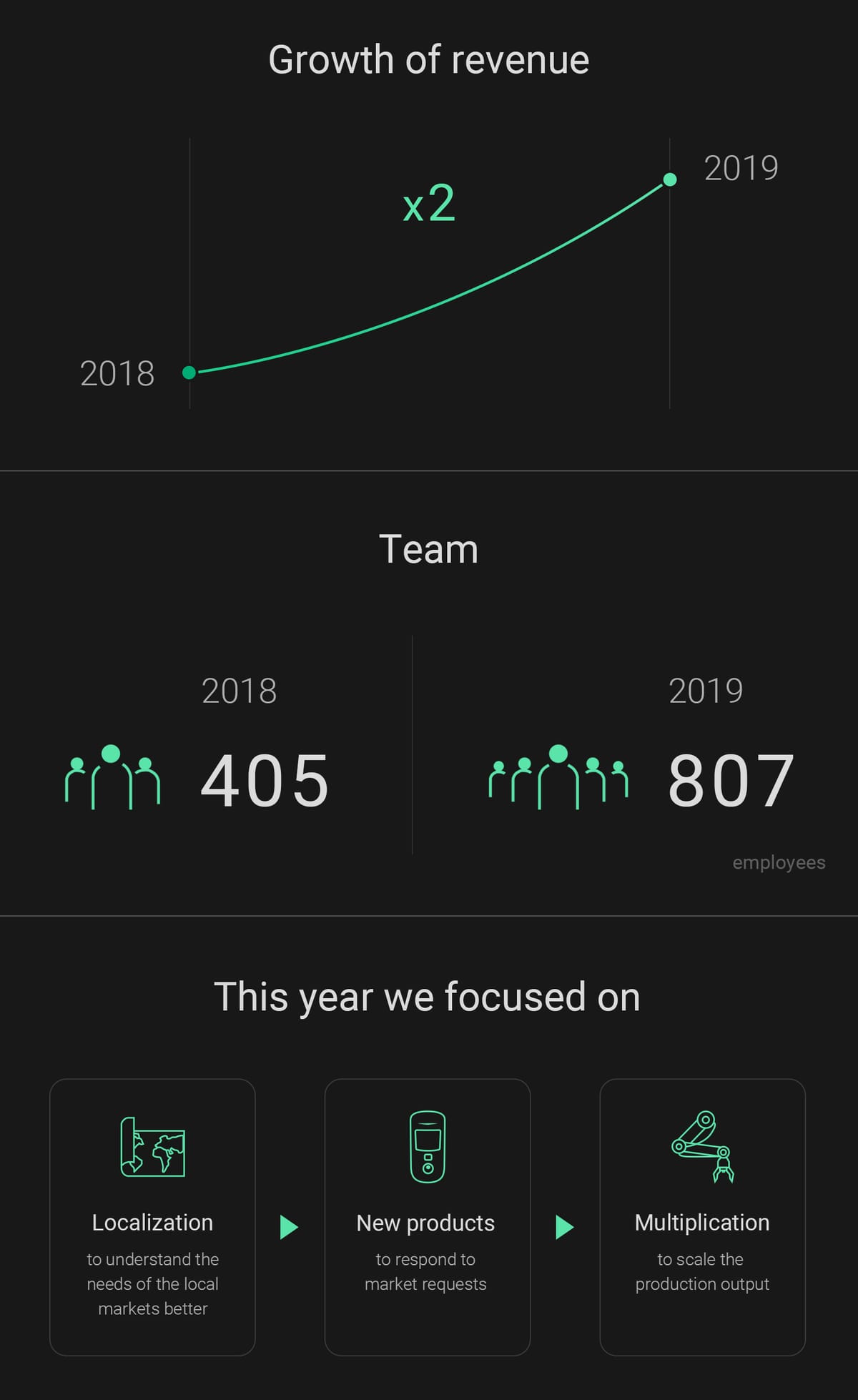 Localizing the Ajax security experience
After a rapid horizontal growth across many markets through strategic partnerships with local distributors in 2016-2018, we began to establish a stronger presence in each region. Localization of Ajax experience involves solving local business problems and communicating with partners in their native languages.
On the one hand, to dig deeper into the local markets, we've connected closely with the regional security service providers: installers and alarm response companies that communicate with users of security equipment daily.
We've restructured and expanded our business development team from 12 to 32 people. Now it's a multi-language division that helps partners in 93 countries to grow their business.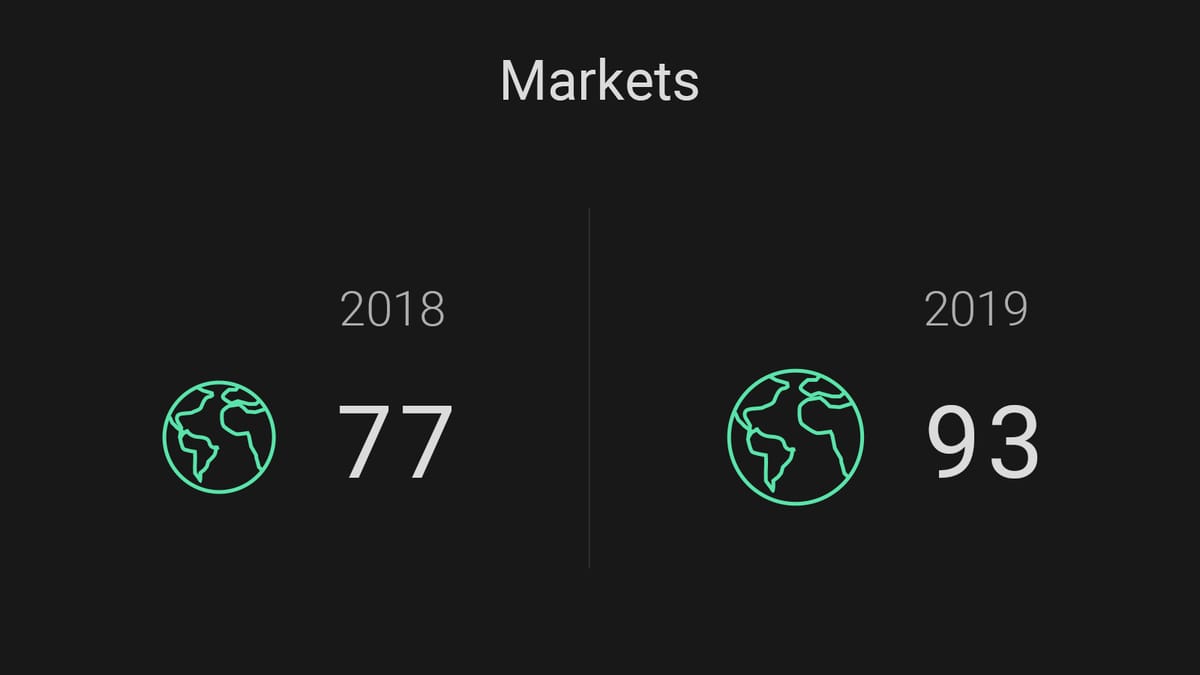 On the other hand, to boost product recognition and support the efforts of our regional partners, we've translated the core marketing and educational Ajax materials (i.e. website, blog, support section, manuals, video tutorials) to 4 new languages.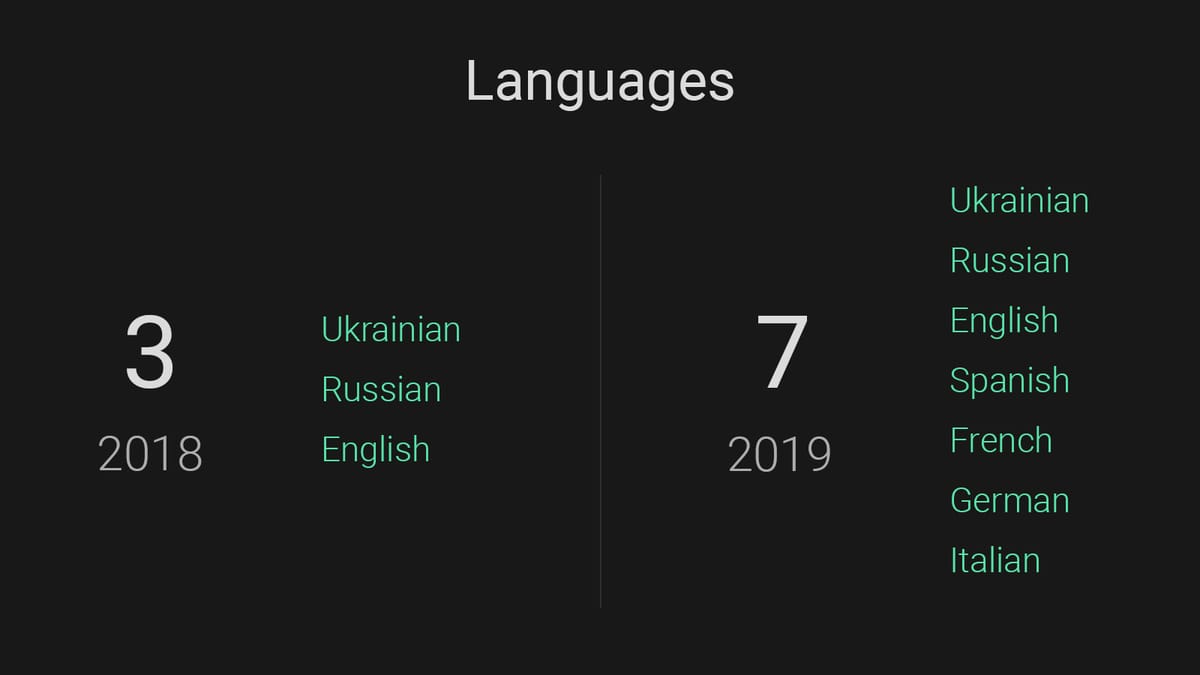 We've upgraded the Support section of the website and increased the size of the Support team from 8 to 19 people. Within this team, we've created a dedicated pre-sale division to provide technical support to our business development team and our partners. Moreover, to help more installers switch to Ajax, we've organized 246 road-shows with hands-on installation, masterclasses, and demonstrations.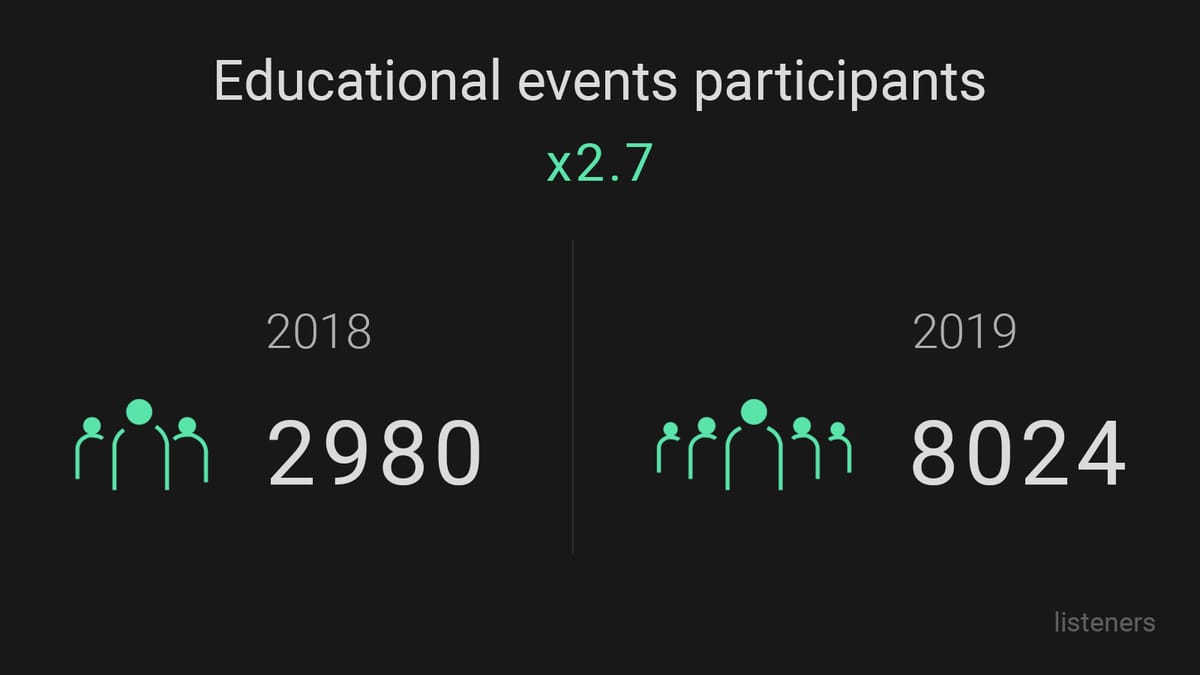 To help security professionals gain more visibility and credibility in their regions, we've upgraded the "Where to Buy" section of our website. Now users can browse the library of authorized Ajax partners: installers and security companies by regions. Moreover, we support the marketing activities of our partners by launching regional brand awareness campaigns.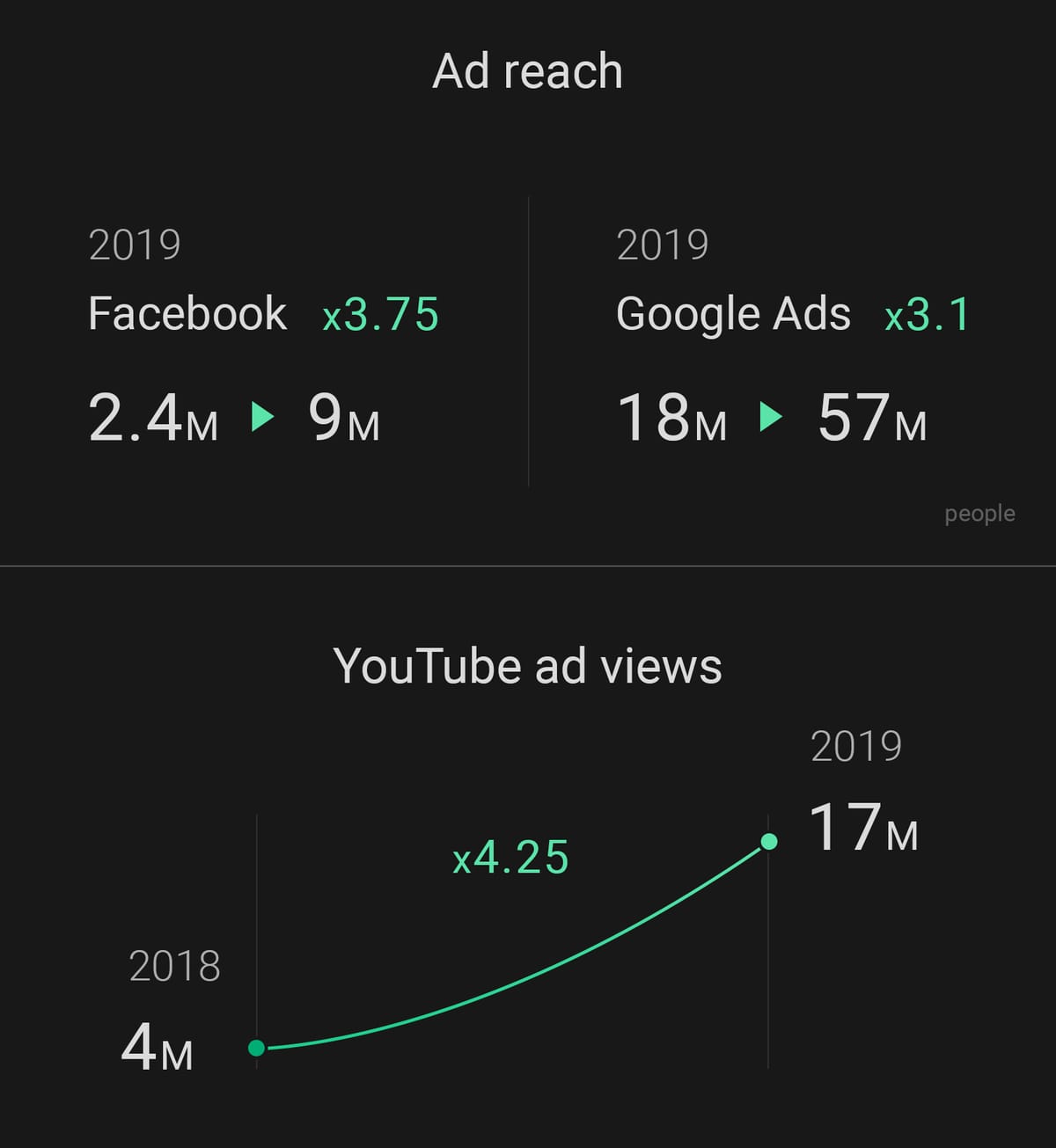 This year, we've had over 200 media mentions and 27 product integrations with bloggers and opinion leaders. Moreover, we've shotes 4 commercials demonstrating Ajax in action with a famous Ukrainian boxer Oleksandr Usyk.
Finally, we've opened a company profile on Trustpilot, the world's most powerful review platform, to bring an international Ajax community together and ask them to share their experience. 675 people have already left reviews and 89% of them are positive. Trustpilot confirmed that Ajax possesses an important place in the life of people. So important that they want to talk about it.
---
Innovating the security market
Professional feedback has been the critical driver of innovation at Ajax Systems since Day 1. We engineer solutions that respond to the real user's needs by applying global professional expertise and best practices. Establishing stronger positions at the new markets in 2018 has triggered a new wave of innovation at Ajax in 2019. This year we've made several breakthroughs.
More information on motion alarms
New MotionCam detectors and Hub 2 control panels allow users and security companies to see what was the reason for the alarm in less than 9 seconds from motion detection. Using the proprietary Wings radio protocol, the detector transmits pictures at a distance of up to 1700 m even during the blackout or when the Internet is down. MotionCam takes pictures only when motion alarm is triggered, which allows using visual alarm verification indoor without violating user's privacy.
Originally made to comply with the alarm response regulations in Spain, MotionCam can now accelerate the alarm verification process in 92 countries.
Smarter and safer homes
In 2019, Ajax blended the barriers between smart home and security systems. Following the introduction of Relay, WallSwitch, and Socket in 2017-2018, we've launched the OS Malevich 2.8 update with scenarios and programmable Button for smart home control. Now, you can program your system to shut down the water in case of leakage, create night mode and heating schedules, or use Button to control gates and door locks safely.
Bigger properties
Parallel to the rise in demand for Ajax on the residential markets, our products gained more trust among the enterprise clients. Today, our business portfolio includes electronic chain stores along with the multi-family house developers. Therefore, we continue to develop new products to meet large-scale needs.
At the beginning of 2019, we've launched the ReX intelligent range extender to double the distance between the hub and its detectors. With the latest OS Malevich update, Hub 2 and Hub Plus can support up to 5 ReX, which allows them to cover up to 35 km² and protect extra-large premises: warehouse complexes, multi-story business centers, and massive scale productions.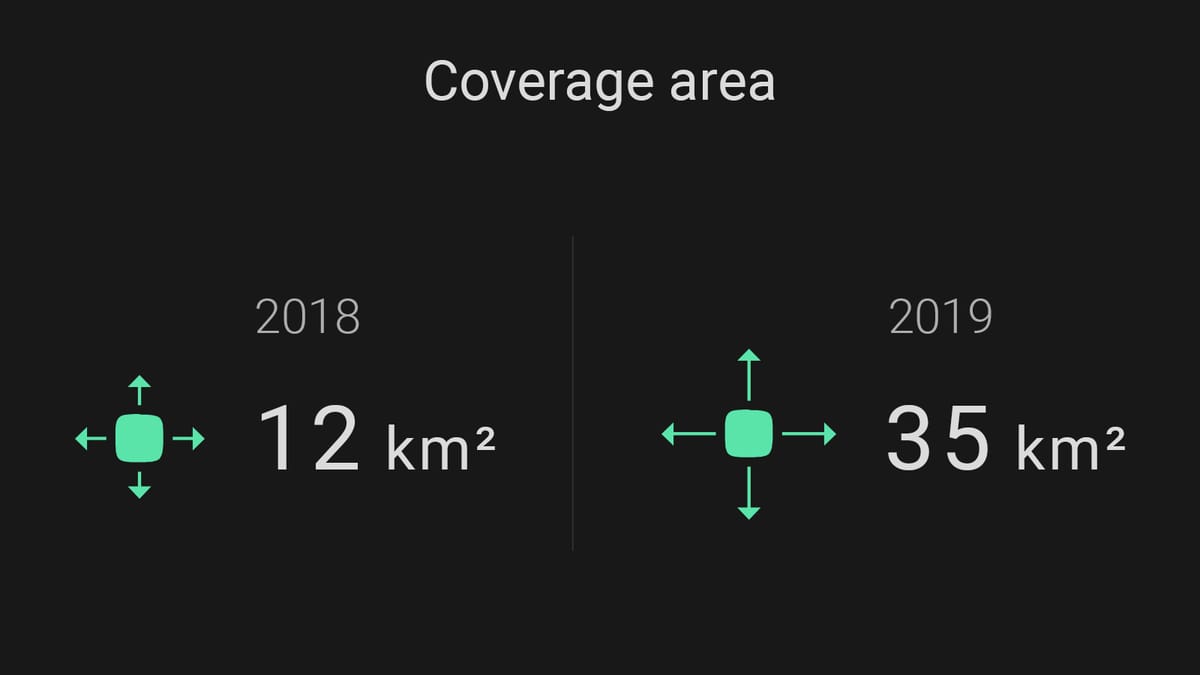 More PRO services
Alarm response companies around the world use different alarm communication protocols to receive alarms. Contact ID has become an obsolete standard, and it is actively replaced by SIA, especially in Western Europe. Thus, to synchronize with the modern security standards and ensure secure communication between the hub and Central Monitoring Station (CMS), we've added the support of SIA standard for all Ajax hubs.
Thanks to the automatic OS Malevich update, all Ajax hubs can now be connected to the CMS without the need for additional software that decodes and converts system messages. Moreover, SIA allows using AES-128 encryption to prevent any hacking attacks and ensure data integrity.
On top of that, we've added the support of Confirmed Alarms, special events that hub generates to confirm that more than one detector was triggered within a given period of time. It verifies alarms to help CMS operators faster respond to real threats.
More integrations
In 2017, we introduced a way to integrate security cameras to Ajax via RTSP, which allows users to control security and monitor security cameras within one app. In 2019, we've simplified the connection process. Now you can add Hikvision and Safire, Dahua, and Uniview surveillance equipment in less than 2 minutes.
Keeping up with the demand
In terms of scaling the mass production, 2019 was the most challenging year so far.
We've minimized the time for assembling, testing, and packaging by increasing the number of assembly lines from 2 to 8 and reinforcing workstations with robots. As a result, we began to produce 220 000 units per month while still testing every single device.
Monthly production output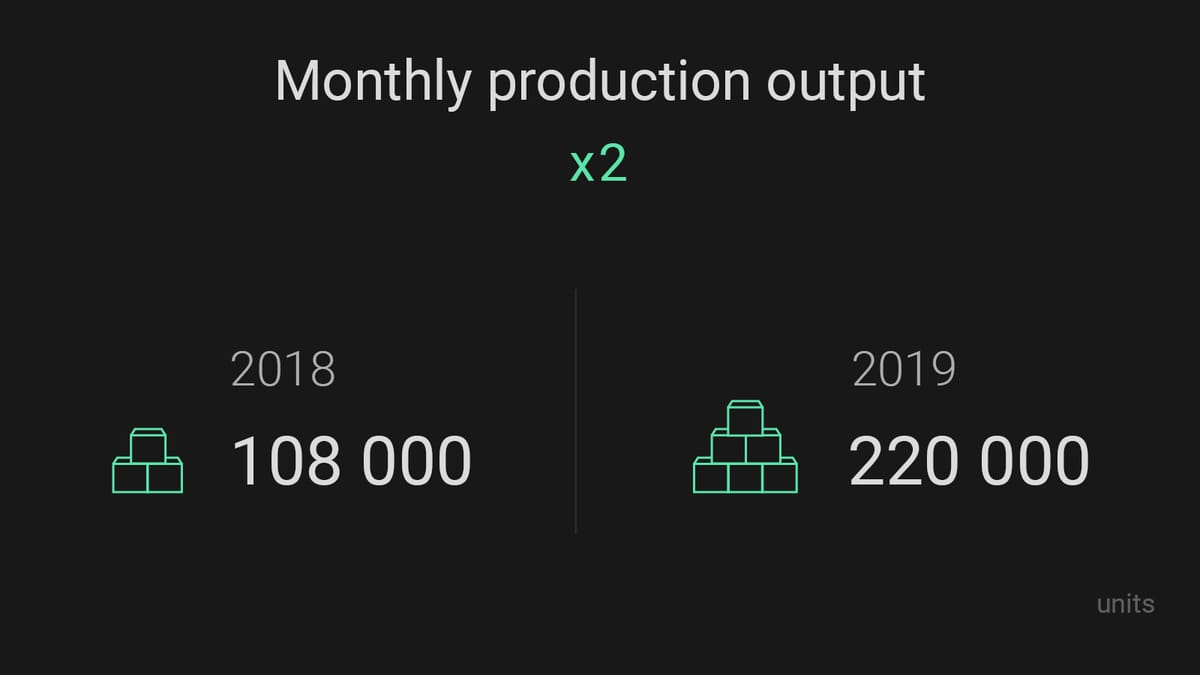 Moreover, this year we've doubled our R&D team and put the new office in Kharkiv, the city known for its engineering schools. By attracting new specialists to the team, we've accelerated the development of the new products.
* * *
What's next
In 2020, we're planning to continue establishing new branches at the key markets. We will double the size of the R&D team once more and put the new offices in major Ukrainian cities. Our production growth will continue to meet the growing demand and increase in volume.
The inventive focus for 2020 will be Smart Home & Security. We will present new devices to control climate and lighting along with the new automation scenarios. Moreover, we will introduce more solutions for the enterprise product line.
Finally, next year we're planning to double in size once again and become the largest manufacturer of security equipment in Europe.