On 20 October, Ajax Systems hosted the fifth Ajax Special Event, an online showcase of latest devices and new software features. Starting 8 years ago with the conquest of the global intrusion market, the company is now expanding horizontally by adding entirely new product verticals to its portfolio. Ajax Systems has introduced whole new CCTV products with a different approach to privacy.
Also, the company has introduced significant enhancements to its intrusion and fire portfolio, demonstrating a deeper foray into the high-security market while also unveiling substantial updates to fire product series.
Consistent with their drive for innovation, they have integrated collaborations with other industry giants. And, charting the future of the security sector, Ajax demonstrated how innovative wired communication can modernize old, inconvenient security systems. Now meeting Grade 3 standards, their offerings are poised to reshape industry benchmarks.
Watch the full video:
Read more about what was presented at the Ajax Special Event:
👉 Venturing into new markets with unmatched innovations
👉 Ajax Superior: Introducing a new product line for projects
👉 New Fibra devices: Expanded features for projects
👉 KeyPad TouchScreen release: Control your system effortlessly
👉 Grade 3: Entering the high-end security market
👉 Insights on Ajax software from CEO of MacPaw
👉 Ajax SIM: Ajax user experience in a SIM card
👉 Yale integration: Instant connection with a smart lock
👉 FireProtect 2 АС: Mains powered fire detectors
👉 ManualCallPoint: A simple way to activate the fire alarm
👉 Ajax Systems: Meeting global fire safety standards
👉 Interconnect: No chance of alarm missing
👉 NVR: Guiding video to top-tier security
👉 Cameras: Intelligence and privacy built-in
👉 Space: Ecosystem without boundaries
👉 Introducing the brand new Ajax motto
Ajax Systems in 2023: Venturing into new markets with unmatched innovations
Rooted in its Ukrainian origins, Ajax Systems has always showcased the blend of innovation and resilience that the nation is renowned for. At the previous Ajax Special Event: Comfort Zone in 2022, the emphasis was on the company's commitment to elevating the technological prowess of the country on a global stage.
One of the most remarkable milestones in this journey has been the development and success of the Air Alert app. In 18 months since its launch, it has become Ajax's largest software product, with nearly 22 million downloads. Serving over 6 million active users, it highlights both the technological achievement and the ongoing invasion in one of Europe's largest nations.
Continuing this tradition, the fifth Ajax Special Event further solidified Ukraine's prominent role in shaping the future of security. With more offerings, Ajax Systems saw an opportunity for new product categorization. This year, Valentine Hrytsenko, Ajax System's chief marketing officer, has introduced a renewed product portfolio, divided into two large groups.
Complex security projects are routine for our partners. And we bring the best engineering practices and the best user experience to their workdays.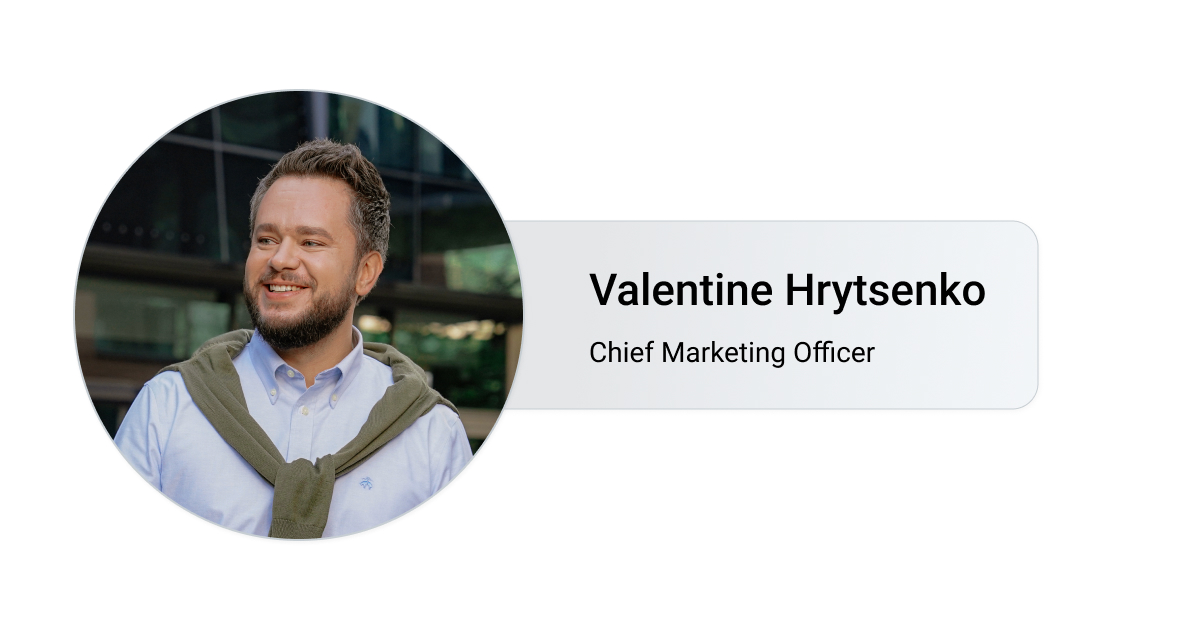 The first product group includes the Baseline. That is Jeweller devices: intrusion protection, fire safety, protection against leaks, automation, comfort, and productivity. The second large group is products for projects. These are the devices from the Fibra and Superior lines, which meet many industry standards and are available only to accredited partners.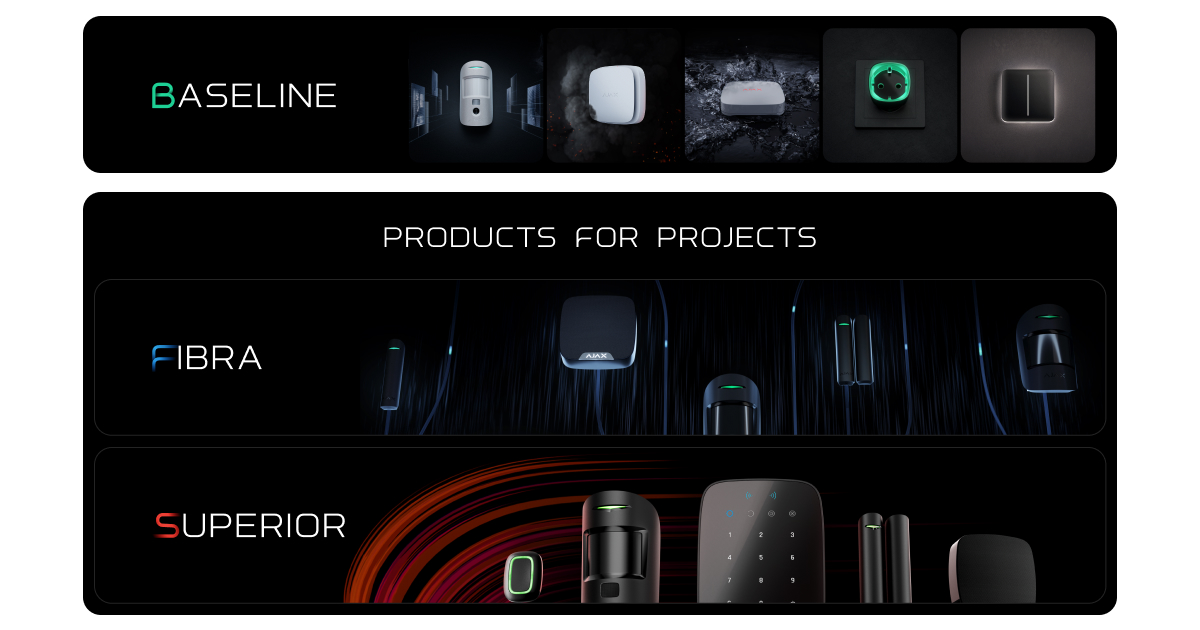 This restructuring is designed to make it even easier for partners and customers to navigate our product range and select the perfect match for their unique requirements.
👉 Watch this episode of the Ajax Special Event
Ajax Superior: Introducing a new product line for projects
Compliance with industry standards. This is the key to gaining access to large-scale projects.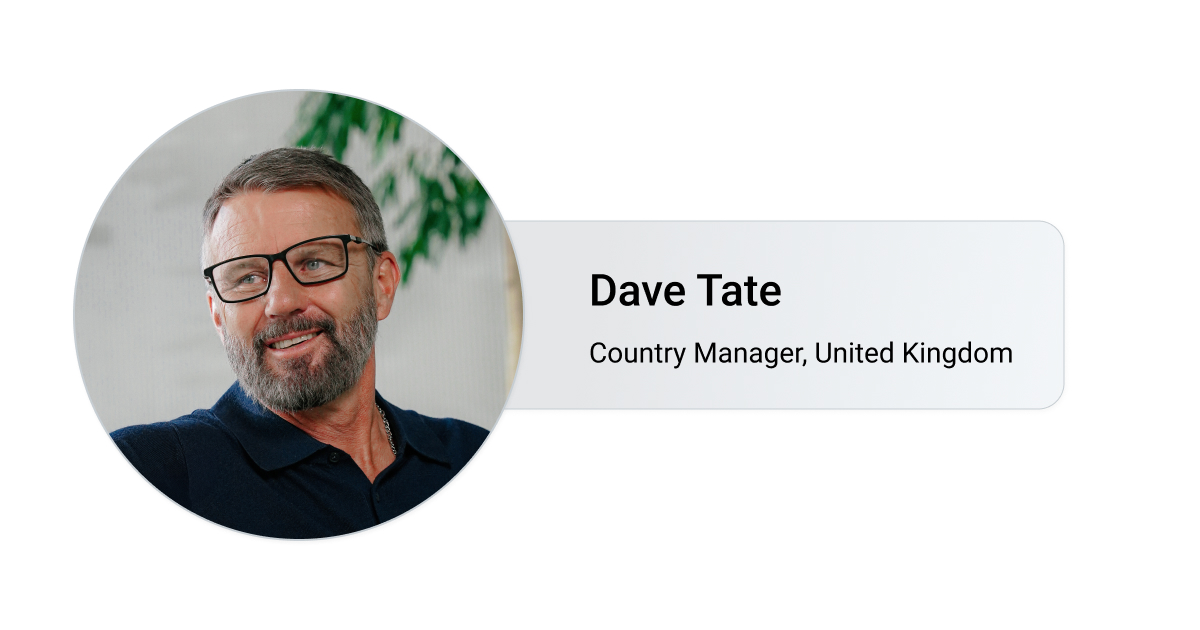 Listening to the market has become imperative for Ajax Systems. Since the company delved deeper into hardware specifics, its Jeweller intrusion products have been further refined. The Superior product line by Ajax Systems offers advanced wireless security devices tailored for any project.
It's a complete set for the best facility protection. Superior products feature Panasonic batteries, ensuring consistent operation regardless of temperature impact. They also come with enhanced anti-sabotage protection and improved system supervision to guarantee reliable autonomy in any situation.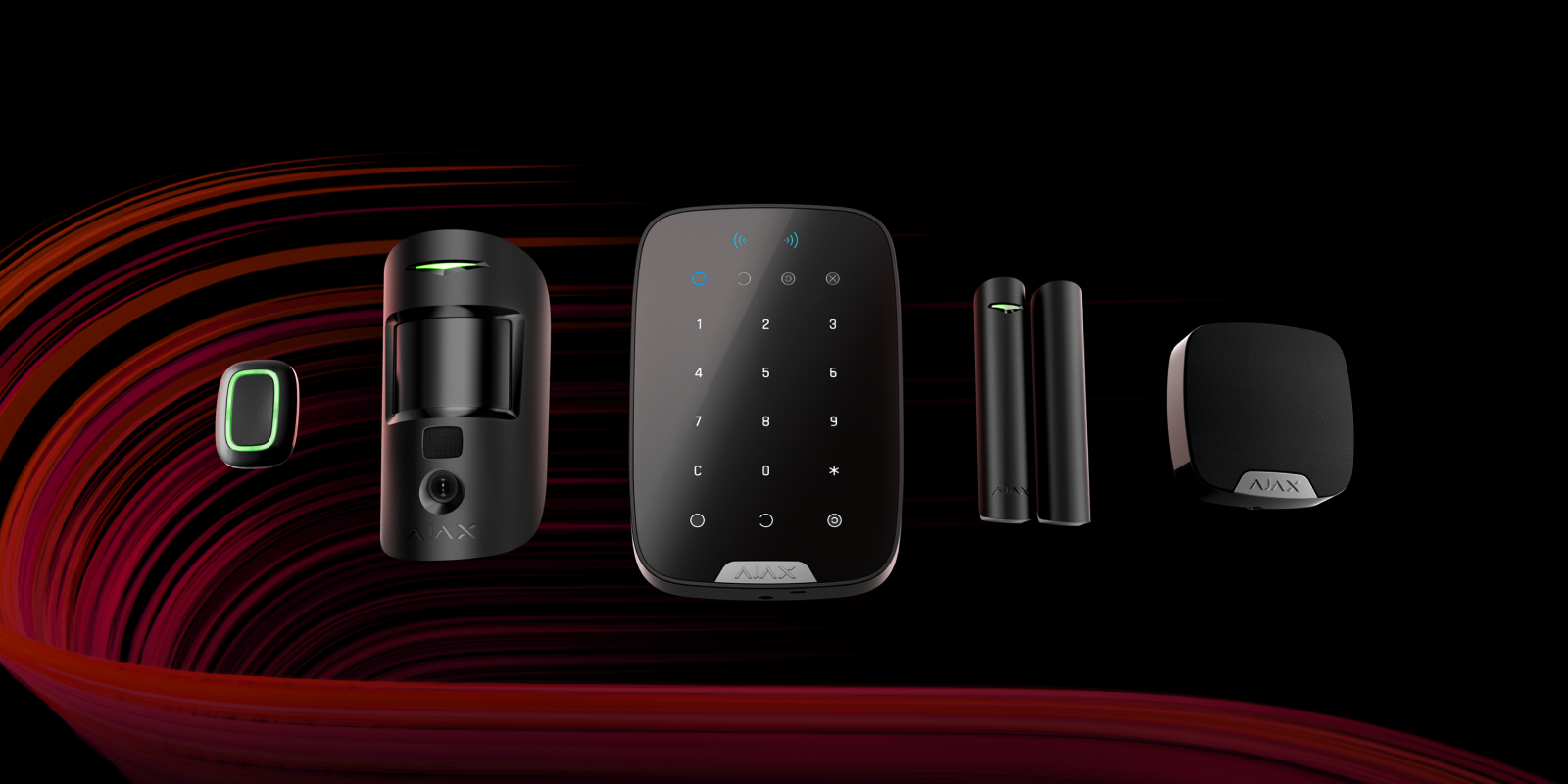 Superior is moving forward with the important local certifications. British PD 6662:2017 compliance focuses on protection against false alarms. Belgian INCERT boosts sabotage protection. Swedish SSF has also elevated its criteria for physical security. Unlike other market players who produce separate product lines for various standards, Ajax Systems integrates all the expertise into a single product.
Only accredited Ajax Systems partners can sell, install, and administer Superior products. The company provides partners with full 24/7/365 support and training at Ajax Academy.
All Superior devices are available for order
👉 Apply to access Superior
👉 Learn more about Superior product line
👉 Watch this episode of the Ajax Special Event
New Fibra devices: Expanded features for projects

Before the Special Event, the company unveiled a groundbreaking first batch of wired devices, representing a significant leap forward in the product line's evolution. The first batch included two control panels (with 2G and 2G/3G/4G(LTE) modem), motion and opening detectors, detectors with photo verification, glass break detectors, control devices, sirens, and a module for integrating third-party devices.
But Ajax Systems is expanding its Fibra product line even further. The latest additions include capabilities for complex topologies, additional device power supplies, third-party devices integration, automation, and enhanced anti-sabotage protection. With the following devices, the Fibra product line allows for comprehensive coverage of complex facilities, including factories, industrial complexes, and business centers.
Each release of Ajax strengthens our project capabilities and allows us to cover increasingly large-scale facilities.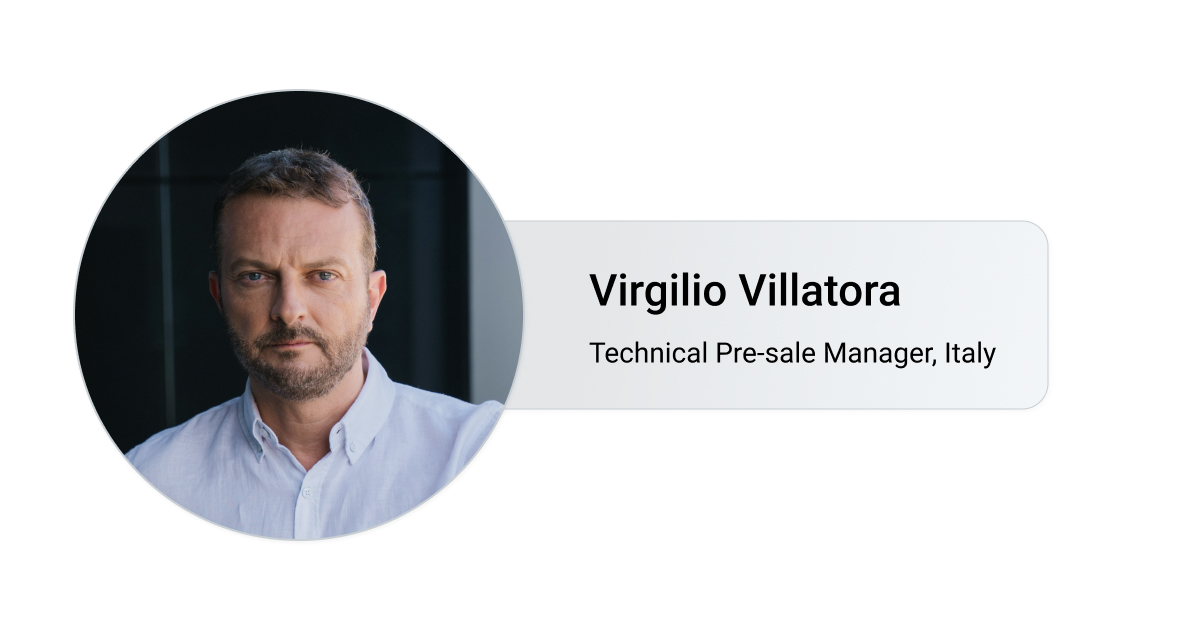 👉 Apply to access Fibra
👉 Learn more about Fibra product line
👉 Watch this episode of the Ajax Special Event
KeyPad TouchScreen: Advanced and convenient control
We're not pioneers in the touchscreen keypad market. But this device will change the way you think about security keypads.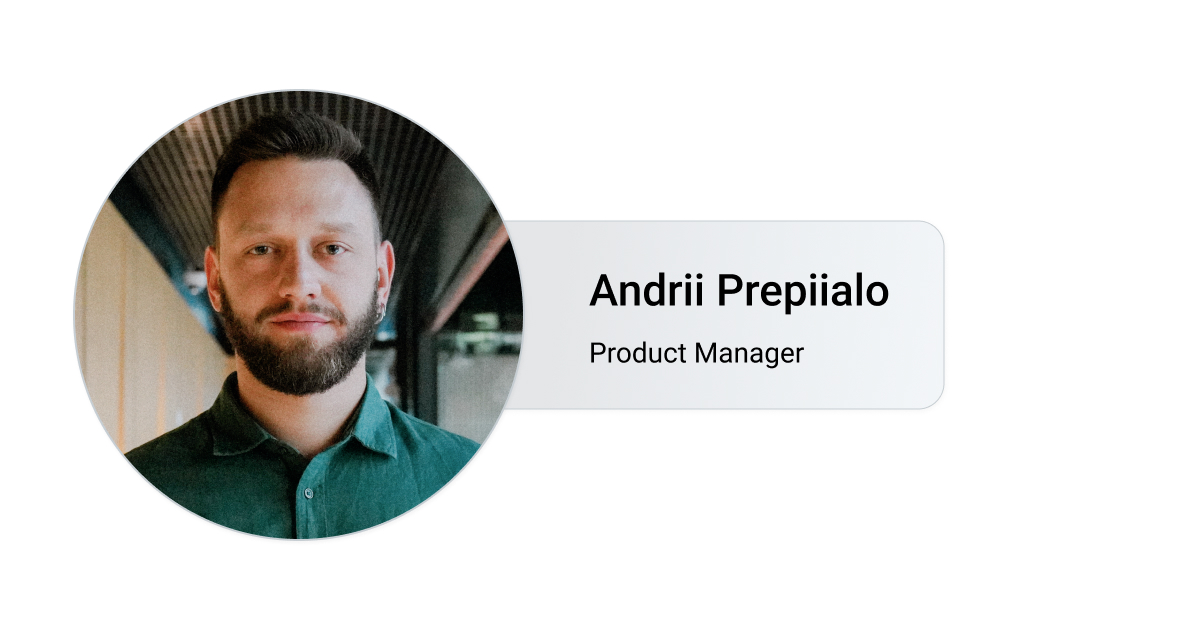 KeyPad TouchScreen is a wireless keypad with touch screen that offers a graphical interface where all important information is immediately visible. The device boasts intuitive group management. By integrating the familiar UI from the app, Ajax Systems ensures that this keypad offers unparalleled convenience with all important information available at a glance.
This device enables users to monitor and change the status of each security group with just a single touch. Up to six buttons for running the scenarios can be opened with one tap so that the user can add any automated function to the screen.
KeyPad TouchScreen features the DESFire® technology. It is the best-in-class contactless solution to identify the user by card or key fob. Moreover, the device supports BLE (Bluetooth Low Energy) low-energy radio protocol that makes it possible to use a smartphone app instead of cards or key fobs. Also, it is possible to add different code types: keypad code (one per keypad), personal code (individual for each user), code for an unregistered person.
 Key features
Top-tier IPS display: 5″ diagonal, with a resolution of 480 × 854 px and a backup lifetime of 30,000 hours
Authentication via smartphone due to BLE support
Authentication with secured cards Pass and Tag key fobs
Sound notifications about delays, door openings, and alarms
Personal access codes and duress codes with code guessing protection
Easy security group management
Separate tab for automation control: up to 6 devices or groups on one screen
Three buttons: panic, fire, auxiliary
Over-the-air software updates
The wireless keypad is available for order. The wired version is set to launch in 1Q, 2024
👉 Learn more about KeyPad TouchScreen Jeweller
👉 Learn more about KeyPad TouchScreen Fibra
👉 Watch this episode of the Ajax Special Event
Grade 3: Entering the high-end security market
But it's time for us to take on a new challenge – and bring advanced technologies and Ajax user experience to the conservative high-security market. Now, it is possible.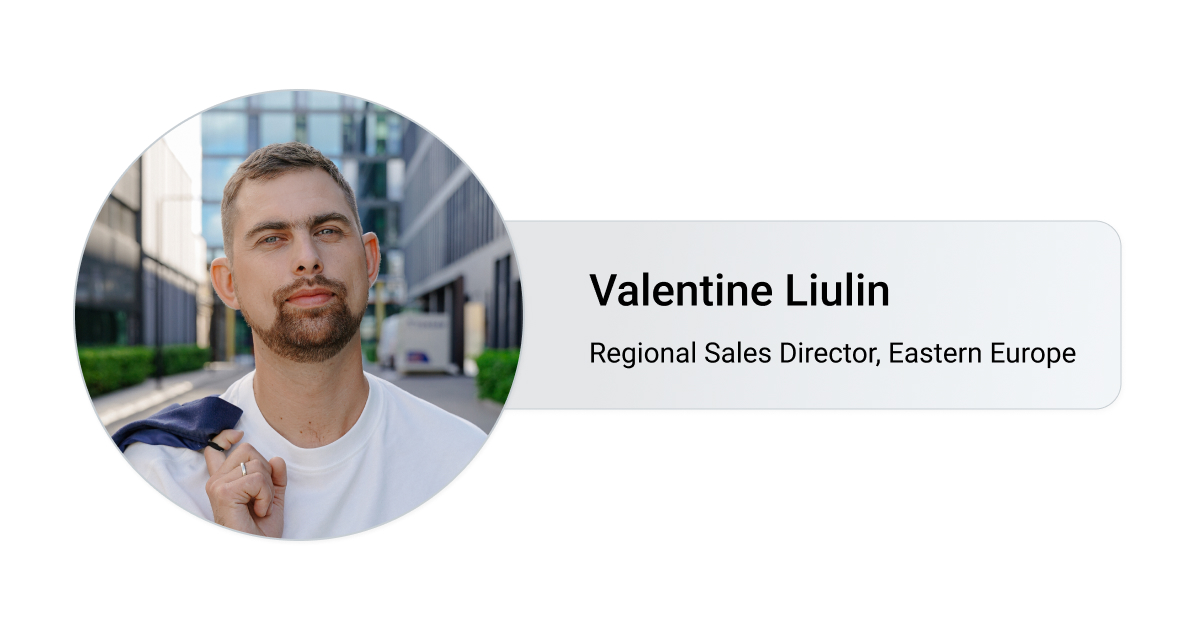 After relentless efforts, Ajax Systems can cater to the high-security market's needs. The company proudly announces that Fibra devices are now officially certified as EN 50131 (Grade 3). This achievement underscores the company's commitment to delivering top-tier security solutions for a broader range of facilities.
The certification is pivotal for high-risk establishments, including banks, gun shops, government agencies, museums, large warehouses, and offices housing valuable equipment and information. With this accomplishment, Ajax Systems not only marks a significant milestone but also enhances its capability to integrate third-party devices into the Ajax system, thanks to the Transmitter and MultiTransmitter modules.
Ajax Systems also introduced new detectors that incorporate the best practices from both the company and the security industry: MotionProtect G3 Fibra and DoorProtect G3 Fibra.
In addition to all the sensors found in DoorProtect Plus Fibra, DoorProtect G3 Fibra includes a magnetometer to monitor the surrounding magnetic field. It also comes with plastic spacers to mitigate the effects of metal surfaces on the magnet.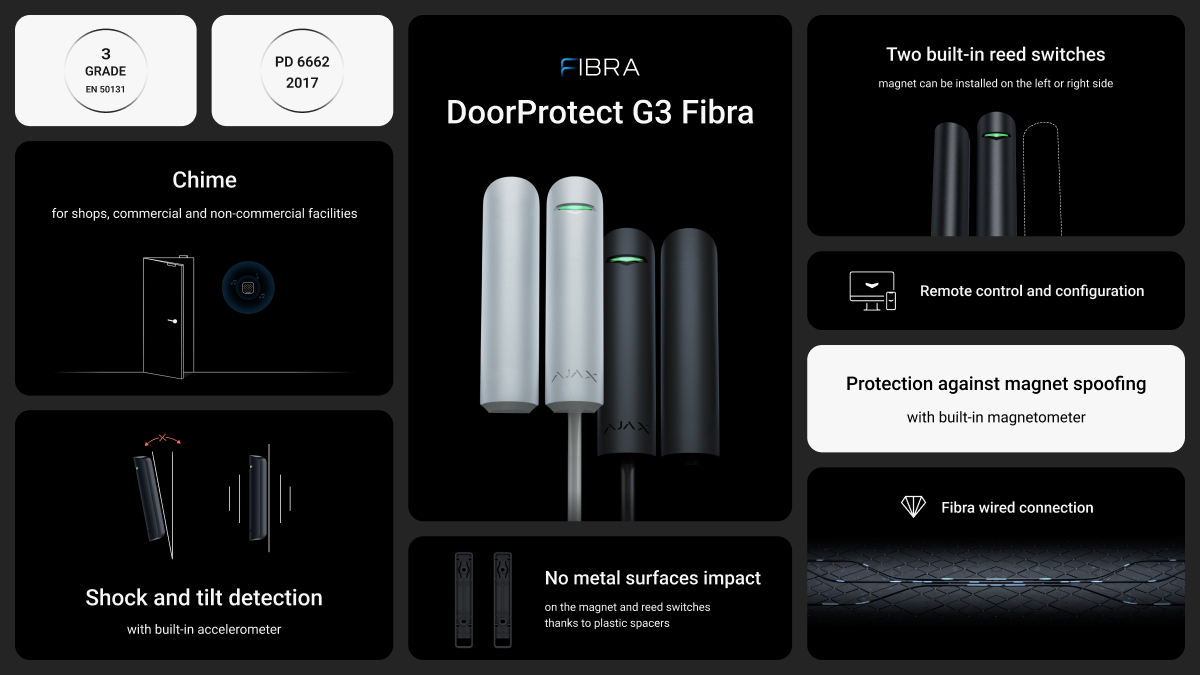 DoorProtect G3 Fibra will be available for order in 4Q, 2023
MotionProtect G3 Fibra has enhanced responsiveness to both fast and slow movements. The detector is safeguarded against masking. Its advanced SmartDetect algorithm, designed to work with infrared and microwave sensors, helps prevent false alarms.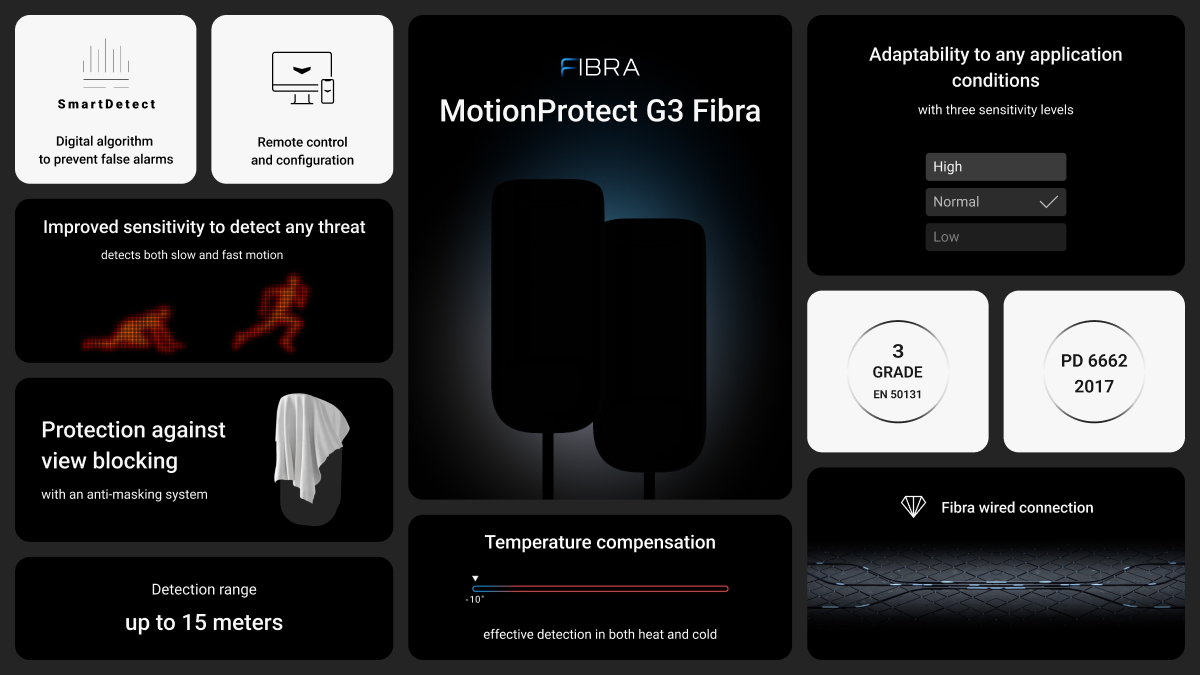 MotionProtect G3 Fibra will be available for order in 2Q, 2024
| | |
| --- | --- |
| Certified | Certification in progress |
| Hub Hybrid (2G) | Hub Hybrid (4G) (Q4 2023) |
| HomeSiren Fibra | Transmitter Fibra (Q4 2023) |
| StreetSiren Fibra | LineSupply (45 W) Fibra (Q4 2023) |
| StreetSiren DoubleDeck Fibra | LineSupply (75 W) Fibra (Q2 2024) |
| KeyPad Fibra | LineSplit Fibra (Q4 2023) |
| MultiTransmitter Fibra | LineProtect Fibra (Q4 2023) |
| | MultiRelay Fibra (Q4 2023) |
| | Case A (106) (Q4 2023) |
| | Case B (175) (Q4 2023) |
| | Case C (260) (Q4 2023) |
| | Case D (430) (Q4 2023) |
| | DoorProtect G3 Fibra (Q4 2023) |
| | MotionProtect G3 Fibra (Q2 2024) |
👉 Learn more about Grade 3
👉 Watch this episode of the Ajax Special Event
Insights on Ajax software from MacPaw CEO
In 2015, I became an early investor in Ajax Systems and an early adopter of their products. Today, I'm happy to tell you a story about the place of Ajax in my daily life.

Oleksandr Kosovan, renowned software developer, CEO of MacPaw, and head of a venture capital firm, highlights his journey since becoming an early investor in Ajax Systems in 2015. He has emphasized the alignment of his values with the brand. Oleksandr, who has his own experience using the system both at the office and at home, shared his appreciation for the company's innovative and human-centric approach to technology.
Oleksandr particularly praised the user experience Ajax offers, noting the system's design, usability, and simplicity, ensuring that everything from its notifications to its controls is made for humans. He underscored the system's rapid responsiveness, a feat that impresses him as a software developer, and acknowledged the hard work of the Ajax team in realizing this vision.
👉 Watch this episode of the Ajax Special Event
Ajax SIM: Ajax user experience in a roaming SIM card
Starting with PRO Desktop 3.11 and Ajax SIM, your company can establish a seamless business process, resulting in recurring revenue.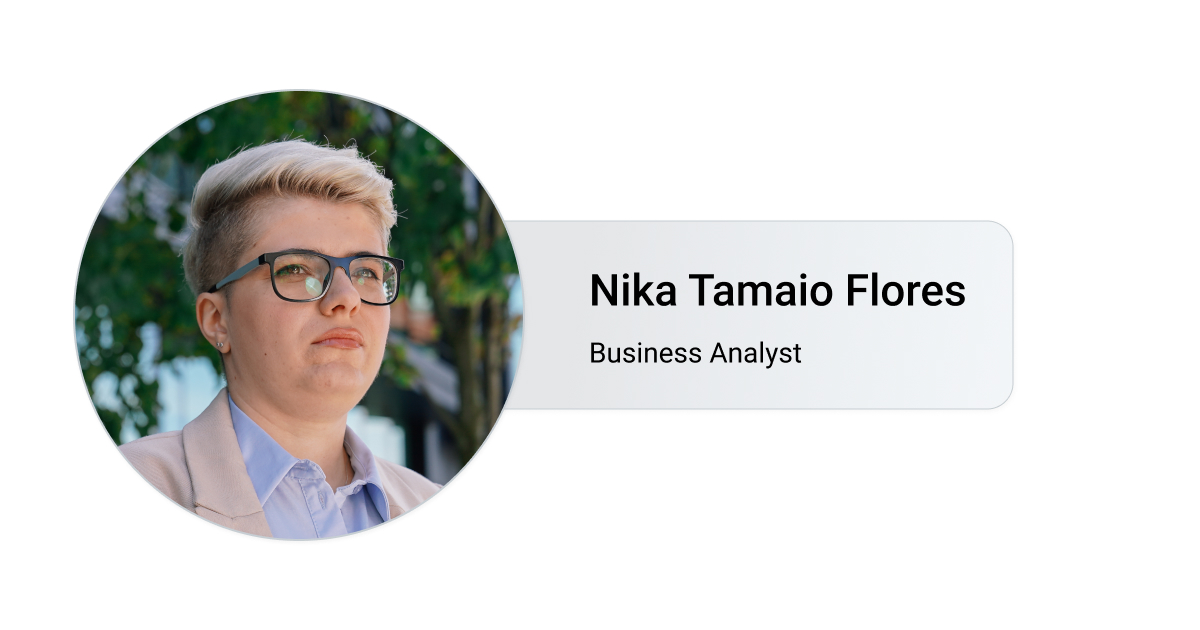 The company has released a new service that features a roaming SIM card pre-installed in the hub. This card is programmed to operate with that specific hub, ensuring an instant connection without any further setup or configuration by the installer.
Ajax SIM has full network connectivity and is compatible with 2G/3G/LTE. There's no need to test multiple operators during installation; the SIM automatically selects the strongest and least congested signal available. It's an IoT card, so there's no need to activate it with a phone. Just install the hub and activate the SIM card in the PRO apps.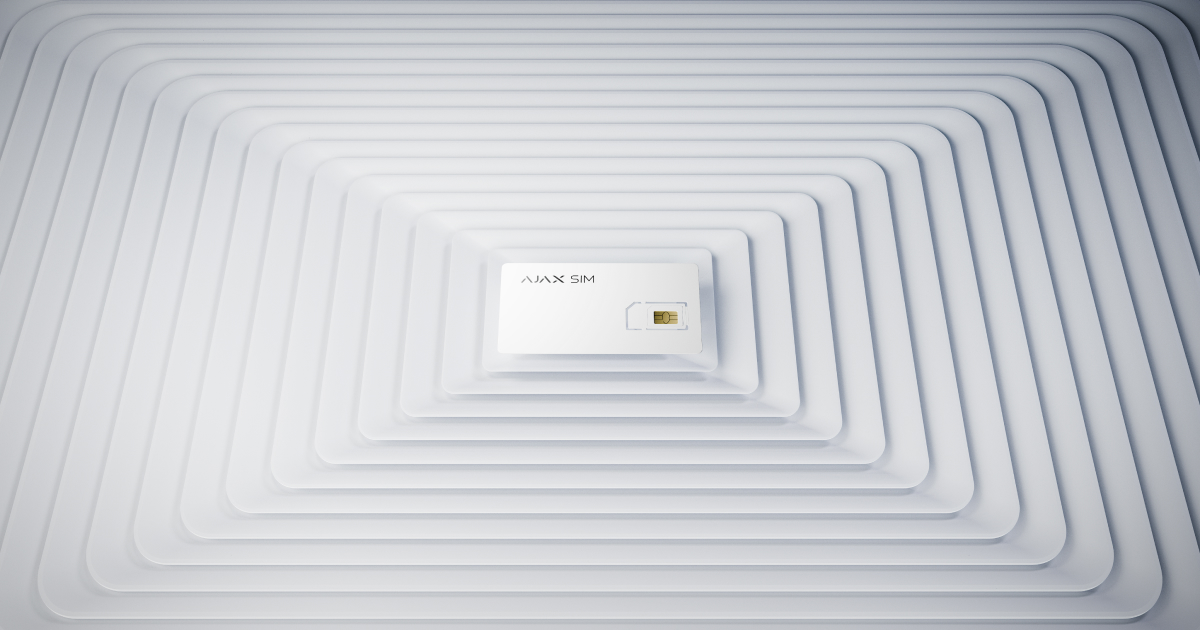 The company decided to ship Ajax SIM in every Ajax hub that goes to the US and Canada distributors. In the near future, the service will be launched in the UK, Nordic countries, and Australia.
👉 Learn more about Ajax SIM
👉 Watch this episode of the Ajax Special Event
Yale integration: Instant connection with a smart lock
An opportunity for our partners to save time on installation and earn more on services.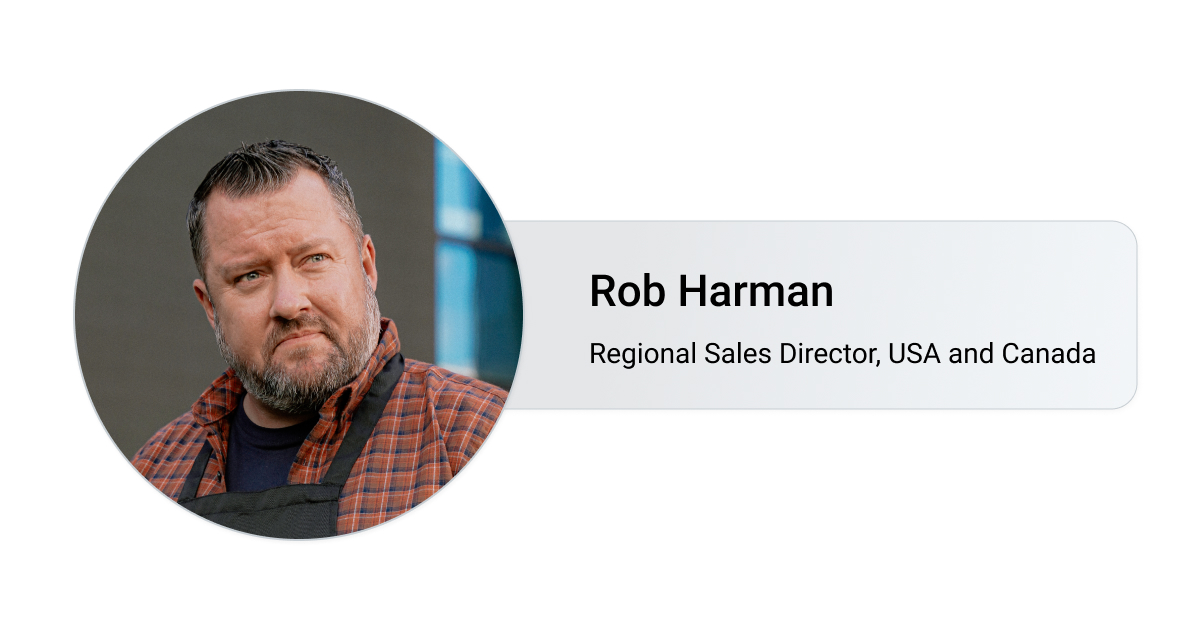 Ajax Systems has announced an integration with Yale, a leader in smart home security with over one million smart locks already manufactured and a legacy spanning 180 years. Users will be able to manage and automate a Yale smart lock directly from the Ajax app. This functionality will be made possible due to an instant Cloud-to-Cloud connection through the Yale Home API, which will ensure smooth and secure communication with every Ajax system.
The most popular Yale models are among the first smart locks to be integrated with Ajax:
Yale Linus ®
Yale Doorman V2N / Classic
Yale Doorman L3S
Soon, Ajax Systems will pilot Yale integration in Norway, Sweden, Italy and Spain, with plans to expand to the US, Canada, and more countries soon.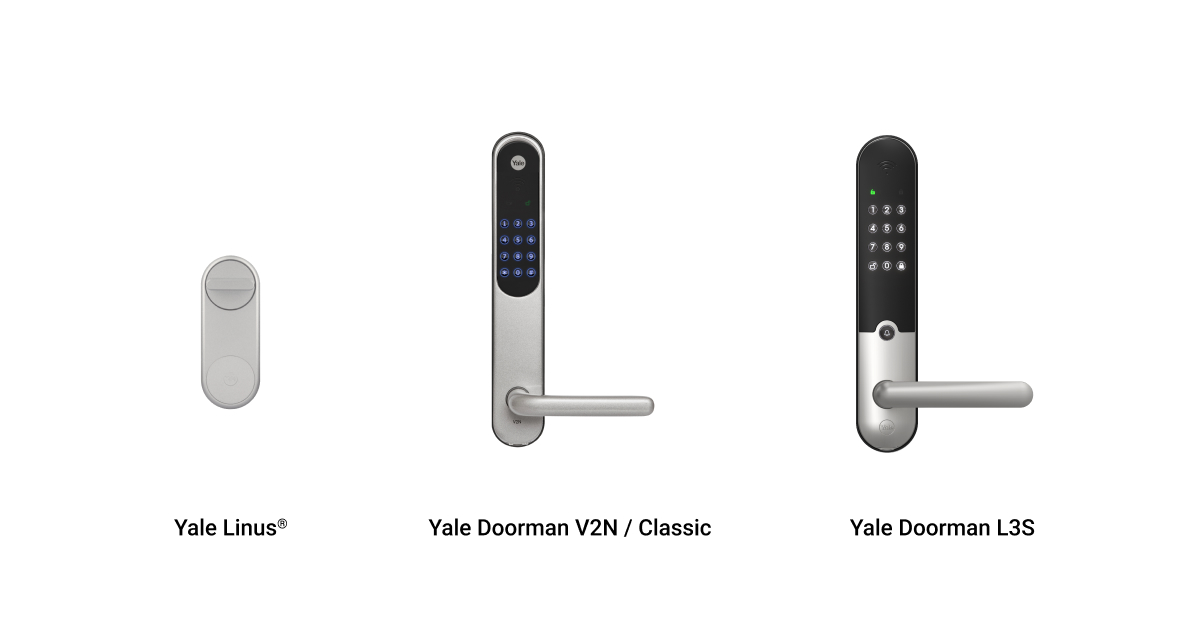 👉 Watch this episode of the Ajax Special Event
FireProtect 2 AC: Enhanced mains powered fire detectors
New models open the biggest and most regulated market for us.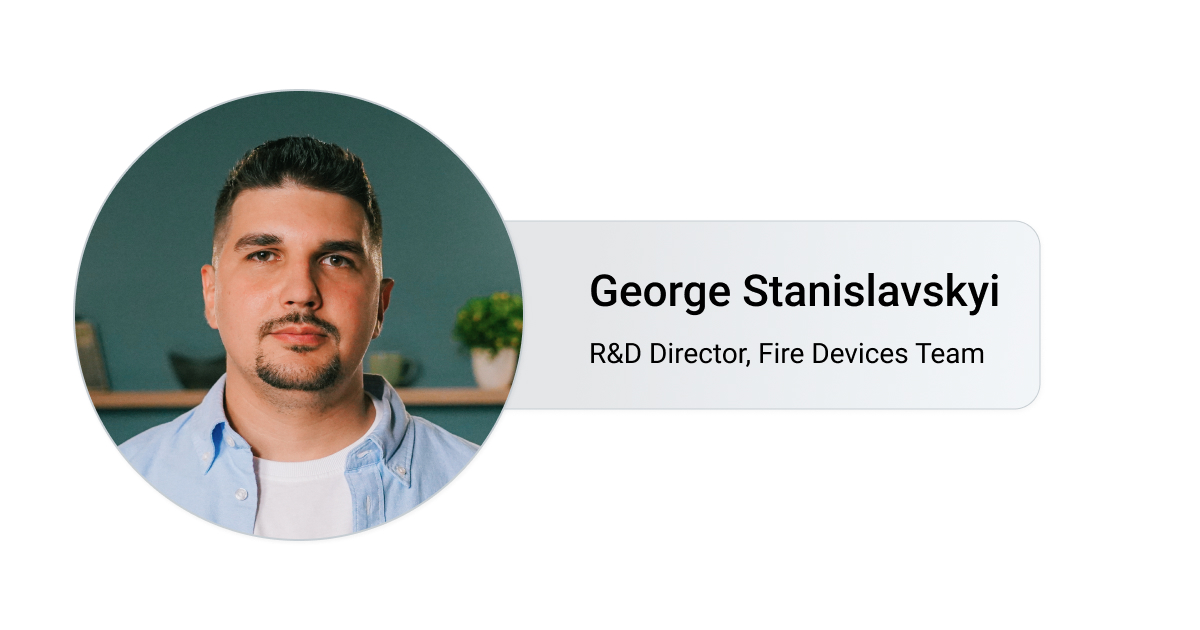 Ajax continues to make strides in the fire safety industry with the introduction of their FireProtect 2 AC fire detectors equipped with a mains power supply.
These AC detectors are designed with the latest advances in fire safety technology and inherit all the signature features of FireProtect 2. They are catering to regions such as England, Wales, Australia, the US, and others, where all fire detectors, in most cases, should be connected to the mains.
Complementing its primary power source, the detectors come with a sealed backup battery, ensuring uninterrupted operation. Thought-out design, improved mounting panel with WAGO 221 connectors, and in-app settings make the installation process nice and easy, giving an ultimate experience for PRO.
 Key features
Two types of interconnected fire alarm

Primary: via an Ajax hub, an alarm in 20 s
Fallback: detector-to- detector, an alarm within 60 s

Sensors
Main power supply 110–240 V~ and backup battery
Dustproof smoke chamber impenetrable for insects
SmartBracket with an adjustable rotation angle
Easy wiring with WAGO 221
85 dB built-in siren
Dual-spectrum optical smoke sensor
Remote control and configuration
Informative in-app notifications
This launch of AC detectors includes five models:
The detectors will be available for order in 4Q year, 2023
👉 Learn more about FireProtect 2 AC
👉 Watch this episode of the Ajax Special Event
ManualCallPoint: A simple way to activate the fire alarm
We created not just an ordinary red button but a whole new approach to how IoT can be a part of a rigid world of rules and regulations. Of course, we wouldn't be ourselves if we didn't do it with Ajax elegance.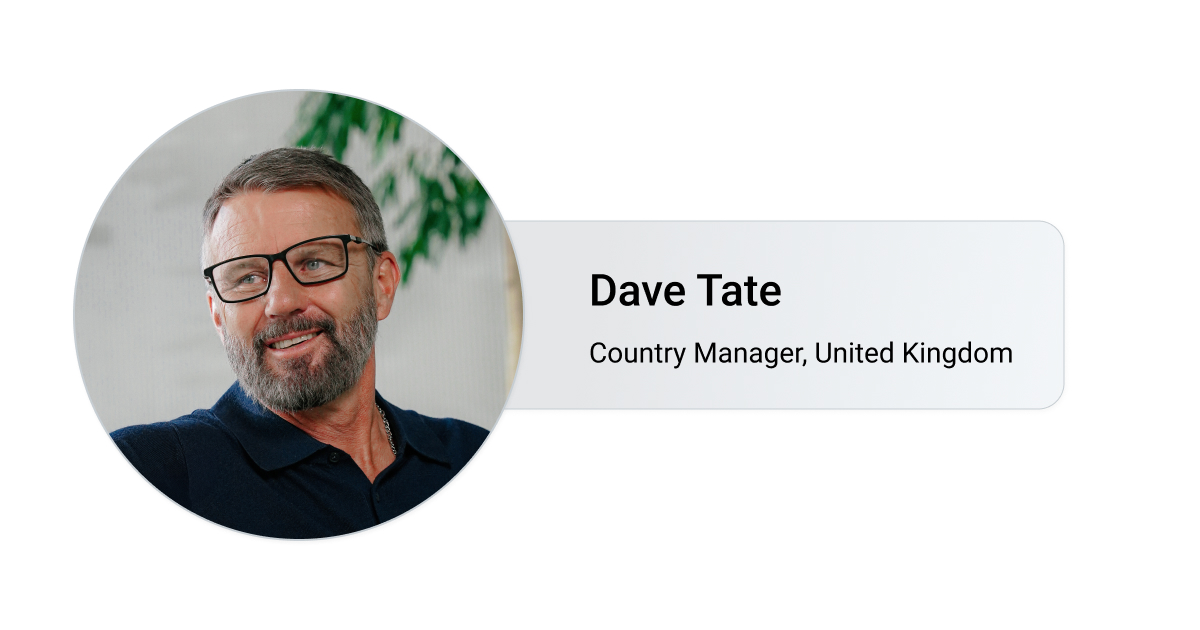 In addition to all the innovations, the company debuts ManualCallPoint Jeweller, a wireless wall-mounted button for manual fire alarm activation. It is available in two versions: ManualCallPoint (Red) for residential facilities and ManualCallPoint (Blue) for educational institutions. With the Red button, an alarm is delivered to a CMS mandatorily. With the Blue button, a user can deactivate an alarm in the Ajax app.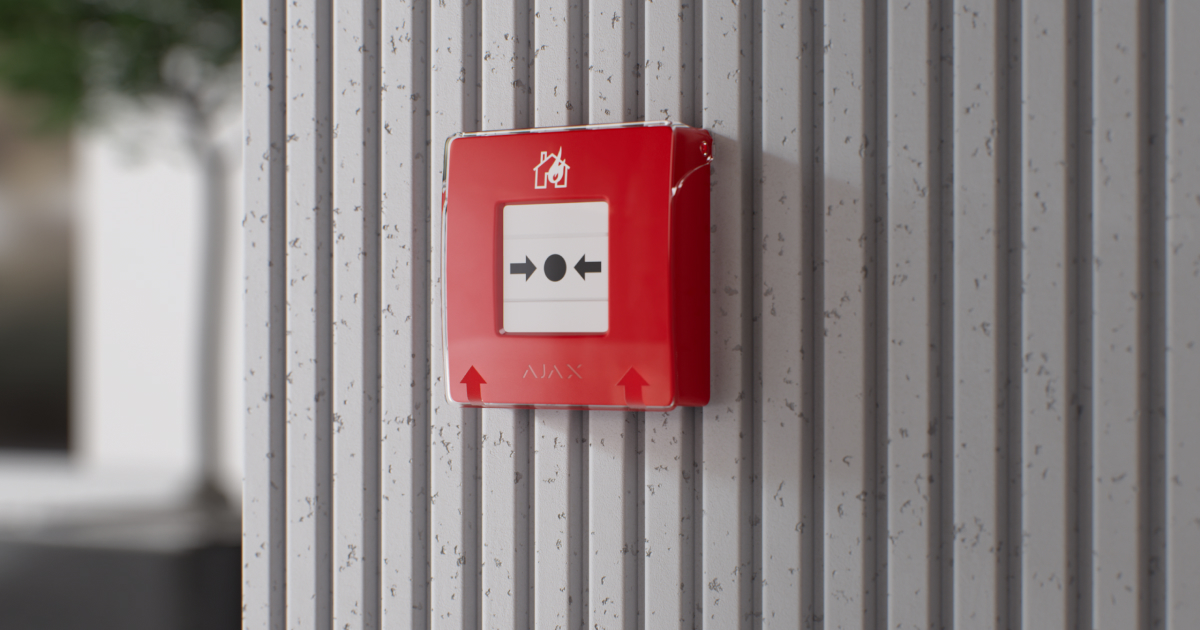 Pressing the button triggers the built-in sirens of all fire detectors in the system and informs the users. Meanwhile, the central monitoring station (CMS) receives the alarm and calls emergency services. The button can also activate intrusion sirens and automation scenarios.
 Key features
Fire detectors' sirens activation when pressing the button
Resilient button mechanism
Automation scenarios
Informative in-app notifications
Alarm delivery to CMS
(can be disabled for ManualCallPoint (Blue) Jeweller)
Transparent front lid to prevent accidental alarm activation
Securing the device on SmartBracket with the lock
Remote control and configuration
Both versions of ManualCallPoint Jeweller are available for order
👉 Learn more about ManualCallPoint
👉 Watch this episode of the Ajax Special Event
Fire safety compliance: Meeting global standards
Ajax has combined professional security, automation, and fire safety in one solid space. No one has a range like this.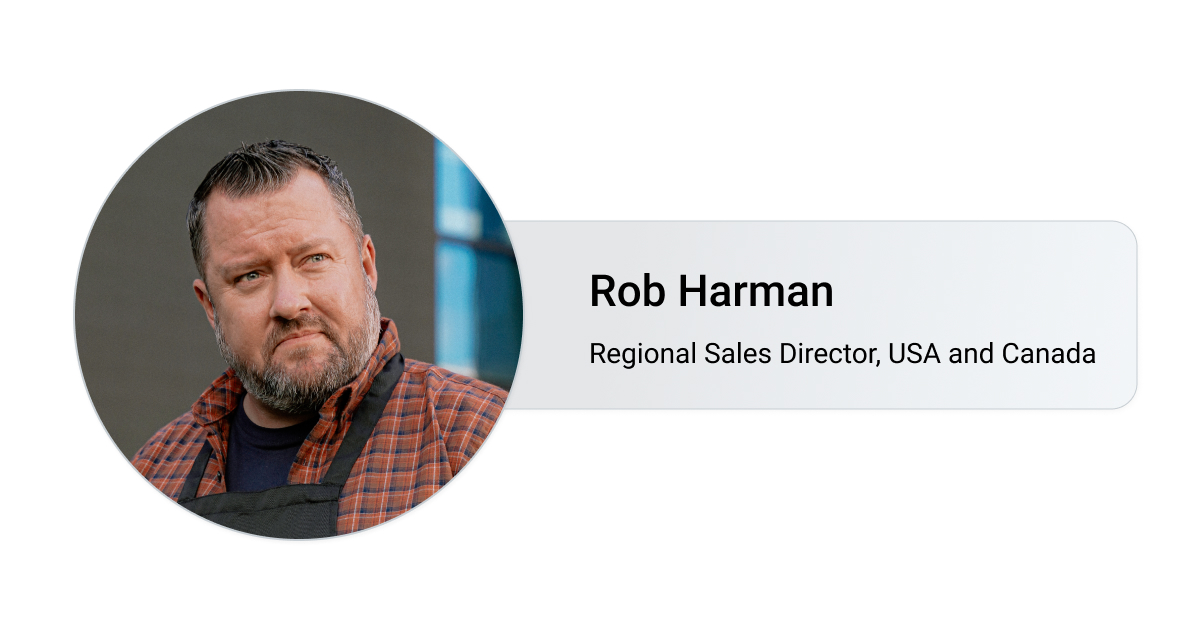 Ajax Systems' line of fire devices has met the most rigorous industry standards for residential fire safety. These achievements showcase our commitment to ensuring compliance with significant regional benchmarks. The company is currently in the process of pursuing UL/ULC certifications, which, once obtained, will make way for products to be available in the US and Canadian markets.
Now, Ajax Systems' fire product portfolio consists of fifteen devices with 5 major certificates of compliance:
UL 2075 / CAN/ULC S588 (in progress)
UL 268 / CAN/ULC S529 (in progress)
EN 14604:2005/AC:2008
EN 54-5:2017+A1:2018
EN 50291-1:2018
Also, AC detectors fully comply with:
BS 5839 (part 6, grade D1)
BS 5839 (part 6, grade F1)
👉 Watch this episode of the Ajax Special Event
Two interconnects: No chance of alarm missing
Another thrilling update is that Ajax Systems designed a fallback interconnect to directly activate an interconnected fire alarm detector-to-detector without a hub. A fallback interconnect serves as a backup to the primary interconnect via the hub, and both interconnects work in parallel. Even if the connection with the hub is lost, raising the alarm takes a minute.
A fallback interconnection complies with EN 14604:2005/AC:200, a fire safety standard the United Kingdom and Australia follow. The feature is available for all FireProtect 2 AC detectors. Other FireProtect 2 models will soon be available with new firmware supporting this feature.
NVR: Guiding video to top-tier security
Our priority is the user experience. For video, this means fast stream access, fast playback, and fast search.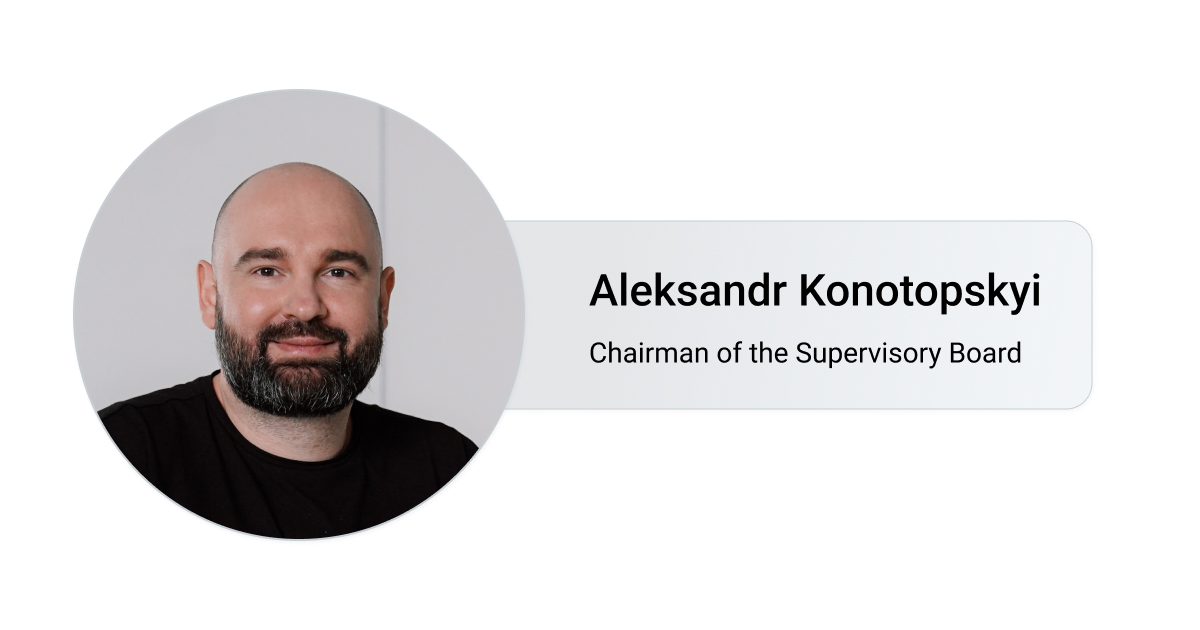 The synergy of Ajax systems and video surveillance will be delivered by Ajax NVR — network video recorder. It offers integration with Ajax video management system (VMS), ensuring seamless synchronization with the entire Ajax ecosystem. Wide compatibility makes almost any IP camera integrated with intrusion protection and automation devices.
NVR is available in two versions: for 8 and 16 channels.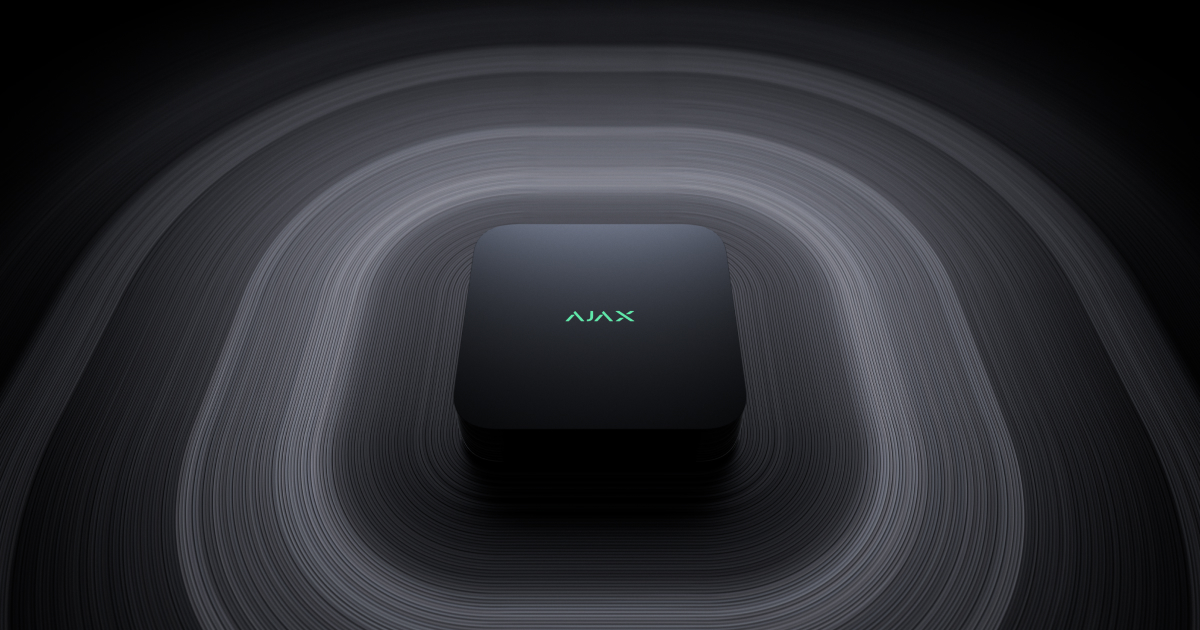 Ajax NVR ensures instant access to video archives, thanks to JetSparrow streaming technology — Ajax Systems' proprietary video transmission technology to deliver an ultra-fast VMS experience. All the video data traffic transferred by JetSparrow is secured by TLS encryption.
 Key features
Instant alarm verification in high-resolution
ONVIF/RTSP support
Fast archive navigation with dual stream technology
Archive synchronization with system events
Adjustable motion detection for cameras
Сustomizable virtual videowall
HDD status notifications in the app
Auto-search cameras in the network for fast connection
Multi-tiered security: 2FA, session control, and password/biometric login
H.264/H.265 support
NVR is already available for order
👉 Learn more about NVR
👉 Watch this episode of the Ajax Special Event
Cameras: Intelligence and privacy built-in
We are joining the European club of video surveillance manufacturers, standing alongside Sweden, Germany, the UK, and now — Ukraine.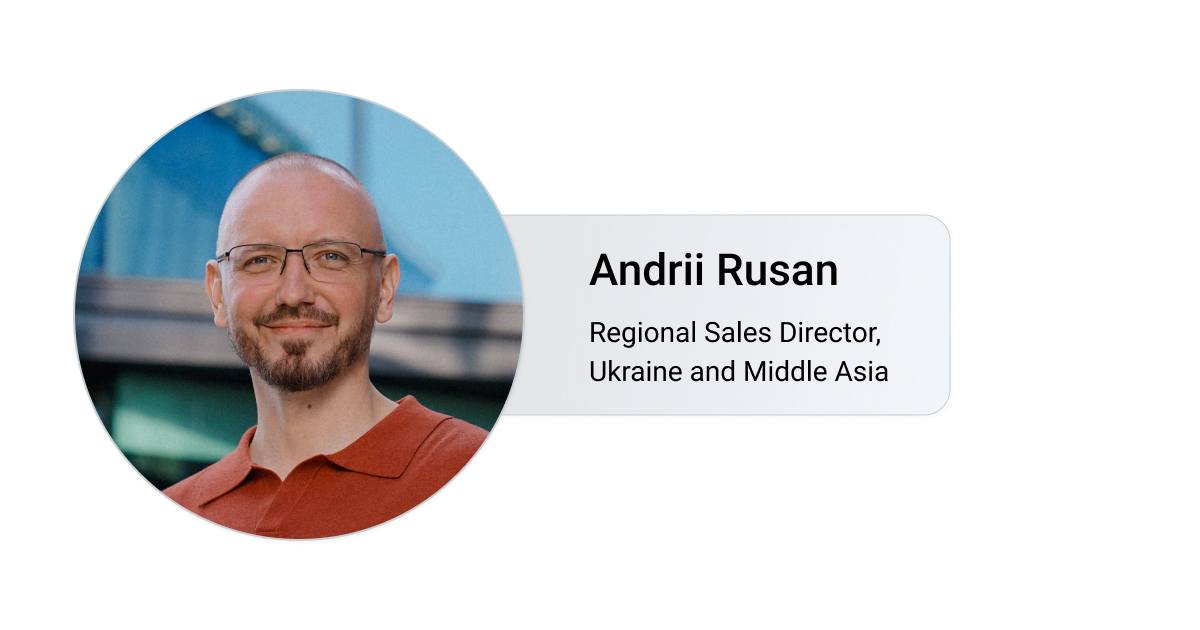 TurretCam, BulletCam, and DomeCam Mini embody the signature Ajax design shapes. Each camera model is stuffed with one of four possible configurations: a lens with a viewing angle of 85 or 110 degrees and 3K or 4K resolution. Every Ajax camera easily adapts to changing light with True WDR technology. This smart tech, involving hardware and software, fixes uneven lighting in complex scenes, frame by frame, in real-time.
Also, cameras are equipped with a digital microphone. It uses a custom noise cancellation system. Also, all the cameras meet the IP65 protection class, capable of withstanding harsh weather conditions.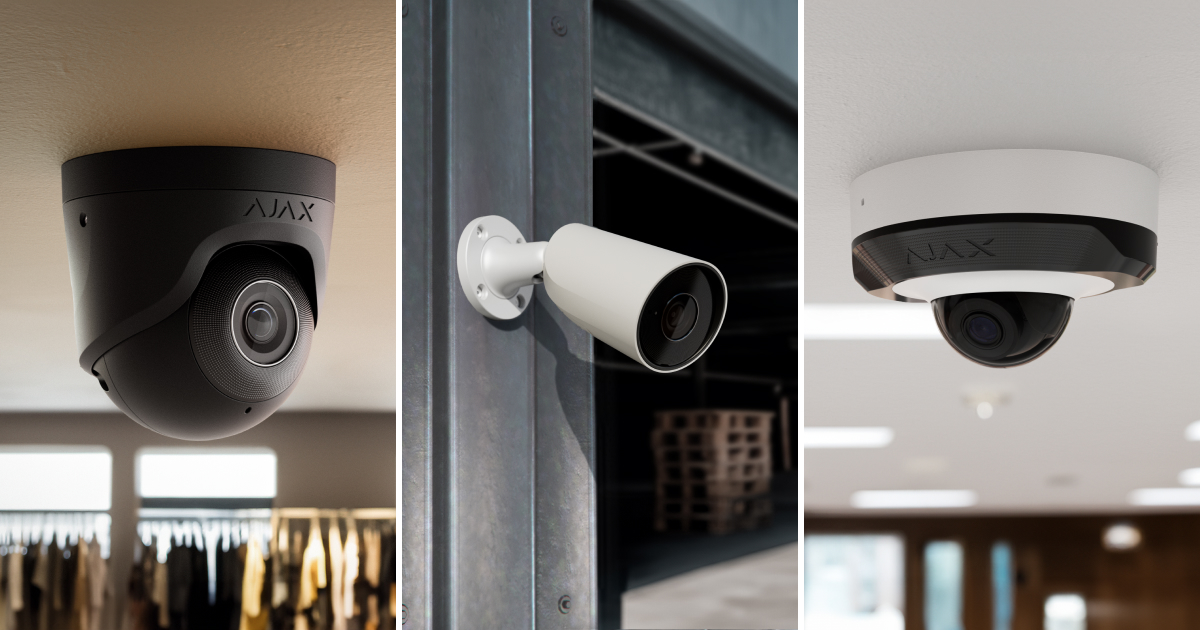 Cameras seamlessly utilize the Ajax Cloud to transmit system events. The proprietary JetSparrow technology ensures fast peer-to-peer transmission of video data. With AI analysis capabilities, these cameras can detect and recognize various object types, such as humans, vehicles, and pets. As a result, the surveillance system is able to record only relevant events, conserving storage space.
Optimize video archive even more by setting up the pixel movement detection feature. Define specific zones to ensure recordings are triggered only when movement occurs in the selected area. To make surveillance precisely selective, it is possible to enable cameras only when the system is armed.
With the app's system notifications, you can easily navigate to the specific camera and view the incident. This makes the app a comprehensive solution for both security and video surveillance.
 Key features
Secure passwordless camera authentication
Fast archive navigation with dual stream technology
Сustomizable virtual video wall
Built-in AI-recognition
Instant alarm verification in high-resolution
Customizable motion detection area
Archive synchronization with system events
Built-in digital microphone
Multi-tiered account security
Water and dust resistant metal enclosure
All versions of TurretCam, BulletCam, and DomeCam Mini are available for order
👉 Learn more about Ajax cameras
👉 Watch this episode of the Ajax Special Event
Space: Ecosystem without boundaries
With Ajax you have all the elements to build comprehensive security with advanced automation and video surveillance.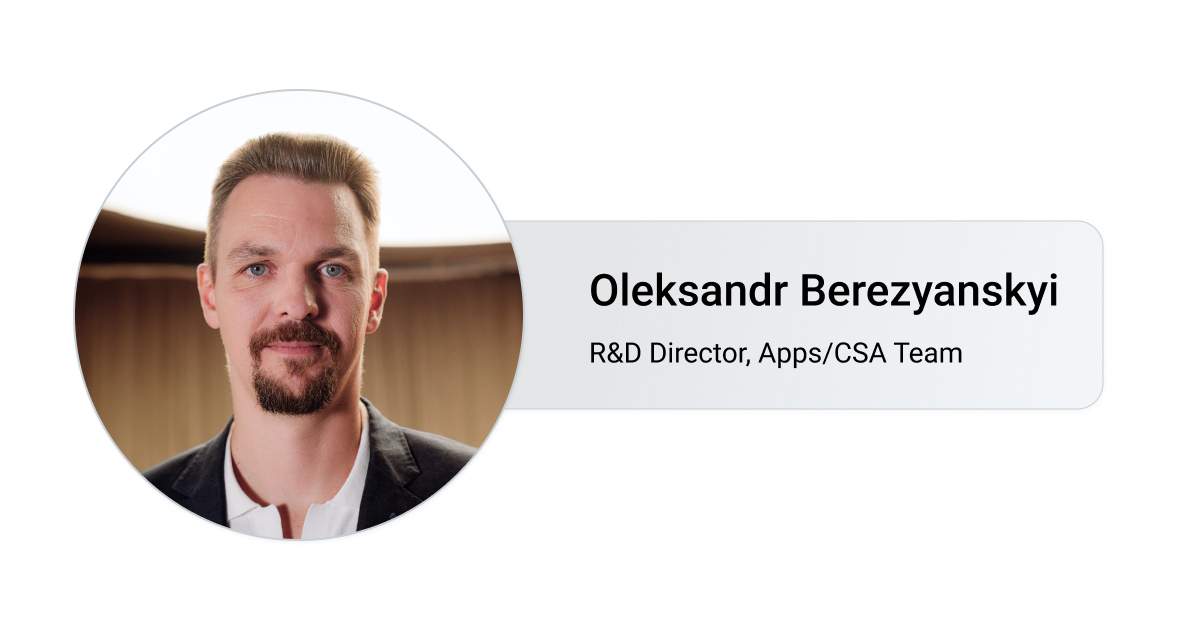 Traditionally, an Ajax hub represented an entire premise, and every Ajax system began with a hub. However, the company aimed to enable the inclusion of just a camera within Ajax system. As a result, Ajax Systems has developed a virtual entity called 'Space.' Users can easily create a 'Space' within the Ajax app, add required devices, and manage them seamlessly. This virtual entity provides an all-in-one solution for large facilities, covering intrusion protection, CCTV, fire detection, water leak prevention, and automation.
Space can function as a security system, CCTV, or both. It includes multiple NVRs and a hub. The interface of Space completely inherits the concept of an Ajax hub. All elements of the UI remain consistent: the control tab, rooms, and quick access to automation devices. Moreover, Space has time zone settings, groups, access for monitoring and installation companies, and a geofence feature.
The company is going to transition all Ajax hubs to Spaces by the end of 2023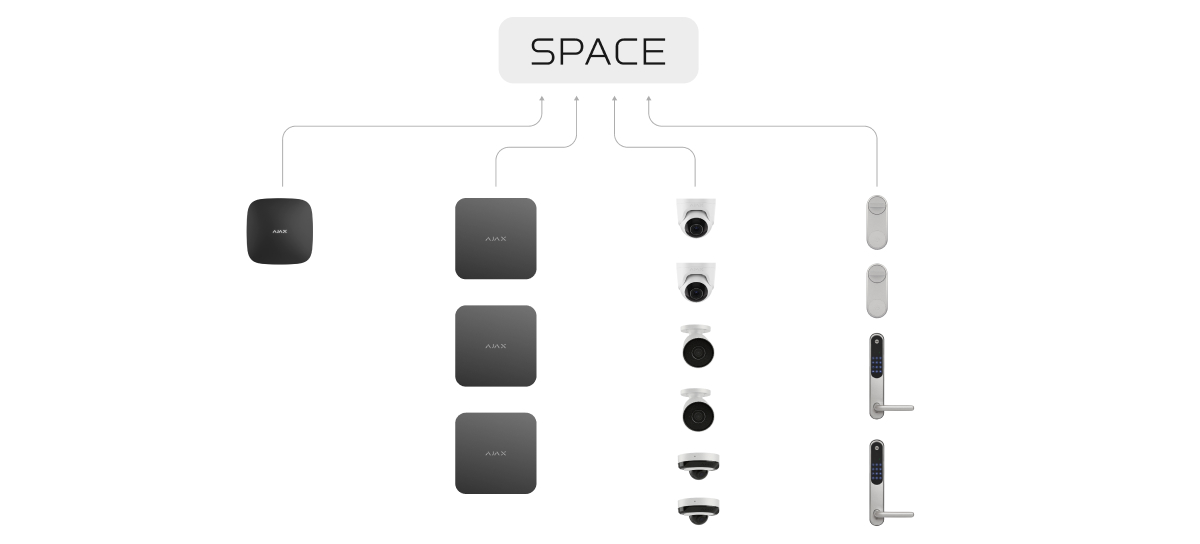 👉 Learn more about Space
👉 Watch this episode of the Ajax Special Event
Introducing the brand new Ajax motto
Ajax has embarked on a strategic journey to enhance security, strengthen its Fibra portfolio, and introduce new video products to its ecosystem. The company's highest value proposition lies in seamless integration, which has given rise to a revolutionary operating system designed for various spaces such as apartments, offices, shops, warehouses, factories.
Ajax initiated its journey with the ambitious aim of revolutionizing the security industry, encapsulated in the motto 'When Security Is Art.' However, as the company expanded its offerings beyond advanced security solutions to include comfort, fire safety, water-leak prevention, and cutting-edge video capabilities, a new motto became necessary.
Introducing Ajax's new company motto, 'Rule Your Space.' The company remains committed to empowering individuals with total control over their environments, promising the utmost security, convenience, and freedom within their spaces, without any borders.
Read also: