On 11 October, Ajax Systems broke into a new niche by unveiling an unexpected product line. Having a superior security technology stack, the company saw new challenges and an opportunity to deliver devices adding the dimension of comfort to their systems. The philosophy of comfort expanded to software, business activities and daily work with partners.
Watch Ajax Special Event: Comfort zone to discover the latest hardware and software the company has been working on recently. The online presentation was broadcasted worldwide in 19 languages.
Watch the full video:
You can select the broadcast language in the description on YouTube.
What was presented at Ajax Special Event: Comfort zone
👉 Ukrainian bravery and a leap towards comfortable partnerships
👉 Ajax Ready Safer Pod: next generation of site security
👉 PRO Desktop 3.4: better security services with maintenance reports
👉 Co-branded app for Ajax partners: stand out from the competitors
👉 New software features for greater comfort
👉 LifeQuality: guarding your productivity
👉 How to make design of Ajax apps more comfortable for users
👉 LightSwitch: comfort and security in a touch
👉 DIN Holder: bracket to fix Relay or WallSwitch on a DIN rail
👉 Leak prevention with WaterStop: not a drop of problems
👉 FireProtect 2: accuracy through steam, dust, and time
Ukrainian bravery and a leap towards comfortable partnerships
In the first month of the war, Ajax Systems managed to relocate and relaunch the complete production cycle, saving employees and manufacturing capacities. The company remains the industry's top player even in a challenging environment. Today, Ajax Systems unites 2,500 employees (including more than 500 engineers), finishes constructing the second plant in Turkey and increases production output in Ukraine by 30%.
Ajax developers collaborated on the Air Alert app to provide everyone with a missile alert system on a smartphone. The app has 11 million downloads today. It's in news broadcasts in Europe, Japan, and the US, and in Ukraine, it saves people's lives.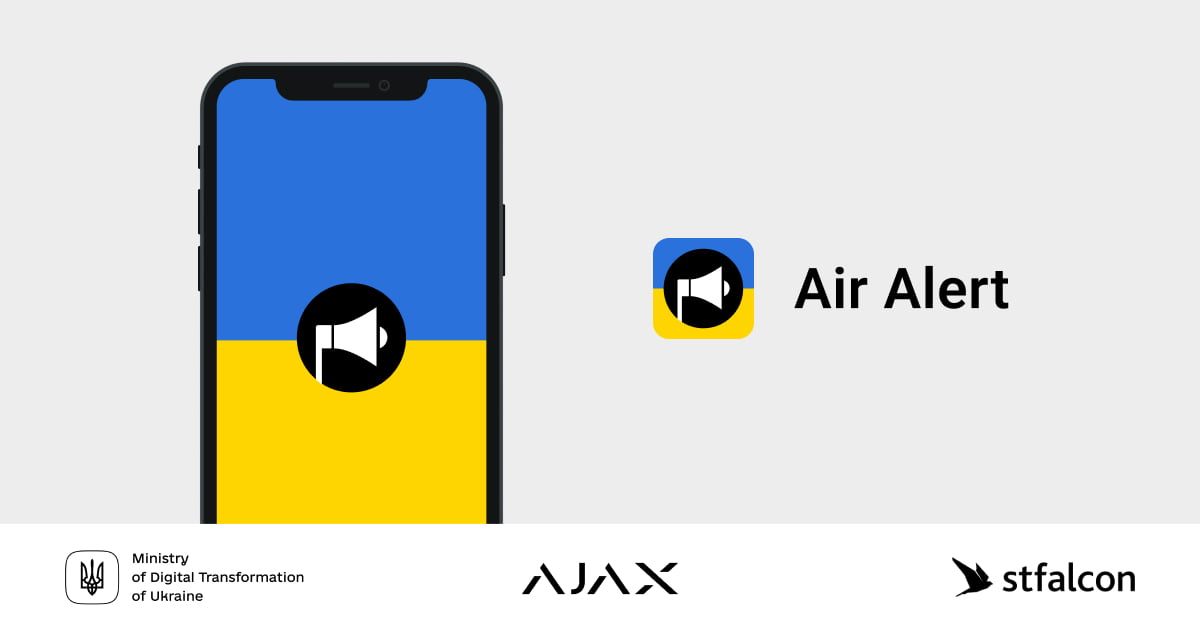 Ajax Systems also continues to mainstream rapid business scaling and excellent user experience. To improve cooperation with partners, the company announced the partner portal on the Ajax website. The portal gives authorized Ajax partners access to partner programs, including training, marketing support and incentive systems.
A personal account at the partner portal gives an authorized partner all the necessary tools to grow their business with Ajax. Status and progress according to the incentive system are displayed on the main page. Information about end users' requests for quotes from the Ajax website is available in two clicks. As well as the event calendar in the partner's region. The partner portal will become available this autumn in the UK, Italy, Spain, Portugal, Scandinavian, and Benelux countries.
👉 Watch this episode of the Special Event
Ajax Ready Safer Pod: next generation of site security
The company presented Ajax Ready, a label for new independent products based on an Ajax security system. This is a whole new direction for partners who see more system applications and want to discover new vertical markets.
To establish a ready-to-go security solution for construction sites, void properties, mines, farms, and many other detached facilities, Ajax partners from Scotland developed Safer Pod S1. It is an autonomous, mobile, and accurate intrusion detection system providing industry-leading technology standards based on an Ajax security system.
MotionCam Outdoor provides the Safer Pod with visual verification and anti-masking sensors. Safer Pod distinguishes real threats from interference such as wildlife and helps to avoid false alarms by over 90%. StreetSirens with flashing strobe provide a forceful 113 decibel siren upon detection of an intruder. And armed with an Ajax hub, featuring innovative signal jamming detection, the Safer Pod is more than an intruder detection system. It's a full risk mitigation system coming with an easy-to-use app, powered by Ajax.
👉 Learn more about Safer Pod S1
👉 Watch this episode of the Special Event
PRO Desktop 3.4: better security services with maintenance reports
To give company owners, installers, and operators an essential tool to improve their service, Ajax expanded the functionality of PRO Desktop and presented the update that makes the security business even more effective — the maintenance reports. They are indispensable in countries like Spain, the UK, or Germany, but it's worth mentioning that for a security company in any country, it is also a point of potential growth, an occasion to talk to a client and demonstrate that you care.
A maintenance report allows having all the information on the security devices at a glance: the hub status, battery levels, communication status, and other critical parameters. It can be downloaded on a local storage in PDF format or delivered to third-party software via Enterprise API. PRO Desktop stores 5 last reports in Ajax Cloud with instant access.
Maintenance reports are widely utilized by world-class security companies to regularly carry out object hygiene, improving the service. In PRO Desktop 3.4, a company owner can enable or disable the reports at any moment. Once the feature is enabled, the Maintenance Reports menu appears in the Objects module.
👉 Download PRO Desktop 3.4
👉 Learn more
👉 Watch this episode of the Special Event
Co-branded app for Ajax partners: stand out from competitors
Ajax users value the brand both for hardware and quality user experience. At the same time, each of Ajax partners puts significant effort into promoting their brand. Ajax believes in the synergy with partners, therefore, developed the co-branded app — an app for security companies who want to increase their brand awareness every day.
Every time clients open the Ajax app, they interact with service providers. From the convenience perspective, clients have quick access to contacts and billing information. This replaces calls and payment reminders, as the company is directly connected with the client through the app.
The co-branded app will be available in Q4 2022.
👉 Watch this episode of the Special Event
New software features for greater comfort
Ajax introduced three features that partners and users have been waiting for a long time: keypad access codes for unregistered users, photos by any device alarm, and temperature scenarios.
Access codes for unregistered users
This feature allows assigning a person or company a separate access code in the hub settings without creating an Ajax account. So there is no need to register office employees, cleaning companies, or real estate agents in the Ajax app. When a code is used, this will appear with the user name in the events feed and push notification.
Access codes for unregistered users are available with OS Malevich 2.13.1.
Photos by any device alarm
To meet the needs of partners, Ajax designed detectors that can take photos on demand, and in response to an Ajax fire detector alarm. But clients wanted to use photo verification even more widely. That's why Ajax decided to expand the capabilities of the Photo by Scenario function. Now PhOD-labeled detectors can take photos by alarm of any device: an opening detector, a panic button, or another motion detector.
This feature is also available with OS Malevich 2.13.1.
Temperature scenarios
The Ajax detectors displayed the temperature in the apps, but this information was only available for viewing. Now Ajax devices that indicate temperature in the app can trigger a temperature scenario: a motion detector, an opening detector, a siren, except for an automation device itself (Relay/WallSwitch/Socket). This means the heater will turn on if, for example, the temperature of three detectors in the room drops below 15 degrees.
Temperature scenarios will become available with OS Malevich 2.14.
👉 Watch this episode of the Special Event
LifeQuality: guarding your productivity
Many studies prove that carbon dioxide levels strongly affect the brain's functioning. In particular, productivity. For example, a high concentration of CO2 can reduce the speed of mental activity by 60% and the ability to make complex decisions by 50%. So the problem is clear: bad air kills productivity. It has been tested in schools, offices, and even on the space station. We saw a new challenge in it. We saw an opportunity to combine security and comfort.Max Melnyk, Device Department R&D Director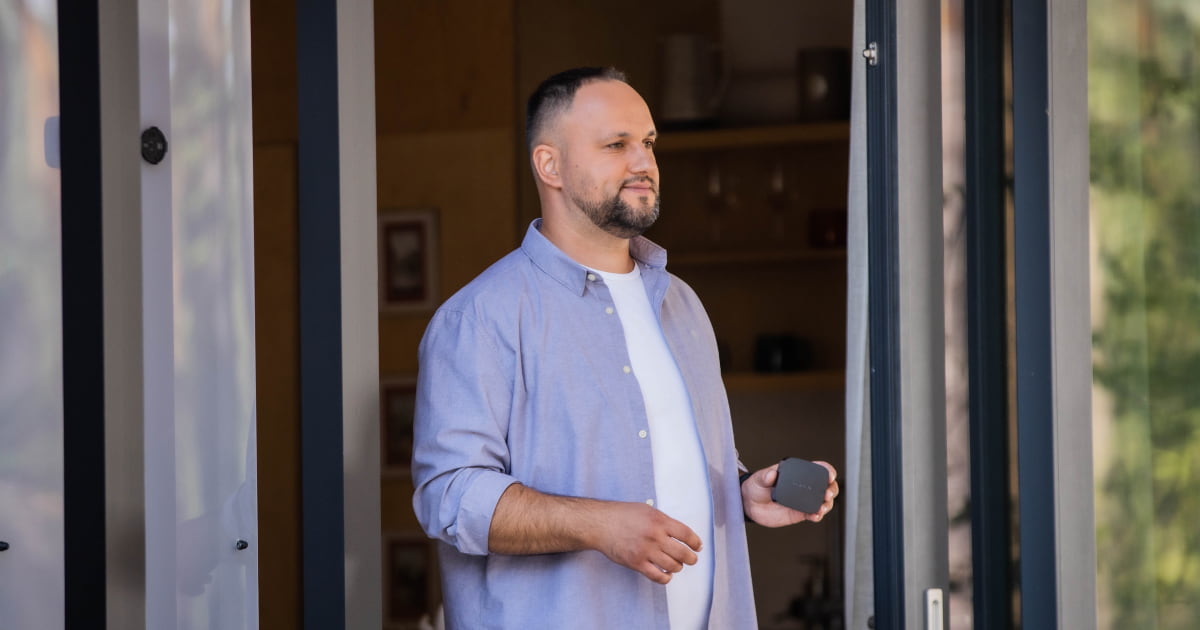 LifeQuality is a professional indoor air quality monitor, measuring CO2, temperature and humidity levels. Ajax saw an opportunity to combine security and comfort in a professional device about the quality of life. Packed with Swiss and Swedish sensors used in medical equipment, LifeQuality provides the most reliable data. There is also something new for Ajax interfaces — charts in the app. Users see the current indicators, can view the history for several days, a week, a month, a year, and understand the dynamics of air quality. A light indicator instantly reports CO2 level on tapping the Ajax logo. It glows yellow, red, or purple if the concentration of carbon dioxide exceeds the norm.
With LifeQuality, Ajax relays and smart plugs, a professional installation engineer can easily build an automatic climate control system. For example, the system itself will turn on the ventilation when the set threshold of CO2 is exceeded, or the heaters when the temperature drops below the set value, or the humidifier when the humidity level does not correspond to a comfortable level. An Ajax system with LifeQuality stands on guard of productivity and quality of life.
LifeQuality will become available for order in Q4 2022.
👉 Learn more
👉 Watch this episode of the Special Event
How to make design of Ajax apps more comfortable for users
To align the Ajax security system app design with new devices, the product design team presented a new control tab for automation devices and announced future changes.
Now the interface considers the structure of the human body, movements, and interaction context. This enables users to turn on the device so fast, not even glancing at the smartphone. In the new control tab, devices are sorted by pages, so users just need to swipe to the side — and the next batch of buttons is always there in the very same place. New dark mode, improved fonts, cross-platform consistency, quick access to automation devices — get all this in Ajax apps by the end of this year.
👉 Watch this episode of the Special Event
LightSwitch: comfort and security in a touch
Attempts to bring lighting to a new level occur regularly. But they have not yet become mainstream for various reasons: the complexity of integration, poor user experience, price, quality, etc. We have a superior technology stack to deliver an outstanding product for lighting control. And we already have over a million facilities connected, our users love Ajax, and we believe we can establish a new generation of lighting control.Aleksandr Konotopskyi, CEO of Ajax Systems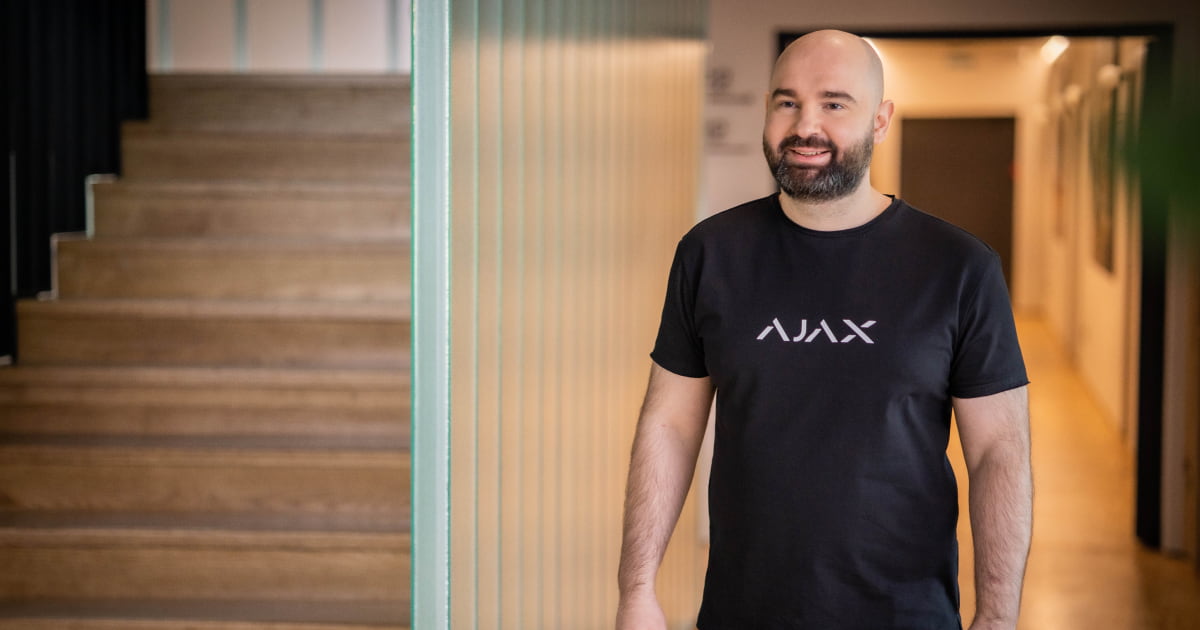 LightSwitch features a large touch-sensitive panel responsive to a tap or contactless activation — it is enough to put a hand at least 15 mm close to the device, and the light turns on. Due to the soft LED backlight, it's easy to do even in the dark. The sound and vibration of LightSwitch evoke positive emotions, bringing such a familiar feeling of mechanical switch.
The entire panel is touch-sensitive and reacts even to the approach of a hand at a distance of 15 mm.
With LightSwitch, the system users can control a wide range of illumination devices, both on-site and remotely, through Ajax apps. Automation scenarios allow switching on the lights by schedule, when activating night mode, when disarming the security system or by an alarm to see intruders better and deter them. Also, you can configure the system so that the activation of one switch triggers all the switches on-site. Thus, one move turns off the lights in the entire facility.
From the installation perspective, LightSwitch is an entirely hassle-free device. It has standard dimensions of European switches, does not require a neutral wire, and features replaceable face panels, available in eight colours.
The product line also includes one-gang, two-gang, and two-way models and frames of various sizes. The company also announced a line of own-branded outlets in the next release. Various product options will make all the electronics in Ajax users' homes look consistent.
LightSwitch will become available for order in Q4 2022.
👉 Learn more
👉 Watch this episode of the Special Event
DIN Holder: bracket to fix Relay or WallSwitch on a DIN rail
DIN Holder may seem like a simple plastic frame, but all the magic is in the details. The bracket has passive ventilation that prevents overheating. The button on the holder allows the installer to switch the relay manually without taking it out. There is even a special hollow to avoid antenna bending. The Relay / WallSwitch is installed in the holder in a single step, without any tools. A set of stickers helps to mark which device or circuit the relay controls.
👉 Learn more
👉 Watch this episode of the Special Event
Leak prevention with WaterStop: not a drop of problems
Now Ajax goes beyond security, becoming a product in which more professionals — like electricians and plumbers — start to be interested in. Their experience of working with Ajax should be at the same top level. We delved into water leak prevention systems. We received useful feedback from professionals who used Ajax relays to integrate third-party electric valves to shut off the water by LeaksProtect alarm. We collected as many insights as possible. And our engineers dove into them to deliver you WaterStop.Ilia Yashmakov, Regional Sales Director, Balkans & Adriatic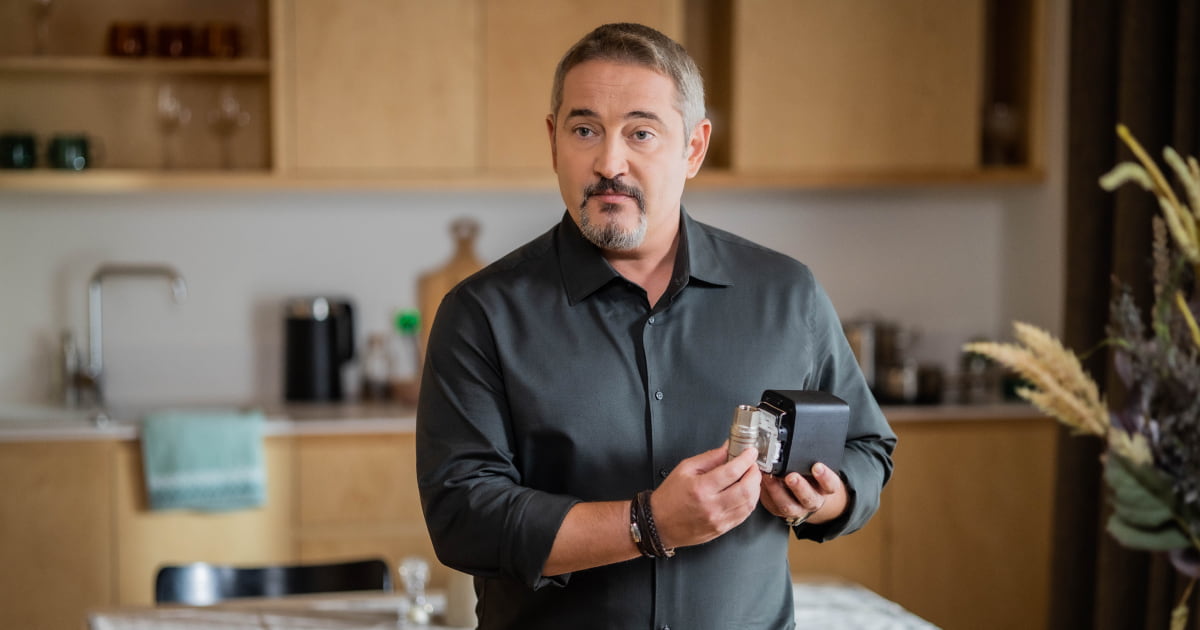 Ajax Systems unveils WaterStop, a water shutoff valve with remote control. It helps to build a fully automated leak prevention system with professional security technology reliability. The device consists of a quality Bonomi Industries valve and a powerful electric actuator that shuts off the water automatically, by command from the Ajax app or a button pressed on-site.
Being a part of an Ajax security system, WaterStop adopted all the signature technologies proven by time. The actuator works on batteries for up to 3 years while being able to shut off the water in a matter of seconds. A command to do this is delivered by the Jeweller radio protocol that has a communication range of up to 1,100 meters and features encryption, frequency hopping, and jamming detection.
WaterStop will become available for order in Q4 2022.
👉 Learn more
👉 Watch this episode of the Special Event
FireProtect 2: accuracy through steam, dust, and time
Due to the wide application of the FireProtect detectors, we gathered valuable experience in fire safety. And what do we see? We see the overregulated and inert markets. We see the same players who do not risk changing products for years. We see how professionals work with outdated equipment and how users get minimal fire protection and the same minimal features. We've accepted the challenge and devoted a year to develop a fire safety road map in an Ajax system.Sergii Shcherbakov, Product Manager, Fire Team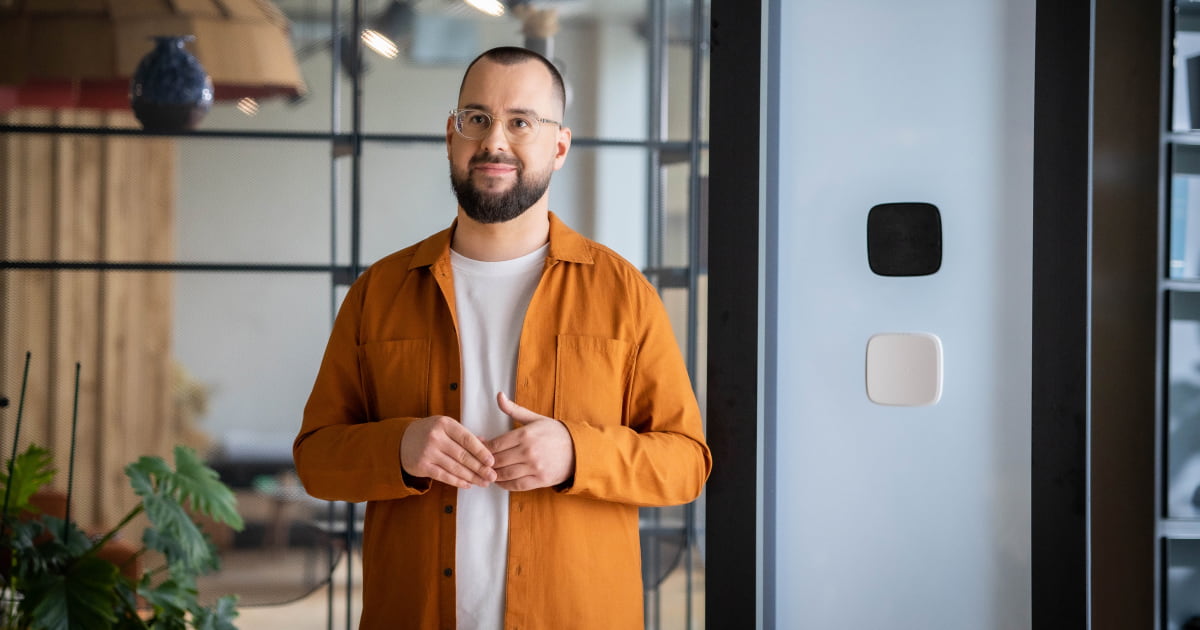 FireProtect 2 is a whole lineup of detectors providing a wholly new level of technology in residential fire safety. Ajax developed a patented smoke chamber that is ultimately dustproof and impenetrable for insects. This means that there is no need to clean it regularly. Under the hood, the detector has a dual-spectrum optical sensor that can distinguish smoke from water steam.
The second sensor in the detector is the thermistor. It quickly distinguishes the temperature spike, which gives a significant advantage when synthetic materials burn. An extended version of the detector with an additional carbon monoxide sensor was presented as well. Both detectors have versions with replaceable or sealed batteries. The device works up to 7 years from a replaceable battery and at least 10 years from a sealed one.
Ajax also developed separate versions without a smoke chamber, in a slightly smaller enclosure. Different versions: with a temperature sensor, with carbon monoxide sensor, and with both these sensors.
With a unique smoke chamber, thought-out software, different power supply options, and variety of sensors, the FireProtect 2 lineup will allow partners to install Ajax devices not only in Europe, but also in any regulation region in the world.
👉 Learn more
👉 Watch this episode of the Special Event
Sometimes I hear the concerns of the professional community: you made a security system so simple. Why will people need security professionals? People need security professionals to solve more sophisticated and complex problems than just attaching a sensor to a wall. Security professionals today must expand the range of services.

Because people already trust you. Surprise your clients and delight them. Offer them more than just an alarm. Or not an alarm at all. You are here to change the world and make it not only safe but also comfortable. And we are here to pass you the ammunitionAleksandr Konotopskyi, CEO of Ajax Systems
---
See also